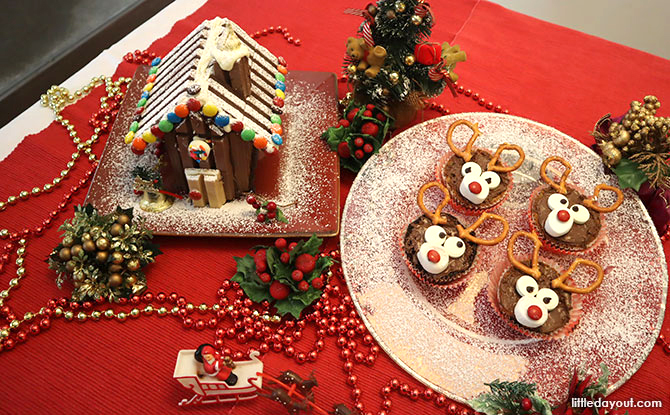 Missed our Family Christmas Food Crafting Virtual Class?
Fret not, we are sharing the recipes and instructions here so that you can assemble your own creations just in time for the Christmas celebrations!
Sweet, stunning and easy desserts, here we go!
---
No-bake Christmas House
This No-bake Christmas House will have the family drooling at the chocolatey goodness. There are no fanciful ingredients, no need for baking, and assembled simply using the magic of chocolate. This will be a beautiful centrepiece for the dessert table perfect for Christmas! 
---
-- Story continues below --
Ingredients Required
4 packs of Nestle KitKat Chocolate Block – Milk Chocolate
1 pack of Nestle KitKat Chocolate Block – Gold or 2 Finger KitKat in White Chocolate
70g Baking Chocolate Chips – Dark Chocolate
28g Baking Chocolate Chips – White Chocolate
1 pack of M&M's Chocolate Candy or Skittles Candies
25g Icing Sugar
1 bottle of Rainbow Sprinkles (optional)
1 pack of Coconut Flakes (optional)
2 Candy Canes (optional) 
Tools Required
Tray for assembling the No-bake Christmas House (at least 20cm by 20cm wide; chilled in advance)
Cutting mat for chocolate
Microwave oven or stovetop
Bowls
Spoons, knives for cutting
Plastic bag or piping bags
Flour sieve 
Step-by-Step Instructions for No-bake Christmas House
1. Start by melting the Dark and White Baking Chocolate Chips. To do so, fill a pot with water and bring it to a simmer. Place a heatproof bowl on top of the pot, making sure that the bottom of the bowl doesn't touch the water. Place the dark Baking Chocolate Chips into the heatproof bowl, stir with a metal spoon until melted and smooth. Set aside to cool slightly. Repeat with the White Baking Chocolate Chips.
If using a microwave oven, set it on low power and microwave both the bowls of chocolate for 15 seconds. Stir and repeat until the chocolate chips are fully melted.
2. Fill two individual piping bags with the melted dark chocolate and white chocolate. If no piping bag is available, you can use small plastic food bags instead.
3. Next, use a knife , divide the KitKat Milk Chocolate into 3-Finger and 8-Finger blocks. Repeat until you have four 3-Finger blocks and four 8-Finger blocks.
4. Take a 3-Finger block and cut out two equal triangular pieces from it. Then, secure one of the triangular pieces to the short-edge of another 3-Finger block with the melted chocolate from the piping bag. Repeat this step to create two identical pieces.
5. Now, it's time to assemble the Christmas House! The two 3-Finger blocks and two of the 8-Finger blocks will form the walls of the Christmas House. The remaining 8-Finger blocks will form its roof. The melted dark chocolate will act as the "glue" to hold them together.
6. Pipe the melted dark chocolate onto the longer edge of an 8-Finger block and hold it firmly onto the tray to create a wall. Allow the chocolate to set so that it firmly "glues" the 8-Finger block to the tray. Chilling may help to hasten the process.
7. Once one wall is "glued" to the tray, take the 3-Finger blocks and "glue" them to the tray and the wall. Repeat until all four walls are firmly attached to the tray and to each other.
8. Once walls are secured, pipe the melted dark chocolate along the top edges of the walls. Then, attach the remaining two 8-Finger blocks to create the roof.
9. Attach a 2-Finger KitKat white chocolate to the front of the house using the melted white chocolate to create a door. Take a red M&M's Chocolate and pipe white chocolate at the back, stick it onto the door to create a door knob.
10. To create a chimney, use the KitKat pieces that were left over after cutting out the triangular pieces. Stack the two leftover pieces on top of each other, back to back. Cut them in half and attach them by the slanted part onto the roof of the house.
11. Spread the melted white chocolate evenly on the milk candy and top with rainbow sprinkles to create a beautiful wreath! Pipe the back of the milk candy with melted white chocolate and secure above the door.
12. You can begin decorating your No-bake Christmas House with colourful M&Ms and the melted white chocolate as desired! Use the melted white chocolate as snow; you can put some on top of the chimney! Add Hershey's kisses on the top of the chimney – the perfect finishing touch to the Christmas House.
13. Dust the house with icing sugar to create even more snow. Ta-da, you have your own No-bake Christmas House!
---
Rudolph Butter Cupcakes
Rudolph Butter Cupcakes are specially dedicated to the animal of the season – reindeers! These adorable cupcakes will be an irresistible and a lovely addition to the Christmas feast. Make your own cupcakes or just decorate them in a red-nosed way.
Ingredients Required
10 Cupcakes (Store-bought or homemade)
10 pieces of Milk Candy
1 680g jar of Nutella
24 pieces of Mini Pretzels
10 pieces of Marshmallows
10 to 12 Red M&Ms Chocolate Candies
10 to 12 Chocolate Chips
Ingredients for Homemade Cupcakes
½ block unsalted butter (soften)
170g Plain flour
2 tsp Baking powder
½ tsp Salt
200g Caster sugar
2 eggs
2 tsp Vanilla extract
120g Full fat sour cream
½ cup Dried cranberries
Tools Required
Cupcake Liners
Kitchen Mixer
Butter Knife
Chopping mat
Utensils like a butter knife and spoons
Instructions for Cupcakes
1. Preheat the oven at 180°C.
2. In a mixer, beat butter and caster sugar until smooth and become pale white.
3. Mix in one egg at a time, followed by vanilla extract and full fat sour cream.
4. In a separate bowl, whisk together the dry ingredients:  plain flour, baking powder and salt. Slowly mix the dry mixture into the batter in batches, until well combined.
5. Mix in dried cranberries evenly into the batter.
6. Divide batter among 12 cupcake liners in a cupcake baking tray. Tips: Use an ice cream scoop to easily control the amount of batter poured into each cupcake liners!
7. Bake at 180°C for 18 to 20 minutes. Remove cupcakes from the oven and set aside to cool down completely. Tip: To test if the cake is cooked, insert using a wooden chopstick or toothpick until it comes out clean.
Instructions for Decorating the Cupcakes
1. Trim and flatten the top of the cupcakes. Spread the top of the cupcake with Nutella chocolate spread.
2. Cut the marshmallow into equal halves.
3. Use the milk candy topped with chocolate chips to form the eyes, and marshmallows along with red M&Ms to form the nose and face. Lastly, use a pair of pretzels to form the reindeer ears. Experiment with different pieces of pretzels to get the type of antler design that you like!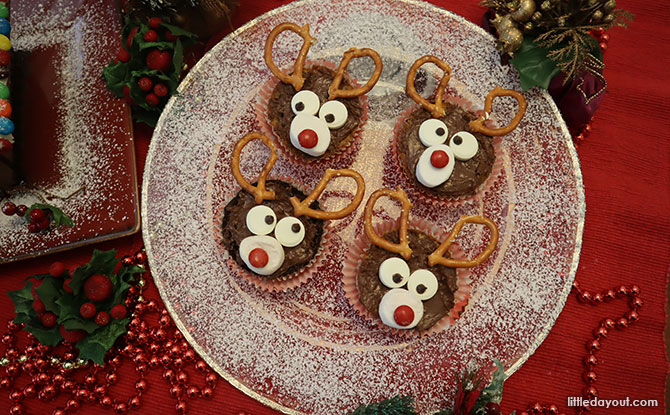 These two recipes are jointly presented by FairPrice Xtra and Little Day Out!
Finally, join FairPrice Xtra Xperience Facebook Group and post a picture of your Christmas House and Rudolph Butter Cupcakes. Add these hashtags #fairpricesg #fairpricextra #preciouschristmastoshare to stand a chance to win a $100 FairPrice e-voucher.
Deadline: 5 December 2021, 6 pm.
We hope your family had a sweet time making the desserts and we wish you a Merry Cake-off!
The Family Christmas Food Crafting Virtual Class is brought to you in partnership with FairPrice Xtra.
---
Stay in Touch for Future Little Day Out Adventures
If you would like to participate in future Little Day Out Adventures, do fill in the form below so we can get in touch with you!