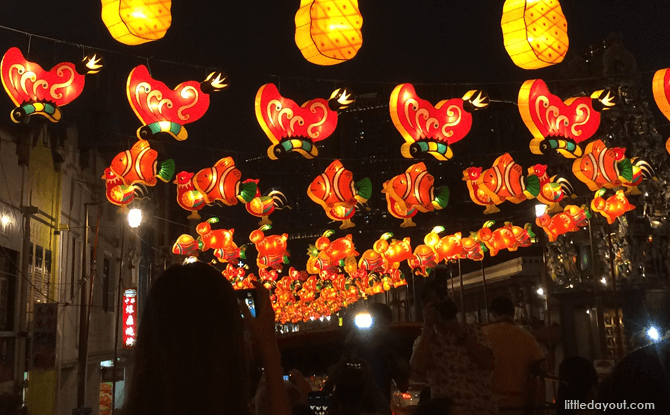 Till 12 October, Chinatown will be aglow with the light from 2,300 lanterns in celebration of the Mid-Autumn Festival. Familiar characters such as Singa the Courtesy Lion and Teamy the Bee take on the form of lanterns, along with those shaped like traditional, candle-lit cellophane lanterns, welcoming visitors to Chinatown.
Organised by the Kreta Ayer – Kim Seng Citizens' Consultative Committee (KA-KS CCC), the theme of this year's Chinatown Mid-Autumn Festival is A Golden Jubilee Mid-Autumn.
Lanterns, Lanterns, Lanterns
The 600 metre-long lantern display is a collaboration between the KA-KS CCC and Nanyang Academy of Fine Arts (NAFA). Ten NAFA students were involved in the conceptualisation and design of the lantern display. They then spent four months realising the display alongside lantern craftsmen from China.
In addition to the hanging lanterns, the students also designed lanterns displayed along the road median at Eu Tong Sen Street. These lanterns are in the shape of nostalgic favourites such as the Toa Payoh Dragon Playground and speech bubbles with local sayings.
The centerpiece of the lantern display is a 12-metre tall, 6-metre wide Merlion lantern. This can be found at the junction of Eu Tong Sen Street and Upper Cross Street.
With 50 different lantern designs, the Chinatown lantern display will be held till 12 October 2015.
Launch of Festivities
The Official Light-up and Opening Ceremony for the Chinatown Mid-Autumn Festival 2015 takes place on Sunday, 13 September.
This will be marked by performances by both local and overseas artists, as well as a special telling of the history and traditions behind the Mid-Autumn Festival with a Singaporean twist. The evening will be capped off by fireworks.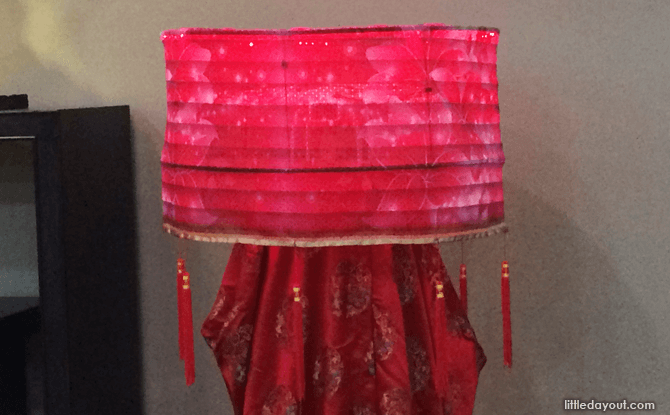 Look out for this flying drone lantern at the Official Light-up and Opening Ceremony
Chinatown Mid-Autumn Festival Highlights
Another festival highlight to look out for is the Mid-Autumn Festival Festive Street Bazaar. Taking place around Smith and Trengganu Street, visitors will be able to shop for traditional snacks, mooncakes, decorative items and lanterns at the Bazaar.
On display at Chinatown Food Street at Smith Street are the winning lanterns done by children and students who took part in the Lantern Painting Competition, held earlier on 6 September.
Visitors interested in Chinatown's heritage can also sign up for the Heritage Walking Trail being conducted on 19, 20 and 26 September. This free trail will cover the main streets around Chinatown. Pre-registration is required.
A Mass Lantern Walk will be held on Sunday, 27 September. 3,000 participants are expected to participate in this lantern walk which starts from Kreta Ayer Square and ends at the New Bridge Road. Ten stops have been planned along the route of the lantern walk with performers, dragon dance troupes and mascots to entertain the crowds.
For more information, visit the Chinatown Mid-Autumn Festival 2015 website.