In 2022, Singapore Zoo, River Wonders, Night Safari and Jurong Bird Park collectively saw about 800 births and hatchings across 126 species.
Among these additions, 38 species are listed as threatened under the International Union for the Conservation of Nature's (IUCN) Red List of Threatened Species.
The 21 first-time births include the Linne's Two-toed Sloth and critically endangered Burmese Star Tortoise.
Births at Jurong Bird Park in 2022
In its final year of operations, Jurong Bird Park saw successful hatchings of two critically endangered Citron-crested Cockatoos a month apart from each other. The two chicks were hand-raised at the park's Breeding and Research Centre (BRC) to increase their chances of survival and are now growing up well in the new BRC at Bird Paradise.
---
-- Story continues below --
Other critically endangered new chicks on the block include a brood of 13 Negros Bleeding-hearts, two Vietnam Pheasants, a Great Green Macaw and a Red-fronted Macaw.
Births at Singapore Zoo in 2022
Singapore Zoo had its first Burmese Star Tortoise birth. The single egg was artificially incubated in RepTopia to ensure the best conditions for successful hatching.
Also making it to the records are three Williams' Dwarf Geckos, or Electric Blue Geckos.
RepTopia has recorded a total of 15 of these gecko newborns to date. 41 Golfodulcean Poison Dart Frogs, six Axolotls and a Lake Titicaca Frog were also added to 2022's list of threatened amphibian arrivals.
The endangered Ring-tailed Lemurs expanded their troop last year with a sixth member. This was the first birth since 2014 and came soon after mum arrived from France in January 2022.
Singapore Zoo's Fragile Forest also welcomed its first baby Linne's Two-toed Sloth. The 6-month-old baby has started to be inquisitive about its surroundings and enjoys solid food such as fruits and vegetables.
Singapore Zoo's oldest pair of Pygmy Hippos also welcomed a new calf named Thabo.
Births at River Wonders in 2022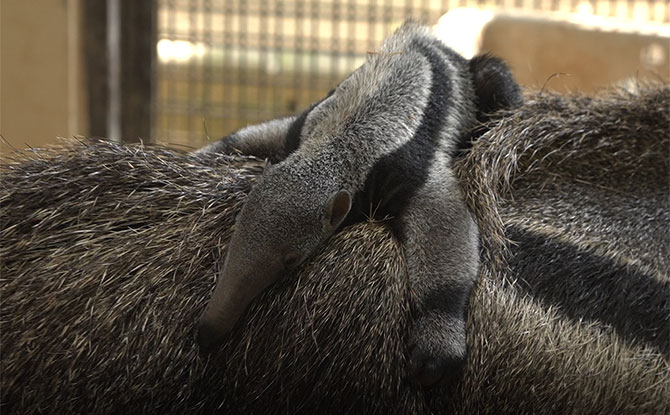 A new Giant Anteater pup, Zapata, was born at River Wonders. This is the park's fifth anteater birth. This species has a single offspring once a year after a gestation period of about six months.
The fast-growing pup and mom are currently still spending time together in an off-exhibit area.
Night Safari Births in 2022
Night Safari saw three additions of the critically endangered Brush-tailed Rat Kangaroos, also known as Woylies, giving a boost to the original trio about a year after their arrival.
Guests can spot the young ones hopping about at the Wallaby Trail.
Also at Night Safari, the Southern Three-banded Armadillo duo Rocha and Rolar were on a roll as they became proud parents again last year. The shy female baby has started transitioning to the adult diet which includes vegetables, mealworms and ant eggs and will make her debut later this year.