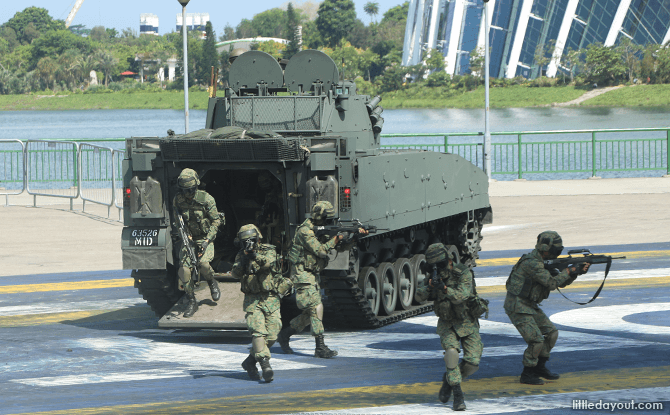 This weekend, 27 and 28 May, Army Open House 2017 brings the army experience to the city at the F1 Pit Building beside Singapore Flyer.
It has been five years since the last Army Open House and it looks like it has been worth the wait. Army Open House 2017 will feature an awesome showcase of military hardware, action-packed activities to get your adrenaline going and a heartfelt tribute in recognition of those who have served National Service over the years.
Army Ready
There are 3,300 people involved in running the Army Open House 2017 and 74 vehicles have been mobilised in support of the event. That should give you a sense of the scale of the Open House.
Yet, despite the large-scale nature of the event, the organisers have deliberately made it as accessible as possible to everyone. This means activities that cater to the very young and to those in the pioneer generation.
---
-- Story continues below --
Here are 8 things that you can look forward to at the Army Open House 2017.
1. Dynamic Defence Display Show
This is a highlight of Army Open House 2017.
Watch as military dogs are put through their paces. They will demonstrate their discipline, detection skills and attack prowess as they work side-by-side with their handlers.
Led by the Leopard 2 main battle tank, thundering military vehicles take turns at centrestage in a display of military might.
Look out for the expert parachutists, the Red Lions, and the secretive Special Operations Force. The latter, who are taking part in the Army Open House for the first time, will be in their black operational gear and be doing a military free-fall. They will also demonstrate their anti-terrorist skills as part of the Dynamic Defence Display Show.
The show will take place on Saturday at 10 am and 3pm, and Sunday at 10 am and 4 pm.
2. Battle Rides
Don't miss the chance to go for a ride on the Army's military platforms. There will be a total of six vehicles available for visitors to experience at Army Open House 2017. These include both land and sea vehicles.
Land vehicles include the Terrex Infantry Carrier Vehicle, Bronco ATTC, Light Strike Vehicle and Peacekeeper Protected Response Vehicle.
On the water, rides include the Light Amphibious Resupply Cargo vehicle and the M3G, a self-propelled floating bridge used by the Army's Combat Engineers.
Register onsite for a timeslot for the Battle Rides. Take note that for safety reasons, there are height restrictions on the ride – typically participants need to be a minimum of 1.2 metres tall.
3. Soldier Strong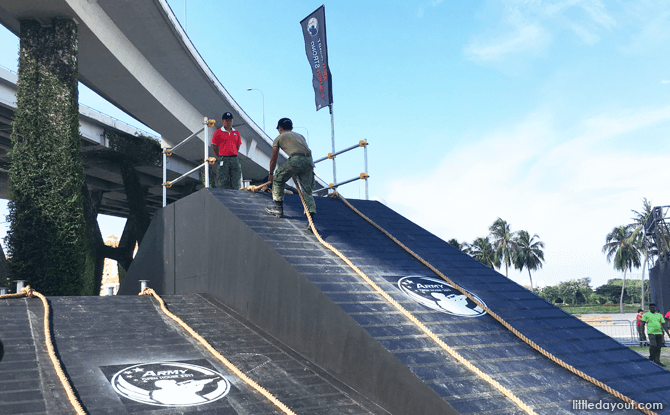 There are 7 obstacles to complete at the Soldier Strong obstacle course. These are a mix of the old Standard Obstacle Course and new calisthenics. To clear the course, you will have to scale a low wall, flip tyres, climb a low rope and complete four more stations.
Soldier Strong has been set up to accommodate both adults and children. This allows parents and children to attempt the challenge together, side-by-side.
4. NS50 Showcase
With the theme From My Generation to Yours, the NS50 Showcase consists of three immersive zones.
After a short introductory video, the first zone starts with a recap of life during Basic Military Training.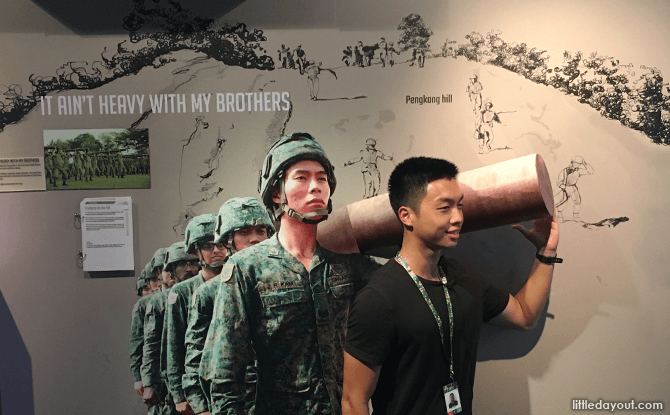 Photo opportunities for visitors include a "trick art" installation of recruits doing log PT set against the infamous Pengkang Hill and an installation capturing the moment when recruits toss their jockey caps into the air after the Passing Out Parade.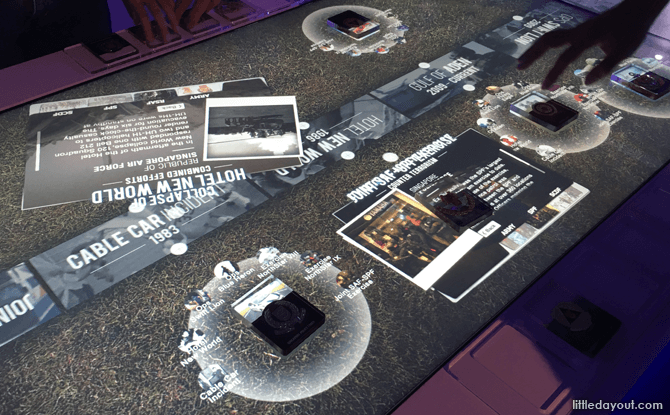 At the next zone, you can play with an interactive digital table. This captures the operations and deployments undertaken by Singapore Armed Forces and the Home Team over the yeara.
At a special Augmented Reality station, you can also dress up in virtual combat gear.
The last zone of the NS50 Showcase makes a call for Singaporeans to renew the commitment to Singapore and National Service. There are pledge booths and a self-reflection activity here.
5. Static Displays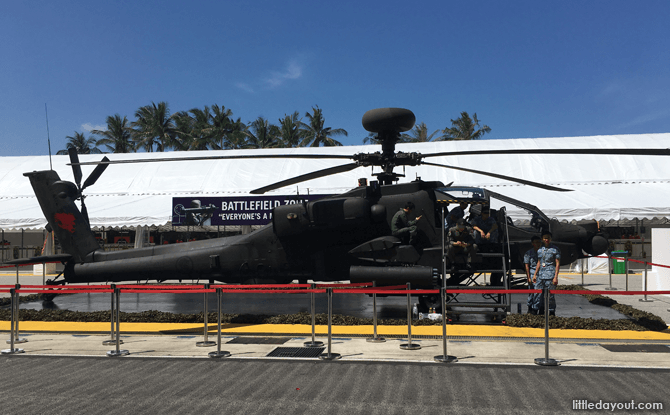 Military hardware will be on display at Army Open House 2017. Pose with vehicles such as the Leopard tanks, Terrex armoured fighting vehicle and Apache attack helicopter.
6. Battlefield Zone
Those who wish to get hands-on with weapons can do so at the Battlefield Zone. There is a firing range and an urban course, Room Clear!
7. Kids Zone
On the second floor of the F1 Pit Building, there are activities for families with young children. These include a mini obstacle course, photo booth for kids to dress up, mini battle rides and army window art.
8. Indoor Drone Flying Area & Night Walk
Give technology a go at Level 2 of the F1 Pit Building. Besides a showcase on technology and innovation, you can also try manoeuvring a drone or using night vision goggles to navigate a darkened course.
Army Open House 2017 Mobile App
An Army Open House 2017 mobile app is also available for download from the Apple App Store and Google Play Store. This app provides news and contains a map of the various exhibits at Army Open House 2017.
The app also includes an Army Hunt game where you can hunt for army vehicles at the grounds of the Army Open House to win souvenirs.
After the Army Open House 2017 at the F1 Pit, additional heartland showcases will be held. Army Open House 2017 heads to Punggol from 2 to 4 June and Jurong East from 9 to 11 June.
To stay updated on the latest news about the Army Open House 2017, visit their website.
Getting to Army Open House 2017 at F1 Pit Building
The entrance to Army Open House 2017 is at the junction of Bayfront Avenue and Raffles Avenue. It is diagonally opposite from Ritz Carlton Singapore, next to the bridge that leads to Marina Bay Sands.
Army Open House 2017 @ City
Dates: 27 and 28 May 2017
Time: 9 am to 8 pm
Venue: F1 Pit Building
Army Open House 2017 @ Heartland (Punggol)
Dates: 2 to 4 June 2017
Time: 10 am to 10 pm
Venue: Open field next to Punggol MRT
Army Open House 2017 @ Heartland (Jurong East)
Dates: 9 to 11 June 2017
Time: 10 am to 10 pm
Venue: Open field next to Jurong East MRT