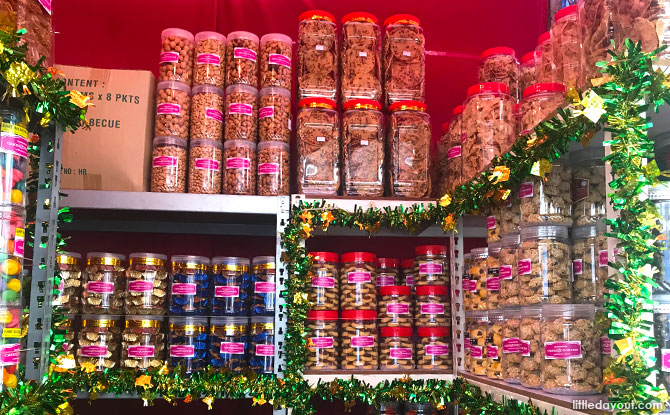 Hari Raya Puasa marks the end of Ramadan, the Islamic holy month of fasting from dawn to sunset. In this month, many scrumptious and delectable kuih raya, Hari Raya traditional goodies and cookies can be found at many Hari Raya bazaars. With Hari Raya Puasa, there is a shift from fasting to feasting to celebrate the end of Ramadan. Here are some mouth-watering traditional Hari Raya goodies that you do not want to miss during Hari Raya Puasa.
Traditional Hari Raya Goodies
1. Kuih Semperit (Custard Butter Cookies)
Also affectionately called Dahlia cookies due to their resemblance to Dahlia flowers, kuih semperit is a Malay traditional cookie served during Hari Raya to visiting guests. This sweet and buttery Hari Raya goodie melts in your mouth, making it a perennial household favourite. With its classic golden yellow swirls and red cherries, kuih semperit is both a treat for the eyes and the tastebuds. Modern renditions of this classic cookie include strawberry and Nutella versions that are also delectable but do not outshine the traditional treat.
2. Buah Rotan (Rattan Seeds Cookies)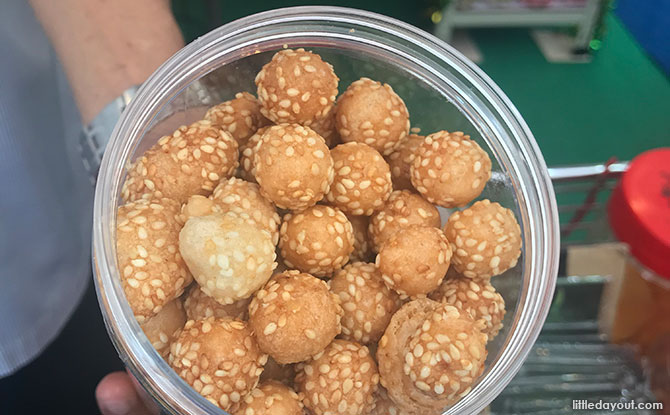 Buah Rotan is a Malay traditional cookie that is made with sesame seeds, coconut cream, sugar and glutinous rice flour. Deep fried to a beautiful golden brown, the buah rotan looks like rattan seeds, hence its given name in Malay. Crunchy and moreish, this tiny cookie will leave you reaching for more!
3. Kuih Koya (Mung Bean Cookies)
Made using three ingredients – mung bean flour, sugar and warm water, kuih koya is a simple yet delightful cookie. Don't be fooled by the short list of ingredients as it requires an extremely labour-intensive process of kneading, mixing and moulding before baking or drying to make these cookies. Truly a labour of love, be sure not to miss out on these carefully crafted cookies!
---
-- Story continues below --
4. Kuih Bangkit (Tapioca Cookies)
Crunchy on the outside yet melts in your mouth, kuih bangkit is a traditional cookie mainly made of tapioca flour, icing sugar, butter and coconut milk. Snow white in colour and absolutely addictive, the kuih bangkit is light, airy and fragrant and enjoyed by many races during different festive occasions including Chinese New Year and Hari Raya Puasa. Modern interpretations of the cookie include cheese and gula melaka (palm sugar) kuih bangkit but old is still gold.
5. Kuih Makmur (Peanut Cookies)
Last but far from the least, kuih makmur is a traditional Malay goodie that is served during Hari Raya Puasa. Packed with coarsely chopped peanuts topped off with a generous coating of icing sugar, this sugary treat which means 'prosperous' in Malay is definitely a decadent delight.