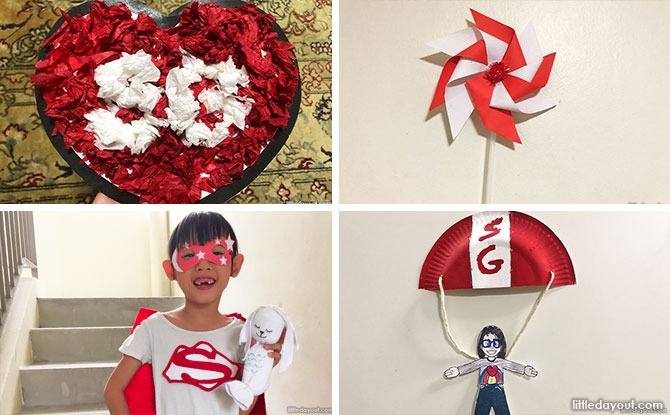 As National Day approaches, a fun way to engage your kids in the festivities is by spending some time doing some art and craft together. Here are five different National Day crafts that you and your kids can make together.
---
5 National Day Crafts
Be A Super Singapore
If a Super Singaporean had a super-suit, what would it look like? We'd like to imagine them having a red and white super-suit with a fun merlion as a sidekick! In our Super Singaporean DIY, we show how to make crafts such as a No-Sew Sock Merlion National Day Craft, Super Singaporean Emblem, Super Singaporean Cape and a Super Singaporean Mask. Read more here.
---
Red And White Pinwheel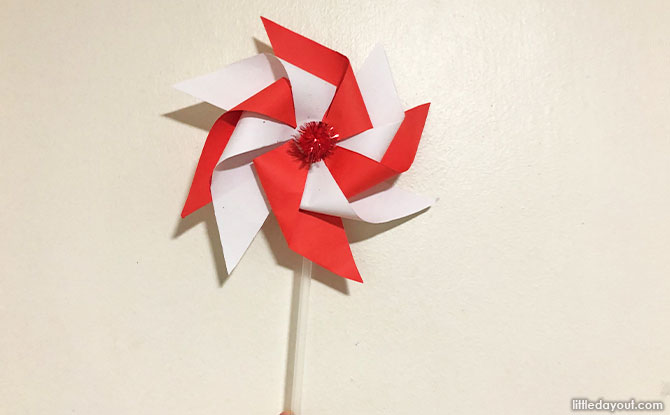 This pinwheel is a fun and easy décor and National Day craft to make. It also requires simple materials that can probably be found at home such as paper, glue, and straws. This method of making a pinwheel can be swapped to be any colour, but we used red and white to match the National day spirit. See the full tutorial here.
---
SG Paper Heart Art
This fun SG paper heart art piece is a National Day craft that is simple to make and has an interesting texture and look! It's a great art piece for toddlers too as they can practice their tearing and pasting skills. A variety of papers can be used such as crepe paper, coloured napkins or coloured paper. See our tutorial here.
---
Making A Singapore Flag
One of the iconic crafts, here is a simple template of a flag that can be printed out to use in a craft. Simply print the template on a piece of white paper, cut it out and colour it in. It has a dotted line at the side that can be used to fold around a straw or stick to make a handheld flag. This template can also be decorated the same way as the SG Paper heart. Get the link to the flag template here.
---
Paper Red Lion Parachute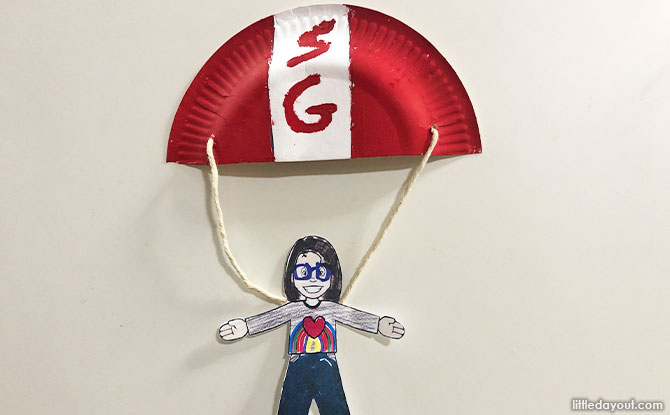 The Red Lions are a major highlight in our National Day parades. The team consists of members from the Singapore Armed Forces Parachute Team and they are a crowd favourite because of their commitment to daring and eye-catching displays for members of the public. Little ones can now do this easy craft using a few materials and design their own Red Lion parachute as a display this National Day! See how we made ours here.