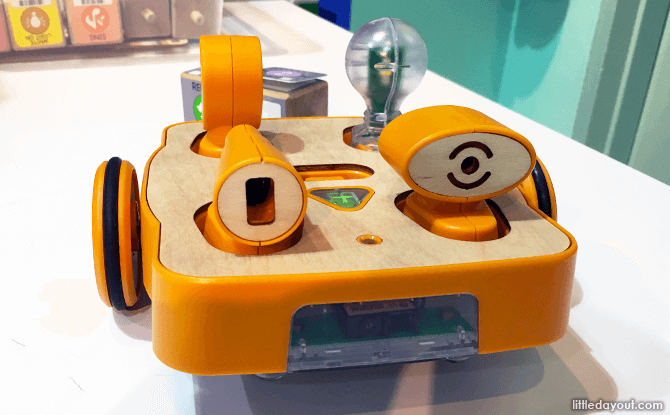 Mention "children" and "technology" together and the image of kids fixated on their parent's smart phones usually comes to mind. But there is more to tech-enabled toys than screen time. Here are three tech toys suitable for young children that don't involve screens and where to find them in Singapore.
Bee-Bot
Bee-Bot is a cute, yellow-and black programmable floor robot. It provides an introduction to sequencing and directional language. Kids can programme it using the orange directional buttons on the top. It confirms the instructions with flashing eyes and sounds.
Play with Bee-Bot by programming it to navigate around activity mats. Mats are available in themes such as Treasure Island, Fairytale and Seaside. There is nothing stopping you from making your own mats and creating your own games as well.
---
-- Story continues below --
Bee-Bot is available in Singapore from September 21 Enterprise Pte Ltd, a supplier of early childhood educational resources. The price for a single Bee-Bot is S$158 and a starter pack with one Bee-Bot, mats, sequencing cards and shells costing $450.
Where to Buy Bee-Bot in Singapore
September 21 Enterprise Pte Ltd
13 Toa Payoh Lorong 8, #04-06/05 Braddell Tech, Singapore 319261
www.september21.com.sg
KIBO
KIBO consists of two parts – a robot that you can assemble and a set of wooden blocks. Even though they may look like regular wooden blocks, they are really the programming components for the robot.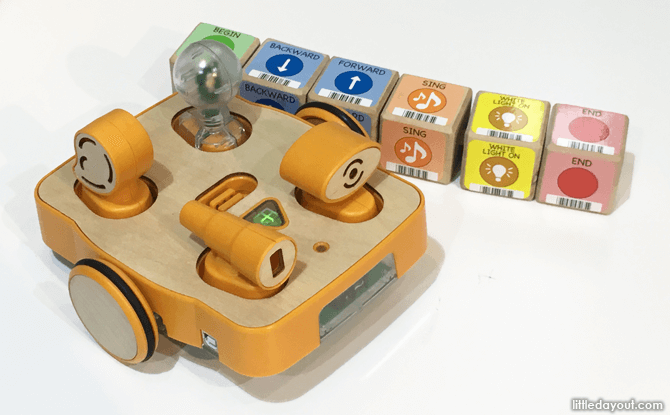 Children can line up the KIBO wooden blocks, each containing instructions on motion and conditional actions, and then scan the barcodes on the blocks to make the wheeled robot carry out the instructions.
KIBO is designed by KinderLab Robotics for kids between four to seven and available in kits. A KIBO Kit containing 10 programming blocks, 4 parameter cards, 2 motors and 2 wheels costs US$229 from the KinderLab Robotics website.
littleBits are colour-coded, magnetic and reusable electronic circuits that kids can use to create their own projects. No need to worry about soldering irons here, just snap them together and start creating. They are designed for kids 8 years old and up.
Don't be fool by their cuteness, littleBits can be used to create real electronic circuits. Kids will have fun experimenting with them, building anything from a moving car to a musical synthesiser.
littleBits is available in Singapore from SGBotic. A "Rule Your Room" kit with instructions for eight inventions costs S$143. The larger Gizmos & Gadgets kits with motors, wheels, lights and servors costs S$286.95.
Where to Buy littleBits in Singapore
SGBotic Pte Ltd
11 Woodlands Close, #10-03, Woodlands 11, Singapore 737853
Contact: 65701125
www.sgbotic.com
None of the above require anything more than a dose of curiosity and dash of reasoning.
Where Else You Will Find These Tech Toys Suitable for Young Children
These preschooler-friendly tech toys have been introduced to selected preschool centres since 2015 by the Infocomm and Media Development Authority under the PlayMaker programme. The programme aims to use technology to introduce preschool children to sequencing, problem-solving and planning skills.
KidsSTOP's PlayMaker Studio also conducts workshops that use these toys.
This story contains affiliate links. This means we earn a small fee if you purchase something through a link from our website. There is no additional cost to you. This helps to support Little Day Out and keeps us going.