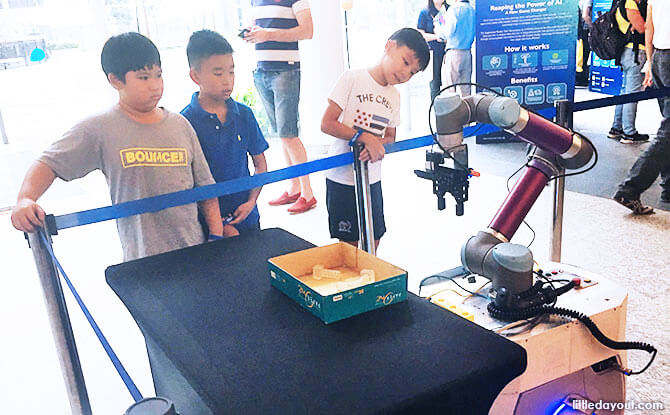 Watch as an Autonomous Guided Vehicle (also known as a robot to you and me) makes its way over to a table and unloads a set of bolts. Or try putting on a set of VR goggles and experience what it is like to carry out a medical procedure.
These are some of the activities found at the booths at the X-periment! 2018, the science fair which is now on at Fusionopolis One till Saturday, 8 September.
X-periment! 2018 at Fusionopolis One, Part of Singapore Science Festival 2018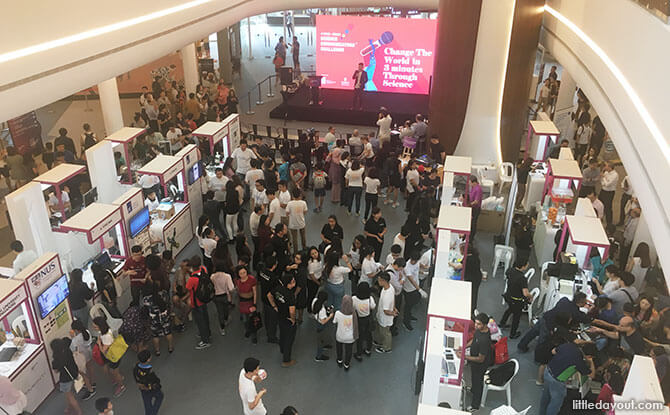 Organised as part of the Singapore Science Festival 2018, the two-day event which takes place from 7 to 8 September 2018 brings together various research institutions (many from the A*STAR family) and industry partners to showcase developments in tech and science.
Other booths at X-periment! 2018 showcase the work of organisations such as the Singapore Bioimaging Consortium, SIMTech, Doctor Anywhere and Republic Polytechnic.
---
-- Story continues below --
Younger visitors may be interested to try out a Bullet Time Photography booth by Science Centre Singapore.
On Level 5 of Fusionopolis One, kids can climb through a small, inflatable "digestive system" to find out about what happens to food when it enters the human body. Other activities include a Painting with Light and an NEA booth where kids can take on a Larvae Picking Challenge.
The Energy Live! Science show by the Royal Institution UK will also be held from 4.15 pm to 5 pm 10 am, 1 pm and 5.15 pm on Saturday, 8 September. This science education show will feature flaming butane bubbles, exploding tin cans and other experiments that demonstrate the movement of energy from one store to another.
one-north Festival 2018
X-periment! is also held in conjunction with the one-north Festival 2018, an annual celebration of research and innovation organised by A*STAR and JTC and supported by Science Centre Singapore. Other programmes being held as part of the one-north Festival 2018 include open house tours, talks and a Soapbox RACE.
Find out more about X-periment! 2018 and one-north Festival 2018.