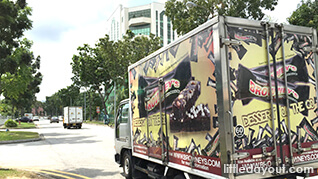 Whether it's Chinese New Year or Christmas, a birthday party or an extended family gathering at home, there's always a reason to celebrate with a food feast here in Singapore. Tucked away in Woodlands Terrace is a continuous row of food factories that will give you the biggest bang for the buck, and satisfy both big and little tummies.
Woodlands Terrace Warehouses
We're talking about a huge variety of food from sashimi, sausages, fishballs, pork knuckles and wagyu beef, to pies, cakes and ice cream that will be perfect for any party or barbeque you are thinking of hosting, but at factory outlet prices! This big food sale is open to the public even on weekdays, so you can enjoy a quieter little day out and stock up on your grub.
With at least two factories, including Foodedge Gourmet and Zac Meat & Poultry, giving away free food samples under their outdoor tents on the last Saturday of each month and during special sales before the festive seasons, the atmosphere turns carnival-like at this industrialised farmer's market. Follow the food truck with us before you have a great little day out foraging at these Woodlands Terrace Warehouses.
All Year-Round Food Fantasies

Fassler Gourmet
Top up your tummy tank on the spot with the cheapest and freshest salmon sashimi in town and more at Fassler Gourmet. This seafood-specialty factory supplies over 200 freshly made seafood products to hotels and restaurants in Singapore, and you would have probably seen their famous blue and black packaging at the supermarkets. Fassler is where you can have fun walking right into an artic cold chiller to satisfy your fish fetish at rocket bottom deep sea prices (read about how you can Dive into a Fishy and Thrilling Chiller in our earlier story: Snow & All Things Icy Cold in Sunny Singapore).
Fassler Gourmet
46 Woodlands Terrace, Singapore 738459
Tel: 6257 5257
Mondays to Fridays: 8.00 am – 5.00 pm; Saturdays: 8.00 am – 1.00 pm; Closed on Sundays
(Fassler's retail outlet is at Blk 55 Tiong Bahru Road)
Food Products: Salmon Sashimi, Smoked Salmon, Tuna, Rainbow Trout, Cod, Halibut, Shishamo, Soups such as Pumpkin, Clam Chowder, Minestrone, Oxtail
Foodedge Gourmet / Melvados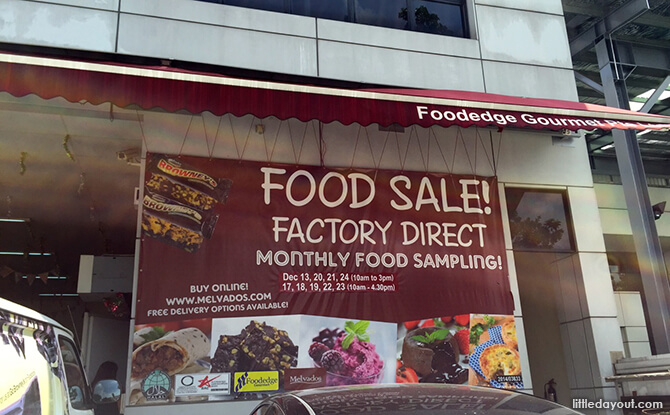 If you're too busy or tired to whip up a gourmet meal for your kids, stop by Melvados for fully cooked meals, including pastas, pizzas and meats that only need to be reheated. Melvados, the retail brand of Foodedge Gourment, supplies to key food and beverage clients such as airlines, restaurants, hotels, country clubs, supermarkets and fine dining outlets in Singapore. Put the food on fancy plates, and your family will be in for an instant gourmet treat without the hard work.
26 Woodlands Terrace, Singapore 738449
Tel: 6339 4953
Mondays to Fridays: 9.00 am – 5.00 pm, Saturdays: 9.00 am – 2.30 pm, Closed on Sundays and Public Holidays
(Melvados' retail outlet is at 216 Joo Chiat Road
#01-11, Singapore 427483
, Tel: 64449351)
Food Products: Apple Crumble Pie, Brownies, Frozen Yogurt, Pestos, Beef Lasagna, Chicken & Mushroom Baked Rice, Ice Cream
Zac Meat & Poultry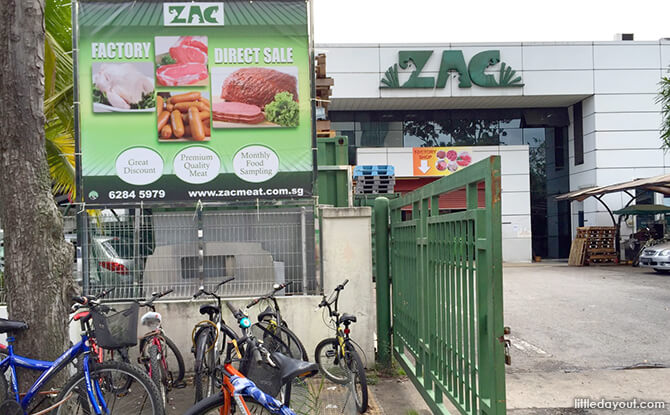 This halal-certified company specialises in meat supply and processing, and provides various cold cuts, meats and sausages to airline companies, hotels, fast food outlets, major pizza industries, catering companies, and even ship chandlers. For the meat lovers, meet the meat paradise!
16 Woodlands Terrace, Singapore 738441
Tel: 6284 5979
Mondays to Fridays: 8.30 am – 5.30 pm, Saturdays: 8.30 am – 12.30 pm, Closed on Sundays and Public Holidays
Food Products: Sausages, Cold Cuts, Wagyu Beef, Kebabs, Beef Bacon Pepper, Chicken Snail Sausage, Shepherd's Pie
CS Tay
Japanese Crispy Chicken with Seaweed is actually made in Singapore! CS Tay started off with a dream to create a range of hassle-free frozen products easily available for every household. They are also behind the BBQ Express kiosks that serve up quality ribs and chicken at a few shopping malls, the Kuroya chain of quick and affordable Japanese set meals.
CS Tay
64 Woodlands Terrace, Singapore 738468
Tel: 6758 7533
Mondays to Fridays: 9.00 am – 5.00 pm, Saturdays: 9.00 am – 12.00 pm, Closed on Sundays and Public Holidays
Food Products: Japanese Crispy Chicken with Seaweed, Tempura Fish Fillet, Tatsumoto Japanese Pork Sausage
Chinese New Year Favourites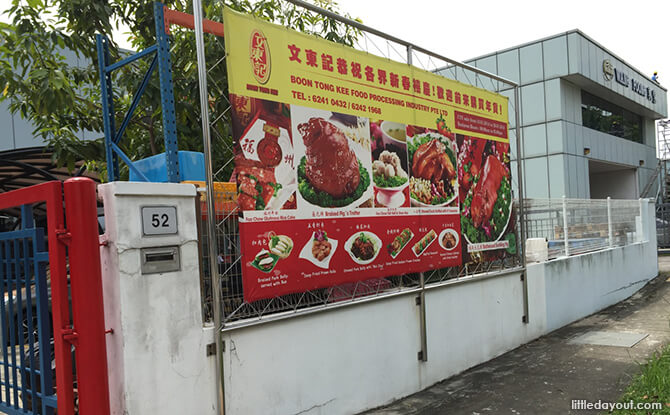 For the Chinese New Year Festive Season, you may want to make these (bottomless) pit stops too:
KSP Marketing
10 Woodlands Terrace, Singapore 738435
Tel: 6274 6108
Mondays to Saturdays (including Public Holidays): 9.00 am – 5.00 pm, Closed for lunch from 12.00 pm – 1.00 pm and on Sundays
Food Products: Steamboat/BBQ, Beef, Chicken, Duck, Goose, Pork, Seafood
Li Chuan Food Products
40 Woodlands Terrace, Singapore 738456
Tel: 6755 6788
Daily: 9.00 am – 5.00 pm (starting from 3 Feb 2015)
(This is a factory, so it's best to place your orders at their office on the second floor or call beforehand. However, starting from 3 February 2015, they will be opening their doors with an outlet on the ground floor, daily.)
Food Products: Fish Balls, Angry Birds Fish Cakes, Chikuwa, Seafood Stick, and Other Ingredients for Steamboat, Breaded Crab Claw, Fried Surimi Scallop, Fried Wanton
Boon Tong Kee
52 Woodlands Terrace, Singapore 738462
Tel: 6241 0432
Food Products: Boon Tong Kee's Sauces, Dry Goods such as Fried Fish Maw
Fragrance Foodstuff
60 Woodlands Terrace, Singapore 738466
Tel: 6257 8608
Daily: 8.00 am – 7.00 pm
Food Products: Bak Kwa (Barbequed Meat), Nian Gao, Smoked Duck Breast, Peanut Candies and Other Chinese New Year Goodies
Christmas Favourites
Wang Foong Foodstuffs Suppliers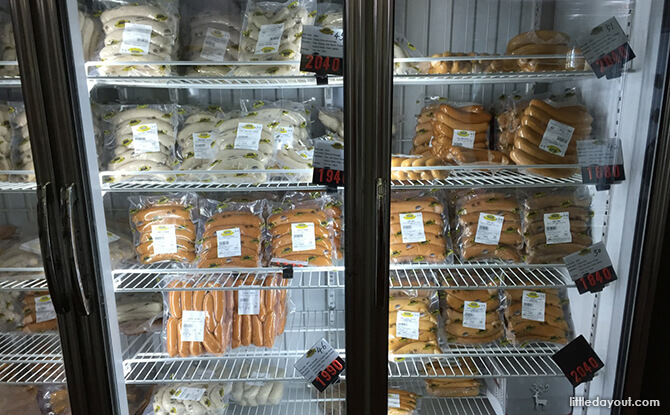 Wang Foong (Wanfon)
48 Woodlands Terrace, Singapore 738460
Tel: 6759 4388
Food Products: Saucisse House of Gourmet products including cured meats and marinated meats such as a wide range of gourmet sausages, bacon, ham, and pork knuckles.
How to Get to Woodlands Terrace Warehouses
See the streetdirectory.com map of the complete list of factories at Woodlands Terrace.
MRT Station:
Admiralty MRT (NS11)
Bus Stop:
Board Bus 964 from Woodlands Interchange or cross the overhead bridge at Admiralty MRT Station
To start from 68 Woodlands Terrace, alight opposite Block 22, 2 minute walk from bus stop B46931
To start from 2 Woodlands Terrace, alight at Old Chang Kee factory bus stop B469881
By Car:
SLE Exit Woodlands Ave 12 (Exit 9)
Continue onto Woodlands Ave 10
Turn left onto Woodlands Ave 9
Turn left onto Woodlands Link
Turn right onto Woodlands Terrace