Shopping with kids can be a seriously stressful experience- one second they're giggling, the next they may be wailing and demanding to be fed or changed. Ah, the joys and pains of parenthood. Thankfully, Tanglin is a kid-friendly area suitable for family shopping trips or days out and about with your little ones. Here's a handy guide to all the Tanglin nursing rooms if you're in the area and need to perform your parenting duties.
Nursing Rooms in Tanglin
Palais Renaissance Nursing Room
The Babies room at Palais Renaissance is small and furnished with the bare essentials- a sink, a cushioned stool for nursing mothers, a baby changing station and two electrical points. Large enough to accommodate an umbrella stroller, the room is slightly cramped but still functional. Recommended only for short, emergency diaper changes and feedings.
Address: 390 Orchard Rd, Singapore 238871
Location: Level 2 near the restrooms
Claymore Connect Nursing Room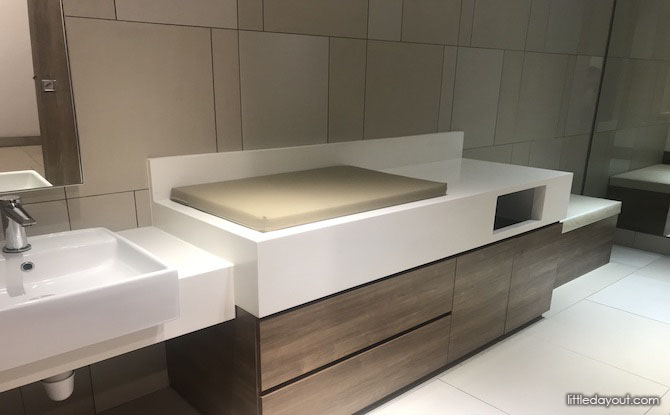 The nursing room in Claymore Connect is roomy enough for strollers although it is quite bare. There are few baby-friendly amenities, namely a sink, a padded diaper changing table and a small bench for nursing mothers. Despite the fact that it may not be as well-equipped as other nursing rooms in Orchard, the nursing room at Claymore Connect is clean, has basic facilities and is also stroller-friendly, making it more suitable for diaper changing. The nursing room is also lockable, ensuring the privacy of families and nursing mothers.
---
-- Story continues below --
Address: 442 Orchard Rd, Singapore 238879
Location: Level 3
Forum The Shopping Mall Nursing Room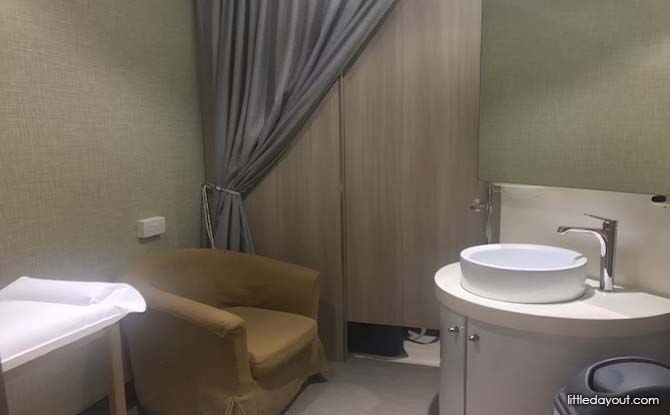 Although the Mother's Room in Forum The Shopping Mall is a little small, it is clean and well-equipped with a sink, armchair, diaper changing station and two electrical points within the room.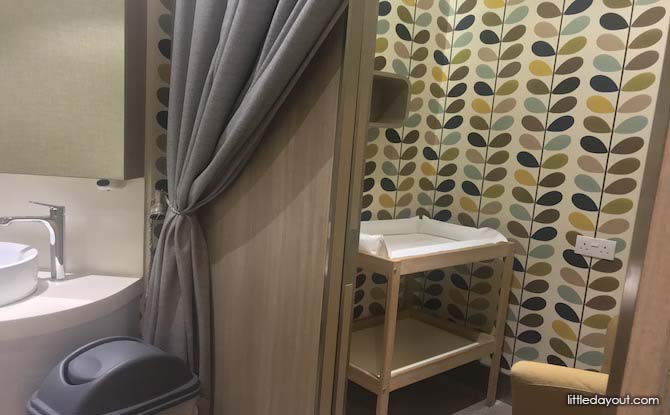 The Mother's Room also contains two lockable private rooms for breastfeeding mothers, with each room thoughtfully furnished with an armchair, padded diaper changing station and two electrical points. Nappy disposal bags are also provided within each room, making it very convenient for mothers who need to nurse and change their babies' diapers. In addition, curtains can also be drawn outside the doors of each room for additional privacy, allowing mothers to express and nurse in comfort and privacy. Do note that diaper changing stations are also available inside all women's restrooms and level 1 men's restrooms if you just need to make a quick diaper change.
Address: 583 Orchard Rd, Singapore 238884
Level 1, near restrooms
Tanglin Mall Nursing Room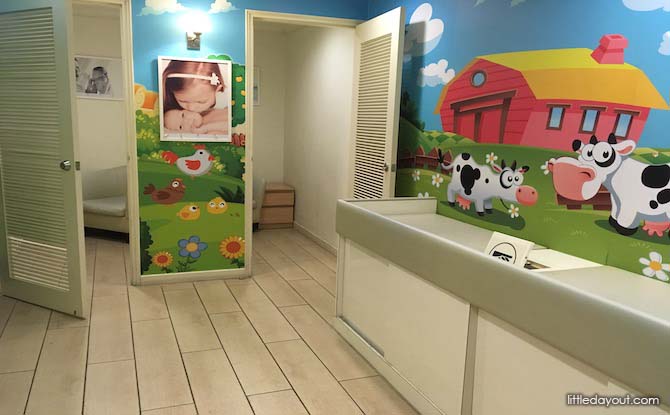 Located next to the male restrooms on level 3, Tanglin Mall's Baby Care Room is spacious, clean and cheerily decorated with colourful cartoon cow characters. It is well equipped with a sink, hot water dispenser and two cushioned diaper changing stations, making it a pleasant place for mummies and daddies to attend to their young children.
In addition, there are two lockable breastfeeding rooms, each containing an armchair and an electrical point, making it perfect for mummies to breastfeed or express in private. There are also two electrical points located in the Baby Care Room outside of the breastfeeding rooms which can be used. A well-equipped space, do check out this nursing room if you're in the Tanglin area.
Address: 19 Tanglin Rd, Singapore 247909
Location: Level 3
Summary of Tanglin Nursing Rooms
Overall, the Tanglin nursing rooms are pretty decent- easily accessible, clean and sufficiently equipped for your baby care needs. Although they may not be the most luxurious nursing rooms in the Orchard area, they are still functional and suitable for emergency diaper changes and feeds. If you're travelling around the Orchard area with your little tot and need information about the nearest nursing rooms in the area, do check out our guides to nursing rooms in Orchard and Somerset.
| | Location | Hot Water | Electrical Point | Sink | Privacy for Nursing Mother |
| --- | --- | --- | --- | --- | --- |
| Palais Renaissance | Level 2 (near restrooms) | No | Yes | Yes | Yes |
| Claymore Connect | Level 3 | No | No | Yes | Yes |
| Forum the Shopping Mall | Level 1 (near restrooms) | No | Yes | Yes | Yes |
| Tanglin Mall | Level 3 (near male restrooms) | Yes | Yes | Yes | Yes |