Travelling to visit family or friends overseas? Maybe you have loved ones who are visiting Singapore and wish to bring a little something home. Other than the typical plastic Merlion keychains and T-shirts that say "I <3 Singapore" or "Singapore is a FINE city", here are some other uniquely Singaporean souvenirs and gifts that you can buy.
---
Where to buy Singapore gifts and souvenirs
Salted Egg Yolk Potato Chips and Fish Skin
The love affair that Singapore has with salted egg yolk is evident from the amount of salted egg yolk products in the market. The classic ones include salted egg yolk potato chips and salted egg fish skin, both of which make great gifts, especially in countries that are outside of Asia. Popular local brands include Irvings, Golden Duck and Crusty's.
---
Locally made products
As an avid online shopper, it seems like there are hardly ever any products that are out of reach. However, there are many small local businesses that might not be able to offer international shipping or shoppers who might want to have a product that is locally made here, but not pay the high international shipping fee. For those cases, make full use of your plane ticket and support local by getting friends some locally made products that best suit their wants and needs. From board games to fashion and toys, there are tons of options to find the perfect gift.
---
-- Story continues below --
---
Independent Market
Independent Market has a curated range of local brands dedicated to designing and making small batches of innovative, Singaporean-themed products. Explore the very best of local independent labels at their stores both online and onsite at Holland Road Shopping Centre. We really like the user experience of their website and the layout makes finding the perfect gift a breeze. Website
Local books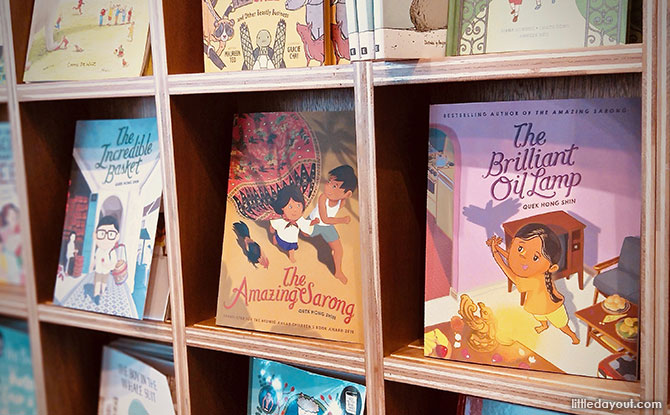 If you're looking for a gift for Bibliophiles, consider getting some locally written and published books. There are various stores that are wonderful supporters of local literature with Huggs-Epigram Coffee Bookshop and Woods In the Books being a few. For younger readers, popular and well-loved books include The Amazing Sarong, the Secrets of Singapore series, The Little Singapore Book, Harry Builds a Nation and the Sherlock Sam series.
---
Kaya
When one thinks of a classic local breakfast, Kaya toast and half-boiled eggs are probably one of the uniquely Singaporean meals that first come to mind. As eggs are probably a pretty common ingredient that can be found in most countries, Kaya would be a unique spread that can be bought to allow your loved one to have a taste of this sweet and fragrant treat.
---
little drome store
Founded by 2 graphic designers, the little dröm store houses products inspired by local culture and also imports a range of curated international design goods. They do not have a dedicated physical store, but one can easily find their products stocked at other selected shops and locations in Singapore or online at their website here. They carry a wide range of products from pins, to greeting cards and homeware. Website
---
Kopi
Ever thought about how Singapore is a country where there are more than seven different ways to order coffee? With so many ways to enjoy it, getting locally roasted coffee beans as a gift is sure to be well received by coffee lovers.
---
when I was four
Carrying adorably quirky and well-designed products, When I was Four is a great place to shop for gifts for anyone who likes gifts that have bright colours and hand-drawn graphics. We really like their plushies that feature unique and original takes on local snacks (a great alternative for countries with food restrictions) and uniquely Singaporean phrases such as "stylo milo". Website
---
Supermama
Founded in 2010, Supermama is go-to source for locally designed homeware and souvenirs. Featuring a range of beautifully designed products, those looking for gifts can choose from a range of products such as their iconic cobalt blue white porcelain plates with popular designs such as Singapore Icons which feature significant symbols that many will associate with Singapore.
Shoppers can also consider their Supermama Home series which is inspired by patterns and phrases that are close to the hearts of many Singaporean. A personal favourite is the "welcome home" plate which has the message that greets all Singaporeans onboard a Singapore Airlines flight whenever the plane lands home. Website