Besides being known for her well-preserved heritage buildings and old-school charm, Penang is also renowned for its rich food culture. We are all familiar with Penang char kway teow and Lor Bak when it comes to Penang food. While everyone has their favourites when it comes to what to eat in Penang, here are five of our personal favourite dishes that you should bookmark for your next food adventure in Penang.
What To Eat In Penang
1. Traditional Peranakan Kueh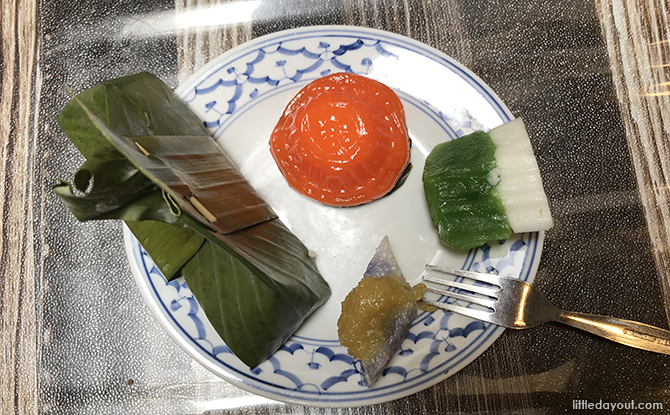 One of my favourite foods is Peranakan cuisine. Imagine my delight when I stumbled upon Moh Theng Pheow Nyonya Koay during my recent trip to George Town Penang. A renowned shop that has been serving authentic Peranakan cuisine since 1933, Moh Theng Pheow Nonya Koay is a hidden gem tucked away in a small corner of Chulia Street. The Peranakan eatery serves a wide variety of handmade kueh, many of which I have never seen before in Singapore. Made with humble ingredients like glutinous rice, coconut and mung bean paste, these delectable delights are best enjoyed with some tea or a refreshing glass of pandan juice to beat the heat in Penang. I couldn't resist and ordered a few of these bite-sized treats, wishing that I had a second stomach to try all the scrumptious handmade kueh. Kheng Kaya and Nonya Kuih at Batu Lanchang Market is another local favourite- I saw a large crowd of locals buying the delicious handmade treats when I was there for breakfast.
Address:
Moh Theng Pheow Nyonya Koay: Chulia St, Jalan Masjid, 10200 George Town, Penang, Malaysia
Website
Kheng Kaya and Nonya Kuih @ Batu Lanchang Market: George Town, 25, Lintang Batu Lancang, Jelutong, 11600 George Town, Pulau Pinang, Malaysia
Website
2. Penang Assam Laksa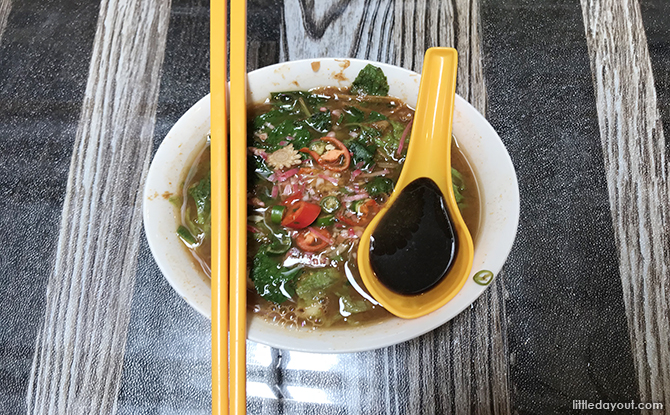 You've never been to Penang if you didn't eat Penang assam laksa. An iconic dish of the state, Penang assam laksa is a dish composed of a sour and spicy mackerel broth filled with springy noodles and fresh herbs. Flavoured with tamarind paste that gives it a unique tangy taste, Penang assam laksa is a mouthwatering medley of flavours that will leave you dreaming of it on a slow Monday afternoon. I relished the one served at Moh Theng Pheow Nyonya Koay but you can also check out the famous Pasar Air Itam Laksa stall that has won the hearts and stomachs of many. This definitely belongs on my list of what to eat in Penang.
---
-- Story continues below --
Address:
Moh Theng Pheow Nyonya Koay: Chulia St, Jalan Masjid, 10200 George Town, Penang, Malaysia
Website
Air Itam Laksa: 1, Jalan Pasar, Pekan Ayer Itam, 11500 Ayer Itam, Pulau Pinang, Malaysia Website
3. Wonton Noodles
Another street food not to be missed is Penang wonton noodles or wantan mee. The wonton noodles in Penang are served with a sweet and flavourful black sauce base, slightly different from the Singaporean version of the dish which is usually served with ketchup or chilli sauce. I managed to try the famous wonton noodle stall located along Chulia Street as it was conveniently located just across my lodging. The noodles were perfectly springy and bathed in a sweet and oily black sauce, topped off with a decent serving of wontons and char siu. This particular stall was also featured by the late Anthony Bourdain in his show when he visited Penang. For good food at an even better price, this is definitely a dish to search out if you are wondering what to eat in Penang. The stall opens at around 6 pm daily, so come hungry and expectant.
Address: Lebuh Chulia, 10200 Georgetown
4. Dim Sum
Be it for breakfast or as a mid-day snack, we always want some dim sum. A place I recommend would be Tai Tong Restaurant, one of the most established and oldest dim sum joints in the city. Tai Tong Restaurant serves a large variety of dim sum- from the quintessential siew mai and har gow to Chinese steamed buns and deep-fried dishes. Tai Tong Restaurant is also one of the few eateries open for business from 6 am, perfect for you to grab a delicious breakfast and fuel up for the day. The famous eatery gets packed in no time so make sure you arrive early to save a seat.
Address: 45, Lebuh Cintra, George Town, 10100 George Town, Pulau Pinang, Malaysia
5. Traditional Kopi and Kaya Toast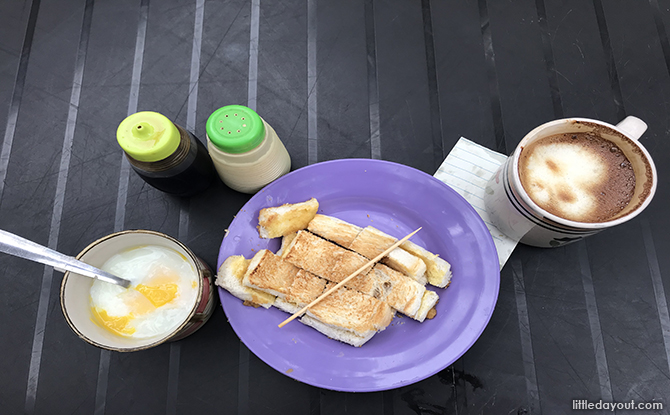 While in Penang, do make time to enjoy a hearty breakfast of traditional Nanyang kopi and kaya toast. Savour the strong, rich aroma of a well-brewed cup of Nanyang kopi and tuck into the perfectly crisp toast slathered with layers of butter and sweet kaya. My favourite breakfast spot would be No.76 Coffee stall at Batu Lanchang market, that serves a heartwarming set of soft boiled eggs, kaya toast and hot Nanyang coffee. Another popular place that also deserves a mention is Toh Soon Café which is always packed with tourists and locals alike.
Address: No. 76 Coffee: 19, Medan Batu Lanchang, Jelutong, 11600 George Town, Pulau Pinang, Malaysia
Website
Toh Soon Café: Lebuh Campbell, George Town, 10450 George Town, Pulau Pinang, Malaysia
Website