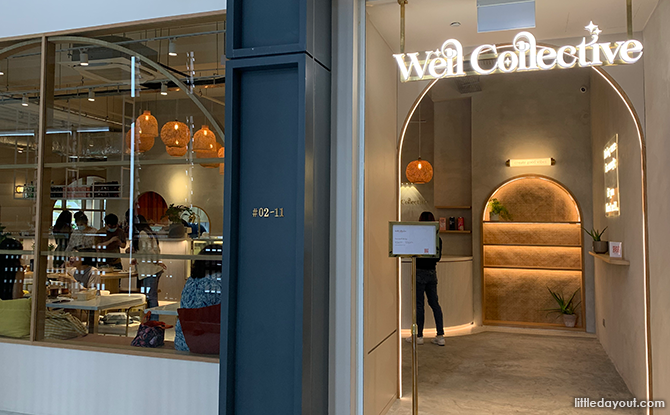 At Well Collective, the wide arched entrance is as welcoming as it gets. With no door, parents and pa(w)rents with big strollers and pets in tow can waltz right into this sanctuary. Located in the newly-opened Northshore Plaza II in Punggol, Well Collective is a contemporary Japanese-inspired café in tune with wellness and the mindful eating lifestyle.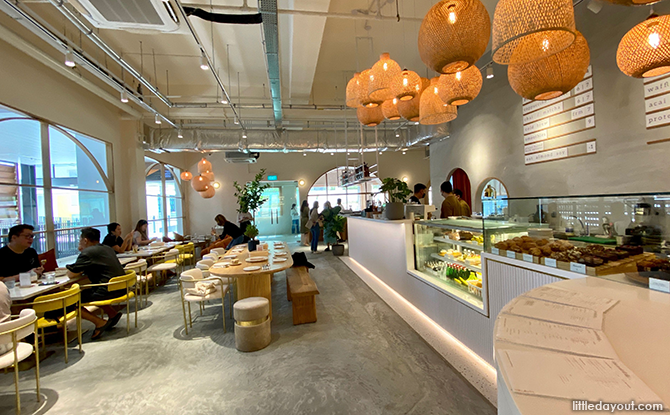 Unlike most other cafés, the tables at Well Collective are generously spaced out. Limewashed walls and a wooden interior exude a getaway vibe. Calming music makes it a perfect place to relax and with a thoughtful menu, it is a healing experience.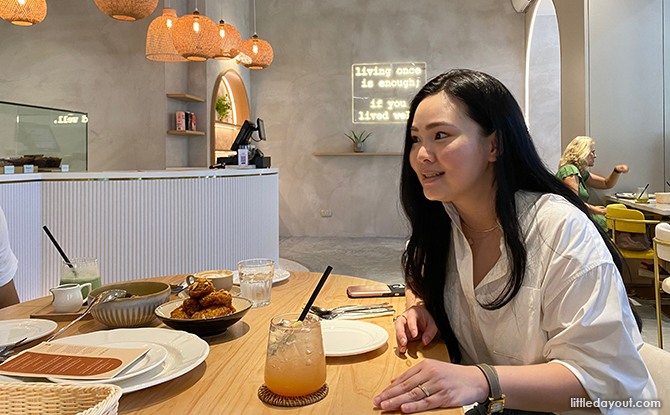 ---
-- Story continues below --
Well Collective is founded by Cassandra Tan, the creator behind Botany at Robertson Quay and The Ritual. According to Cassandra, Botany centres on the mind and body, while The Ritual at Bukit Timah Road focuses on the mind and soul. Well Collective encompasses all three aspects – the mind, body and soul.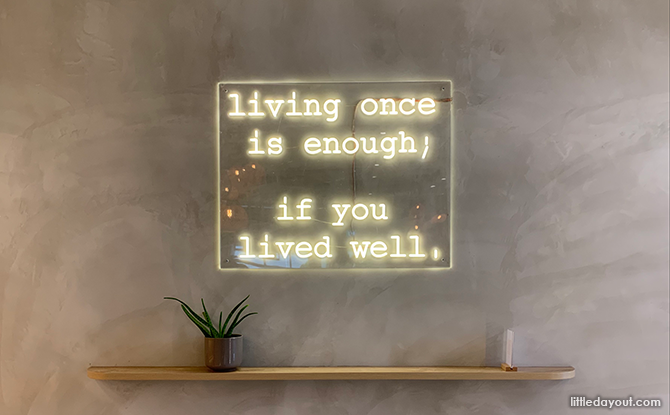 Just like its sister cafés, a thoughtful quote greets you once you enter the cafe, which makes for a very instagrammable shot.
---
Family-Friendly, Pet-Friendly and the Perfect Work or Study Spots at Well Collective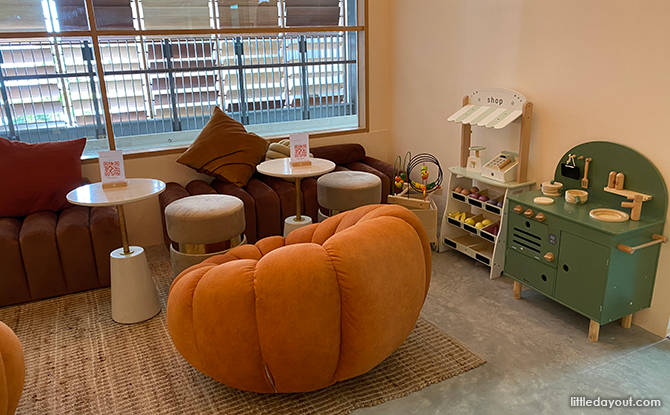 Parents with little ones can head to a special lounge corner with play sets and comfy couches.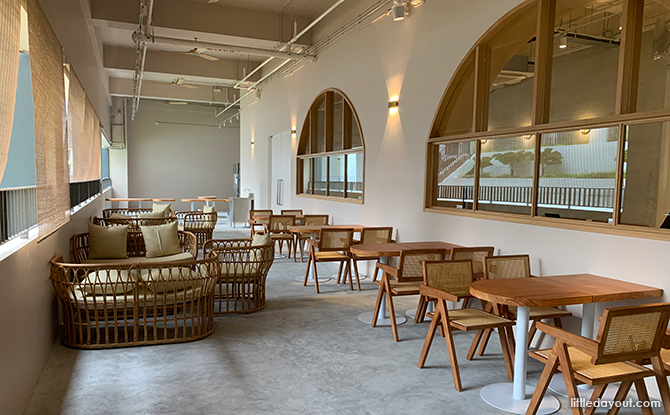 Pawrents and their pets can walk through the café and out into the pet-friendly alfresco patio. There is ample space for pets to run around freely. Well Collective is adjacent to a pet grooming clinic "The Collar Club", so while your pets get their makeover, you can chill out at Well Collective.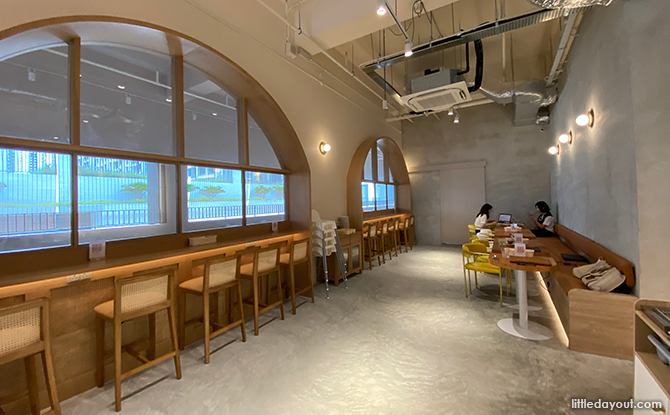 If you are looking for an alternative spot to work or study from, this is the perfect spot. There are power sockets at all tables and even a separate section with a high table for those who want to be "in the zone".
---
Food at Well Collective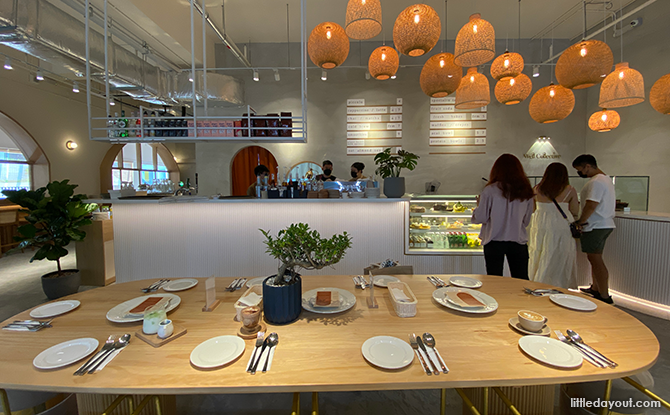 The all-inclusive Well Collective has something for everyone, from bakery delights, to pastas and is even an Izakaya by night. In line with the wellness theme, no MSG is used. And instead of table salt and canola oil, they use Himalayan salt and vegetable oil. Vegan and gluten-free options are also available here.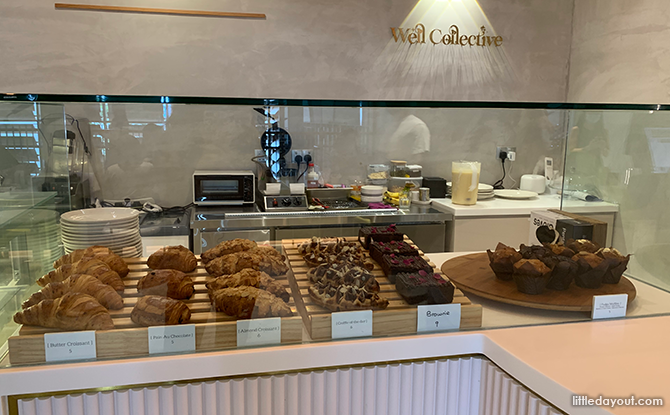 Their pastries are made in-house daily and the dough is imported all the way from France. Talk about authentic!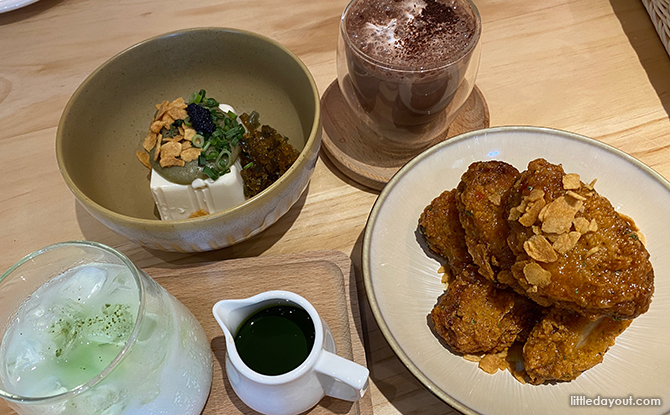 Despite it being a café promoting health and wellness, we can still have cheat days with fried food (made healthier). The scrumptious Mid Wings with Yuzu Chilli Sauce ($13) were actually air-fried so I felt less guilty eating them. The sweetness from the Yuzu was rather refreshing, and overall very yummy.
As someone who does not usually eat pitan (century egg), I was not sure if I would like the Torched Pitan Tofu ($10). The greyish paste on the tofu is the pitan sauce. Surprisingly, it was very creamy and light.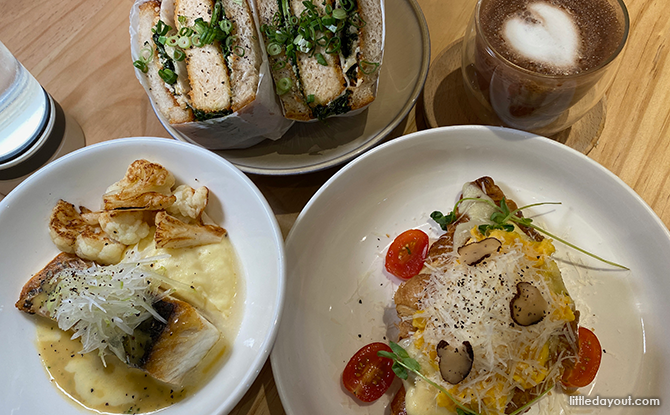 The dish I enjoyed the most would easily be the No Chicken Katsu Sando ($19). The yuzu on the fried kale as well as the extra crunch from the daikon tied everything together. More importantly, don't be fooled, as the chicken patty is actually soy! If you want more Japanese flavours, Well Collective offers another version of this sandwich, which is their Japanese Chicken Curry Sando.
Under the breakfast menu, you can find the Madame Truffled Egg Croissant ($19). This pastry with truffle egg and Emmental cheese is something I would see myself getting for breakfast.
From the main menu, the Barramundi with Yuzu Miso Sauce ($28) was very flavourful. It came with mash potato on the side which was tasty as well. However, I would say that this is a rather pricey dish for the portion given.
For those who love sweet treats, you have come to the right place. The crunchy French Toast in their housemade Crème Brulee dip is a must-try. This unique twist from the classic dessert was enjoyable.
As a matcha lover, I must say the matcha taste in the Matcha Basque Cheesecake was very subtle. The cream cheese was very thick but I would have preferred a much stronger matcha taste.
Next, we had the Strawberry Chiffon Cake which was a classic chiffon cake, something you cannot go wrong with. For passionfruit lovers, get the Passionfruit Meringue tart. Its thin crust topped with a strong passionfruit flavour is a good dessert to end a meal with.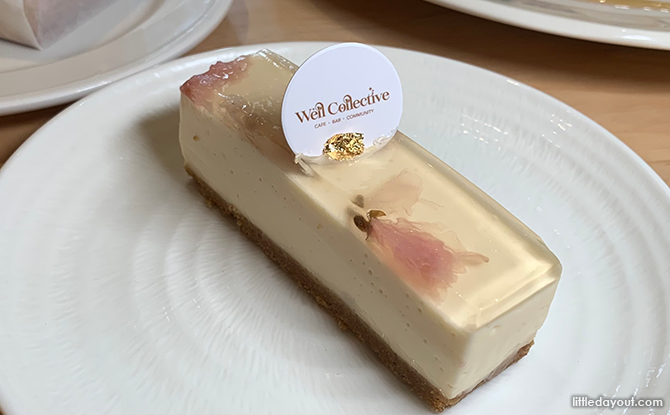 Out of these desserts I tried, I would definitely recommend the Sakura Cheesecake as it is not the typical thick and cheesy ones you would expect. When I took a bite, it melted into my mouth. The floral scent from the top jelly layer was so refreshing and is something I would come back for.
So, if you're looking for a spot to bond with family and friends, work or chill with your pets, Well Collective is the spot for you. And while you are here at Well Collective, don't forget to check out the other places Northshore Plaza has to offer, including a large ship playground!
---
Well Collective
Northshore Plaza II
418 Northshore Drive #02-11/12
Singapore 820418
Media Invite.