About 4000 people descended onto the Kranji Countryside on Saturday, 4 October 2014, in strong support of locally grown, reared and made produce on the first day of the second edition of Singapore's very own farmers' market. This is equivalent to the same crowd that came over two days to the very first farmers' market held back in June 2014.
Now set to be a permanent feature every quarter, the quiet countryside will burst to life with a long line-up of cars on the roadside and droves of people in search of a whiff of the countryside, a different type of relaxing weekend fun and homegrown produce.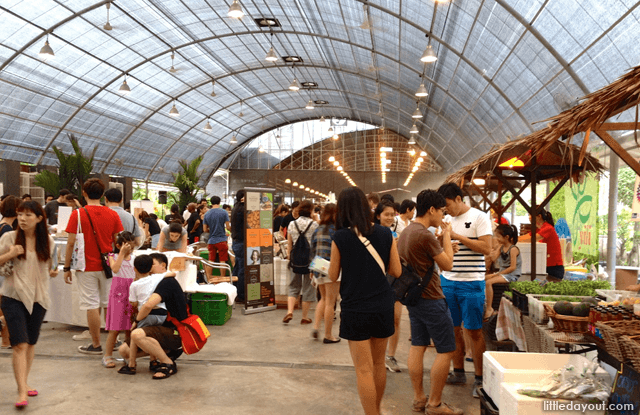 The farmers' market organised by the Kranji Countryside Association feature 40 stalls promoting local agriculture and food production, education and conservation.
Held this time at Nyee Phoe Flower Gardens at Neo Tiew Crescent instead of D'Kranji Resort, this farmers' market (which is likely to move on to another neighbouring host farm the next time round) is a much larger affair with 40 stalls, more stock and even an entirely new section filled with workshops, activity corners and a bouncy castle for kids.
Savour roast pork, deep fried crocodile meat, hashima jelly and more exotic food as you stop by the stalls. 
Discover artisanal foods such as nut butters from Hunter's Kitchenette and tropical jams from GSH Conserves that are produced in Singapore.
Bouncing fun for the kids.
Kids and families enjoying henna painting, fishing, terranium & recycling paper workshops at the Farmers' Market.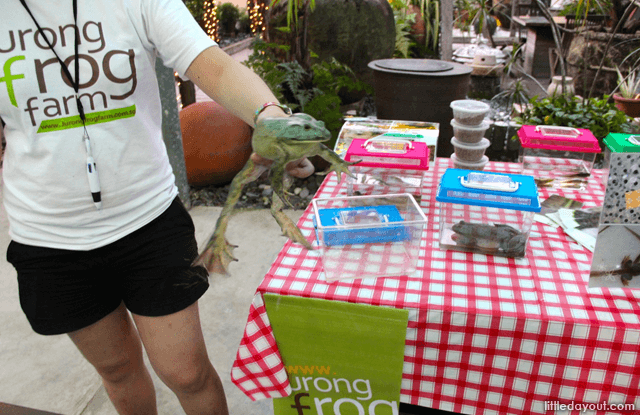 Touch an American bullfrog from Jurong Frog Farm.
Families having a relaxing time fishing.
Yet, the bustling market, which started at 2 pm, was already out of Uncle William's quail's eggs and had a sign promising replenishment by 4 pm. By around 5 pm, some stalls which had been restocked once, including Hay Diaries' fresh goat's milk, and red snappers and mussels from the fish farm, were out of stock once more.
Said a first-time vendor at the market, "I was overwhelmed by the crowds that came and the response has been fantastic. It's been such an exciting afternoon and there's a good vibe and atmosphere here."
To visit the Kranji Countryside Farmers' Market, you can take the shuttle from Yew Tee MRT station. The fare is $2 for a round trip and free for kids below 12 and seniors above 60.
Kranji Countryside Farmers' Market
240 Neo Tiew Crescent
4 & 5 October 2014
2 pm to 7 pm
For more updates, visit Kranji Countryside Farmers' Market Facebook page.