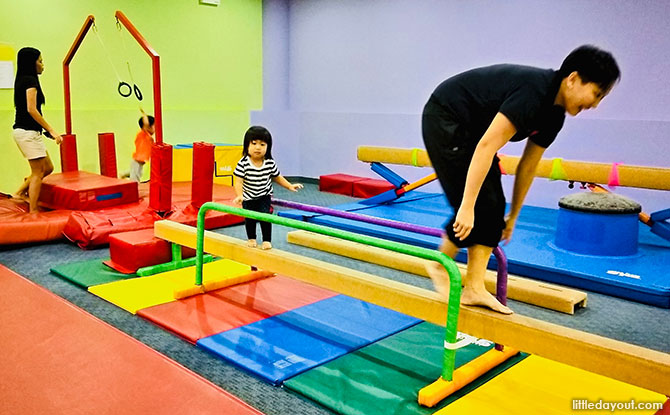 Trina tries out three parent-accompanied classes in Singapore together with her almost-two year old. She shares with us her experience with each class and her thoughts on how to get the most from such classes.
When my daughter was about 5 or 6 months old, a friend asked if I'd like to attend a trial class at Kindermusik With Love. Back then, any reason to get out of the house was a good reason, so I very quickly said yes, let's do it!
The rest was history.
I was, in fact, the only mum who went on to enrol my daughter, Tiffany, for classes at Kindermusik With Love. We loved classes so much, we eventually hung around for a good year.
---
-- Story continues below --
If you're looking to start attending classes with your baby but aren't sure where to go, we tried three parent-accompanied classes, and here's what we think!
Parent-accompanied Classes in Singapore
---
Wings to Wings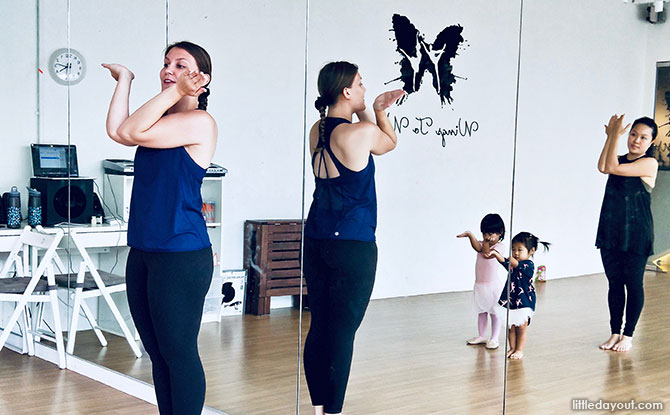 Having had ballet training from a young age, I've always hoped that my daughter would grow up loving and appreciating this art form.
So when I found out that Wings to Wings has a Mummy and Me class, I was quick to sign up for a trial.
Conveniently located in OUE Downtown Gallery, Wings to Wings only has one Mummy and Me class that is suitable for ages 2 and up, although Tiffany was only about 22 months when we attended the trial.
Teacher Lauren takes the children through each activity slowly and patiently as she breaks down the various ballet steps and positions. As with any class involving toddlers, you can expect stragglers here and there but Teacher Lauren is quick to adapt, and will move the lesson along once she sees that the children needing new distractions.
There is a lot of parental involvement as we jump and dance alongside our wards. Daddies, fear not – this class is as much for you, as it is for mummies! And no, you will not be expected to don a leotard!
Complete with props like fairy wands, and of course, bubbles, Wings to Wings Mummy and Me class is a great introduction to the world of ballet. Conducted in one of the dance school's beautiful sunlit studios, this will be 45 minutes of sheer enjoyment.
To sign up for Mummy and Me at Wings to Wings, please go here.
---
Kindermusik With Love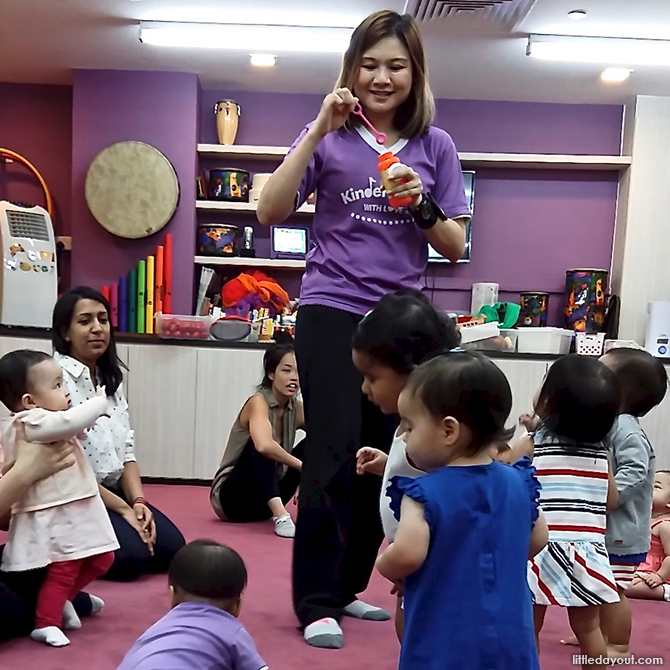 Kindermusik With Love is the most trusted music and movement programme for young children in the world. It has been enriching young lives with the most carefully researched, developmentally-based music program for years.
In Singapore, their core programmes include Kindermusik Village for newborns to 18 month olds; Our Time for 18 month to 3 year olds; Imagine That for 3 to 5 year olds; and Young Child for 4 to 7 year olds. The latter two programmes only require parents to sit in for the last 5 to 10 minutes of class, but the former two are wholly parent-accompanied classes in Singapore.
Almost all of our classes were with Teacher Shauna who really, has the most captivating voice ever. A parent herself, she's great with the little ones, and she has a wonderful energy. In fact, all the teachers at Kindermusik With Love are enthusiastic, professional, and excellent at what they do.
As with most music and movement classes, a lesson at Kindermusik With Love begins with circle time where a song is sung to kickstart the hour, and each child is introduced.
What follows is a unique blend of activities that include creative movement, vocal play, object and instrument exploration based on the term's Kindermusik curriculum. Your child will thoroughly be stimulated through a specially curated selection of music, and all of his or her senses engaged; think jumping high, and bending low; spinning in circles with baby in your arms, then freezing like statues.
A 45-minute Kindermusik class really flies by, and both parent and child will leave a little tired but very happy.
To learn more about classes at Kindermusik with Love, go here.
---
The Little Gym of Singapore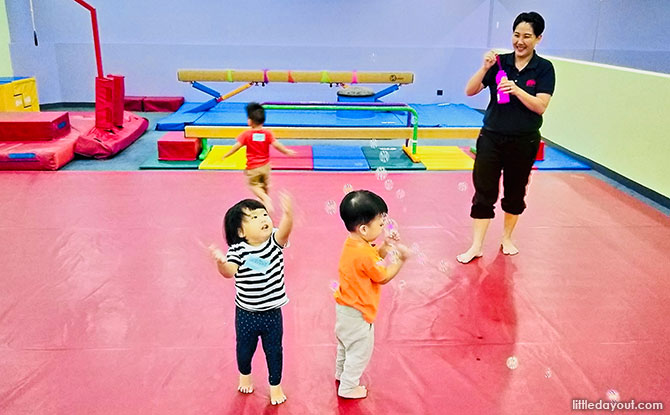 From infant to toddler, The Little Gym of Singapore has five levels of Parent-and-Child classes in Singapore aimed at promoting early development and providing a strong foundation for your child's critical early years.
Weekly classes will see your child achieving milestones and preparing for more advanced challenges as he or she approaches each new stage of growth. And since you're along for the ride, you'll be right there to celebrate every discovery with smiles, hugs and the occasional adult-sized giggle.
When my daughter stepped into the gym, her eyes lit up – not only was there a ton of space to run around in, there were also low beams, parallel rings, and parallel bars, and a lot of foam-padded mats underfoot.
It really is a hyperactive child's dream environment come to life!
Our lovely instructor, Gerry, was quick to share with us new parents that it's fine for the children to run around the gym, and that they'll usually flit in and out of group activities.
Even though I didn't spend all hour running after Tiffany, I did still have to help her down from the low beams, or walk her to the mats for a few forward rolls which she couldn't get enough of!
By the end of class at The Little Gym, the children's energy had been expended, and the parents were spent. The hour wasn't as structured as I would have liked it to be but I also get that it's really hard for the under-2s to take instruction well.
If you're looking for your child to get physical in a safe and controlled environment, then The Little Gym of Singapore is the place for you.
To find out more about The Little Gym of Singapore, go here.
---
Final Thoughts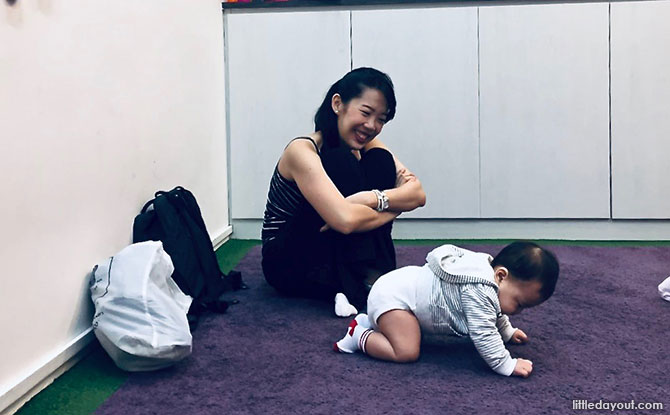 Parent-and-child classes are great for a myriad of reasons, but most importantly, children need parental support as they learn in any situation, so parent-accompanied classes mean mummy – or daddy – and baby can grow together.
Parent-and-child classes in Singapore also give parents opportunities to observe our child's learning style and capabilities, and even their blossoming interests.
Attending these weekly classes with your baby is a commitment; as much as you'll want your little one to enjoy himself or herself, you should, hopefully, enjoy your time in class too, so maybe identify an area of interest and take it from there!