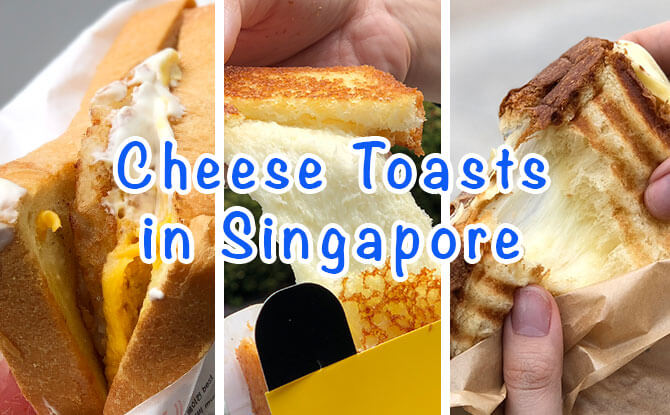 Cheese toast can probably be classified as an international type of comfort food. Melted cheese loaded onto a buttered piece of toast, paired with a satisfactory cheese pull – could it get any better? Possibly. We tried three different cheese toasts in Singapore to see which was the best.
Cheese Toasts in Singapore
---
Say Chiizu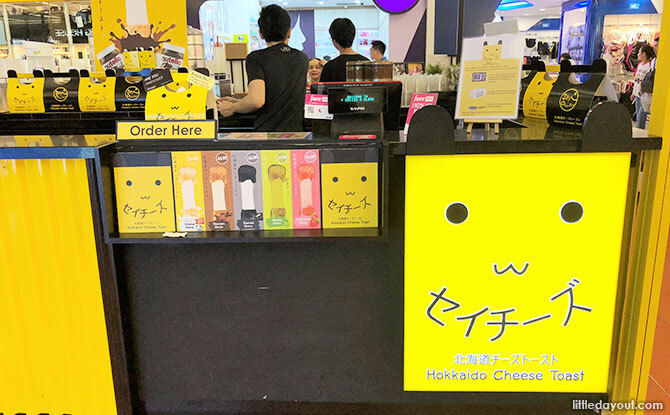 We started off with the famous Say Chiizu toast! With the adorable packaging, cute name and the words "Hokkaido cheese" at the front, it's easy to think that this brand originated from Japan, but it was actually brought over from Bangkok.
Say Chiizu has added quite a few new flavours since they first entered Singapore and now offers cheese toasts with flavours such as Matcha and Strawberry. We tried the original flavour which was buttered slices of white bread stuffed with melted cheese.
When we bit into it, it had a buttery sweet taste initially, and then the savoury cheese flavour became more obvious. It's a little hard to eat this without the signature cheese-pull automatically happening as you bite into the toasted bread. It's really super stretchy!
---
-- Story continues below --
Despite it being rather pricy for a relatively small piece of toast, I guess small portion sizes make up for the large calories in a piece…or gives you more room for seconds, whichever you prefer.
Say Chiizu
Website
---
Isaac Toast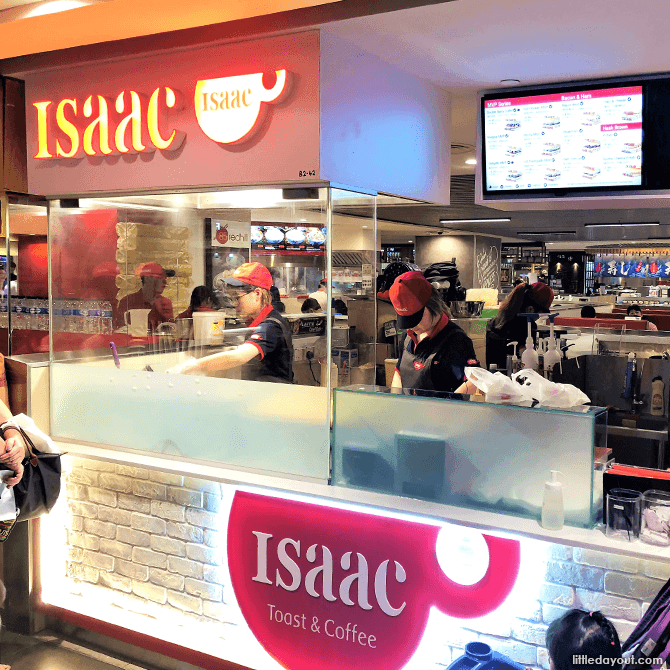 Ever since Isaac toast first landed in Singapore from Korea, the queues have been consistently long, and so we had to add shop to our list of cheese toasts in Singapore to try out. Located at the basement in Plaza Sing, this sandwich shop sells a variety of savoury breakfast sandwiches which seem to be very popular, especially during the lunch hour. Their popular toasts are in the MVP series which feature flavours such as Bulgogi and Shrimp. To keep as close to the "cheese toast" comparison, we decided to try the "double cheese potato toast".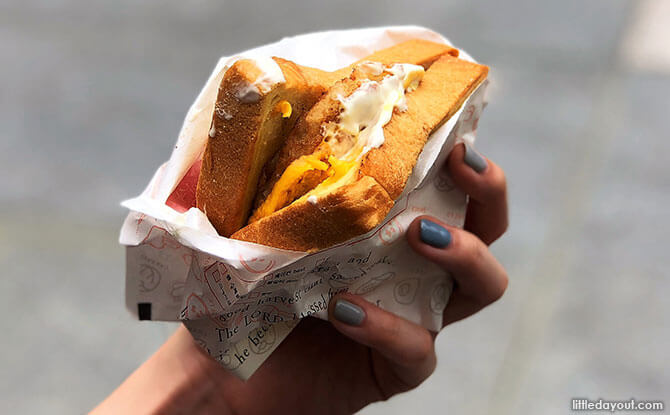 When we got our sandwich, we were not particularly impressed. The sandwich, although served hot and buttered evenly on both sides, looked like it had been thrown together in a hurry. There was a lot more potato and we could hardly taste the cheese even though it was a "double".
The sweet bread which probably has some sort of honey butter combination may sit better with those who do not mind the "sweet and savoury" combination. But for those who wish to have a typical savoury grilled cheese sandwich, this is probably not for you.
Isaac Toast Singapore
Where: Plaza Singapura #B2-42, 68 Orchard Road Singapore 238839
Website
---
52 Sandwich Shack
We aren't too sure why we've never tried the grilled cheese toast from 52 Sandwich shack before – even though the shop has been around longer than the previous two brands.
The store has an impressive menu with flavourful options such as Truffle Mushrooms & Spinach, Sliced Beef with Onsen Egg and Yakiniku Pulled Pork. For this review, we kept it back to the basics and tried the signature 52 Grilled Cheese sandwich.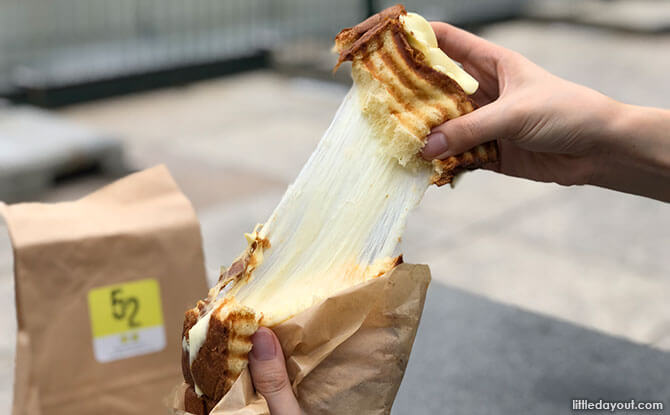 This was definitely the most aesthetically pleasing toast to us, as you could see the grilled marks browning the buttered toast which was visually overflowing with cheese. We were excited to bite into it and the gorgeous cheese pull was super satisfying! We really liked how this was not sweet, unlike the other two breads that we tried but we could fully enjoy the savoury, warm and gooey cheese.
52 Sandwich Shack
Where: Raffles City Shopping Centre, 252 North Bridge Road, #B1-54, Singapore 179103
Website
Our Choice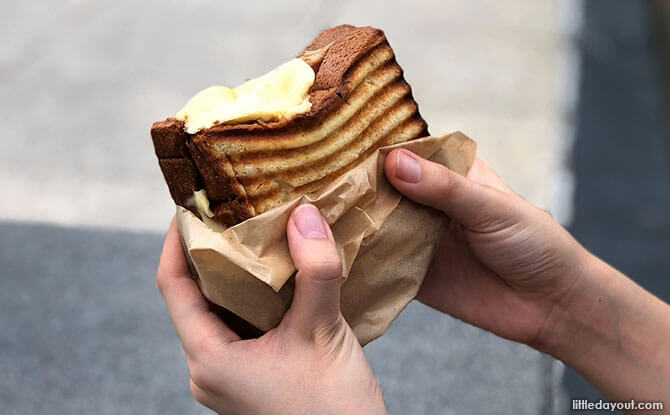 Winning in aesthetics, taste and value for money, 52 Sandwich shack is definitely the place to go if you're looking to get your fix for a grilled cheese sandwich in Singapore. We're looking forward to trying the other yummy sounding flavours and their sides as well!