Fans of the three bear brothers can catch theme in a new Cartoon Network movie – We Bare Bears: The Movie!
---
Multi-Channel and Platform Debut
On 12 September 2020, join the three adorable brother bears on Cartoon Network, Boomerang, Warner TV, Oh!K, HBO and HBO GO in We Bare Bears: The Movie.
The bears face a threat posed by the evil Agent Trout who is determined to tear the lovable brothers apart. The villain, who is a wildlife control agent, will stop at nothing to do the unthinkable: capture, detain and separate Grizz, Ice Bear and Panda forever!
How will the brothers react when their cosy and comfortable home is now filled with fear, and will their brotherly bond be strong enough to triumph this test?
---
-- Story continues below --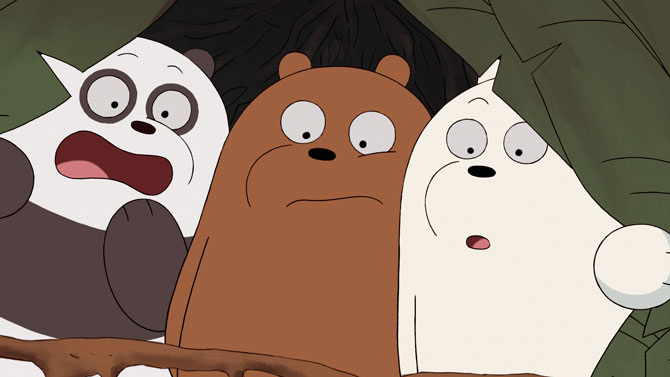 We Bare Bears: The Movie will feature characters as Ranger Dana Tabes, Panda's crush Lucy, Bigfoot Charlie, Nom Nom, and of course, their friend Chloe.
The movie will include special guest stars such as Marc Evan Jackson (The Good Place) as Agent Trout and Jimmy O. Yang (Silicon Valley) as the internet-famous racoon Joey Raccoon.
The part we are most excited about? Cartoon Network is inviting fans all across Asia to join its first-ever watch party! This interactive online experience will be one where fans can share their live reactions during the movie premiere by adding hashtags #CNWatchParty and #WeBareBears on their social media posts.
---
We Bare Bears: The Movie Party Kit
To get into the party mood, fans in Singapore can also spruce up their viewing experience and make it an Instagram-able moment by downloading a We Bare Bears: The Movie-themed party kit which offers decoration templates such as posters, popcorn cups and party crowns, as well as delicious We Bare Bears-themed recipes and other entertaining activities such as exclusive videos, games and quizzes.
You can watch the official trailer for the We Bear Bear Movie below.