The much-anticipated Waterway Point opened this week, to the joy of Punggolians and Sengkangers.
As is common for most new malls which open in Singapore, the onslaught of never-ending crowds will probably mar your first experience of the mall. At least for the first month or two. Not all the shops are open, but that seems to stop no one.
Little Day Out braves the thronging crowds for a walkthrough of the fantastical free indoor playground, good eats and shops, and beautiful waterway views for both the adults and kids. Here goes!
*Stay updated on which shops are open by browsing through the shop directory online.

---
-- Story continues below --
Tips:
It helps to be quite certain whether the shops you're headed for are in the East Wing or West Wing, because the two wings are connected only at Level 1.
To avoid crazy carpark queues, it's best to take the MRT there, at least for the time being. Punggol MRT station is just next to the mall.
Wonderland indoor playground

Designed to the theme of Alice in Wonderland, this free indoor playground is one of the best highlights of Waterway point.
At least, your young kids will tell you so.
Fully padded flooring, walls, and amazingly firm but soft (what magic is this?!) structures and creatures to climb on and off.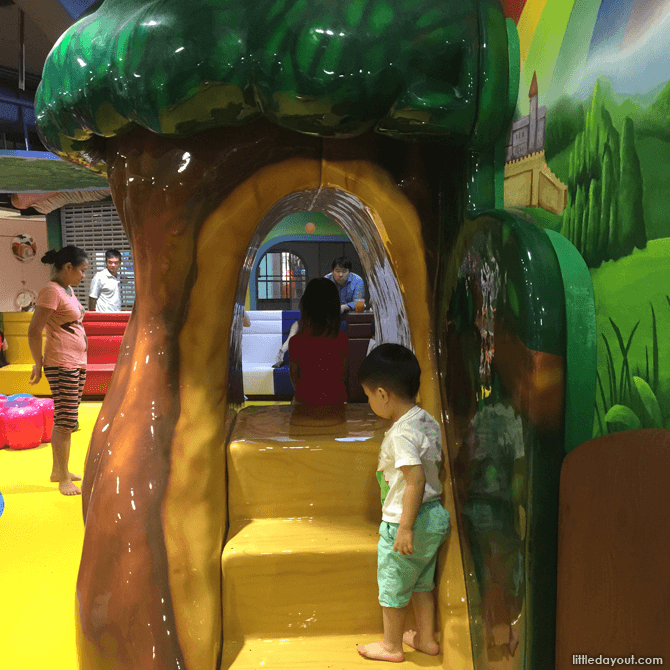 From a treetop slide to wobbling mushrooms, all the structures look like they are made of clay or concrete, but they are actually feel like a very firm sort of rubber.
The playground is spacious, so the kids will enjoy zooming about the space even if they are not busy climbing up and down.

Parents can keep an eye on their bouncing tykes from the cushy bench. We like this. Very much.
The indoor playground opens daily from 10.30am to 10pm. It's located near foodcourt Cookhouse by Koufu at the West Wing, Level 2.
Here are some ground rules.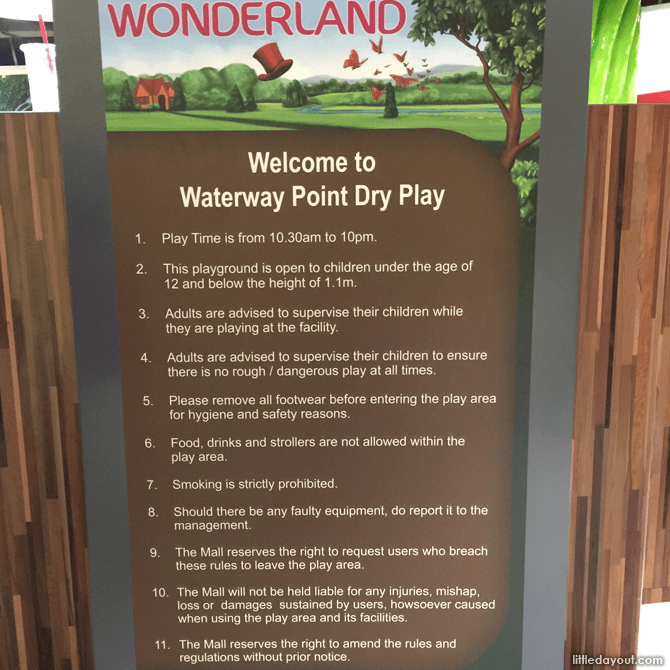 Older kids can look forward to a big wet and dry playground called Happy Park, still under construction on Level 2 beside the foodcourt.
Waterway views

Young families will appreciate this breezy outdoor space with beautiful waterway views.
The second level is an open balcony overlooking the first-level deck next to the waters. You get good views on both levels.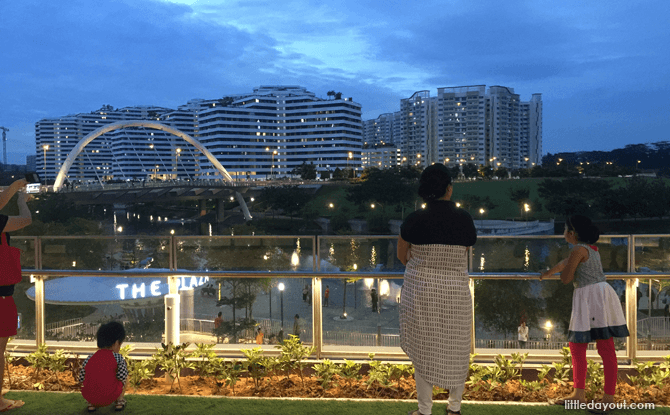 Whether in the day or at night, you can get a good view of Punggol Waterway and live it up a little.
In the daytime, you get a sun-drenched park; at night, you get glittering lights and waters. Punggol 21 Plus, anyone?
Times Bookstore

We singled out this shop because, firstly, it's a bookstore; and secondly, it is an awesome bookstore.
The spacious Times Bookstore was built with young families and kids in mind, it seems.
The front of the store displays a wall of kids' backpacks in an array of colours, toddlers' toys, and ergonomic study tables for the very young.

Deep inside the bookstore is a big alcove for kids, designed like a the entrance of a castle.

There's an open free play area where children can bounce on ladybird cushions, read with dad and mum, or simply browse through the shelves of picture books and toys.
Fashioned more like a lifestyle hub, this bookstore also offers toys like Lego, Duplo, and even Playmobil.
There's even a hip kitchenware section which has Jamie Oliver cookware on display, and the latest in kitchen gadgetry.
Shops to look out for

Fashionistas are waiting for H&M to open on Jan 28. Crafty and DIY mums will be glad for Daiso, which has already opened.

Located at the West Wing, kid-centric shops like Cotton On Kids, Privi Kids, babyshop, Kiddy Palace, Kidz Party Store and 1010 Mother and Child Essentials will keep the family pretty occupied for some time.
There is a 24-hour NTUC Fairprice Finest supermarket (West Wing, B2-32).
Shaw Theatres (B2-11) is also offering IMAX here.
Food and good eats

Many of the posh restaurants and cafes are located at East Wing.
Waterfront dining on Level 1 (East Wing) include Vietnamese beef noodle joint So Pho, Zakka Modern Thai, French Table Bistro and more.
On Level B1 (East Wing), there is Bali Thai, The Rosti Farm, The Soup Spoon Union and more.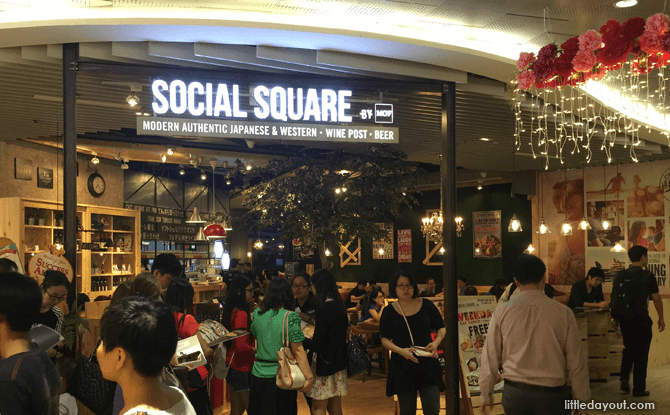 Social Square, a hip Japanese-Western bistro featuring beer and wine, is located at Level 1 (East Wing) facing the atrium.
Cookhouse by Koufu is the mall's resident foodcourt, located at West Wing, Level 2.
Look out for the opening of London Fat Duck restaurant, touted as the wagyu of ducks!
Of course, there are the usual suspects Ya Kun, Starbucks, ToastBox, too.
Schools and enrichment for kids

Edvox Music School, Beijing Language School, Heguru Education Centre and I Can Read are some of the enrichment schools at the mall.
Yet to open are schools like Mind Stretcher, Sciencewerks, and preschool My First Skool.
To get your bearings between the East and West Wing, here's a map infographic of the mall.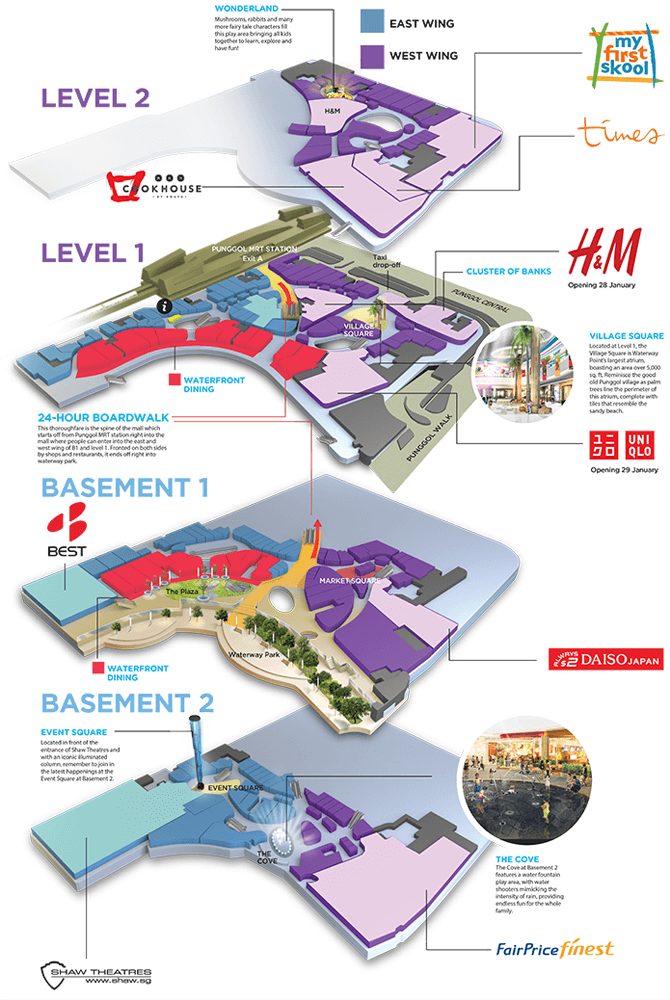 **Information in the article is correct at the time of publication