At Waka Waka by The Polliwogs, children can go from the double-storey course through netted tunnels, hanging logs, stepping stones on a mock river, to a more difficult but exciting roadblock – The "Volcano".
Located at the 5th level of the Annex building at Furama Riverfront, Waka Waka by The Polliwogs is a Safari-themed indoor playground designed with the Polliwogians – Rocky, Larry, Poco and Bobby in explorer garb.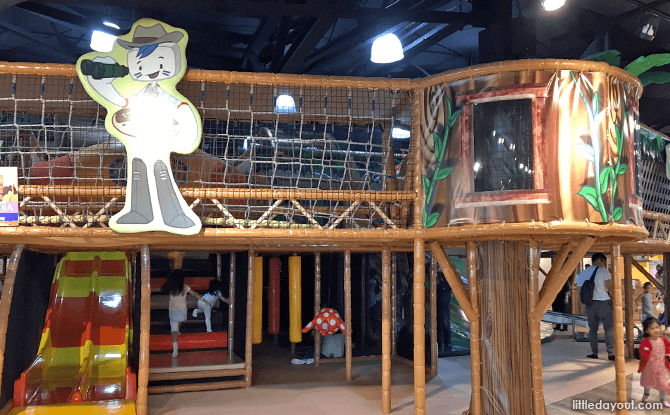 It features a diverse range of physically fun activities through in a indoor play system specially from babies and toddlers to the older children and tweens from 5 to 14 years of age.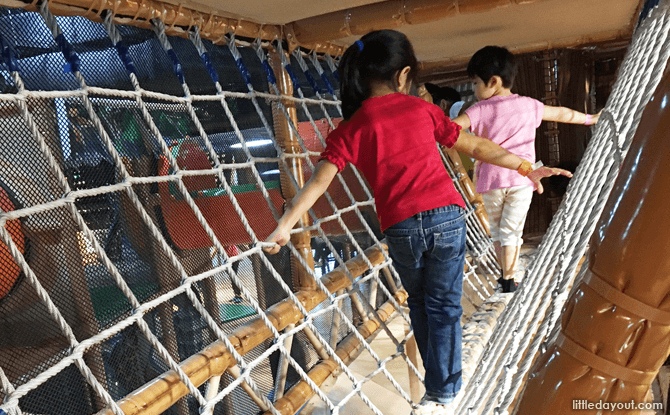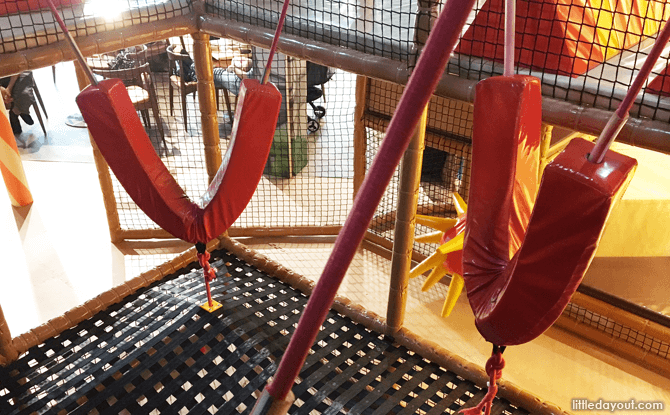 Young adventurers can seek out hidden spaces at Waka Waka by The Polliwogs, take turns on hanging trapeze structures, and slide their way out and enter another section with lots of colourfully-designed equipment for all who wish to climb, leap, slide and race!
They can also locate trampolines, wave and spiral slides, balancing beams, boxing bags and swinging balls within the two-tiered structure, where children peek through transparent panels to view other explorers at the first storey or wave to their caregivers at the café below.
Tackling The Volcano
A highlight of Waka Waka by The Polliwogs is The Volcano.
The "mountain" with ropes and climbing grips is recommended for 5 years and above. Determined young trekkers can clamber and hoist up to the peak position with some challenge.
There is a formidably fast and steep long metal slide curving in the middle of the mountain. With two climbing lanes on both sides of the slide, climbers take turns to climbing up and gliding down with high shrieks of exhilaration!
Junior Play
The Babies and Toddler section is recommended for those below the height of 90cm.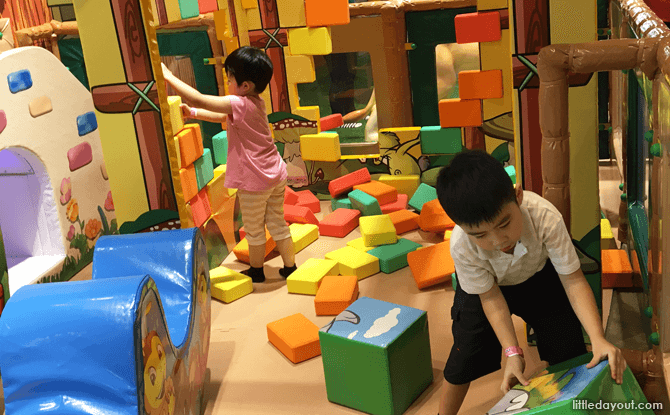 Inside is a bouncy animal castle with mini obstacles and a slide and sensory wall panel games and keyboard. There is also a brick house with colourful building blocks for wall-construction, a really cool water trampoline couch and a glowing plastic slide with an embedded waterfall inside!
Waka Adventure Cove (Additional Fees Apply.)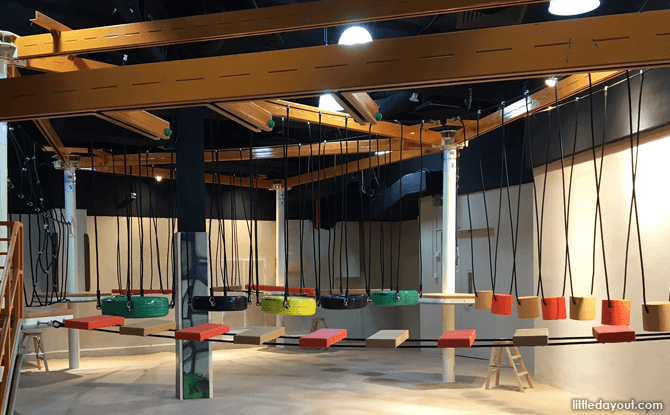 At Waka Waka by The Polliwogs, older children (and even parents) are given the additional option of testing their limits at the Waka Adventure Cove. Kids must be ages four and above with minimum height of 90cm.
This separate obstacle zone comprises a Rope Course, a Totem Challenge of walking on standing vertical beams of different heights, and finally three Rock-Climbing Walls to scale with bars and handles, ladders and without! Each stage is progressively tougher and the course is timed. The course puts their balance, muscle coordination and sharp motor skills to the test.
Chillax!
The indoor compound is self-contained and family-friendly, complete with seating areas, lockers, restrooms and a nursing room.
In addition to free WIFI, the café menu offers complete meals, desserts and snacks. It serves hot favourites such as sweet potato fries, crisp spring rolls and samosas, sandwiches, assorted fruit cups, creamy ice-cream, light pastries and more!
Bubble-blowing and complimentary sweets by friendly staff complement weekly meet-and-greet-The-Polliwogians sessions at a dedicated performance space.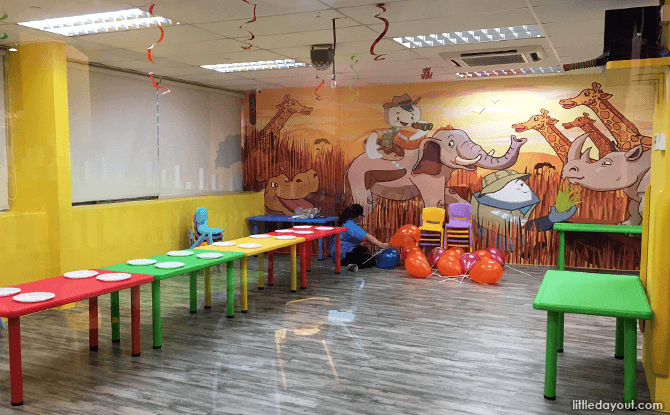 Two Safari-themed function rooms provide the perfect location for birthday parties and various creative activities.
For birthday celebrations at this branch, the Polliwogs has a special discounted birthday cakes tie-in with the adjacent The Square@Furama Level 2.
A storage area for strollers and shoes is located outside the registration counter and entrance. Socks are compulsory for both children and accompanying caregivers.
Waka Waka by The Polliwogs
Address: 407 Havelock Road, Furama Riverfront, Annex@Furama #05-01 (Next to Furama Riverfront Hotel)
Contact: +65 6738 7733
Operating Hours: Monday to Friday – 10am to 7.00pm; Saturday, Sunday and Public Holiday – 9.30am to 8.00pm.