Living in a concrete jungle takes a toll on our health and lifestyles. It's great to be able to stay connected to nature, and tell our kids that, no, vegetables don't grow on supermarket shelves.
Of late, urban farming – or growing edible plants in urban spaces like balconies, HDB corridors and even vertically on walls – has become popular among apartment dwellers in space-starved Singapore.
Besides self-sufficiency and building a sustainable future (Singapore depends on imported produce), growing our own food also means we know the source of our vegetables and fruits, and that they are free of chemical pesticides.
Parents who want their kids to stay in touch with nature, learn the importance of growing our own food and understand the science behind it all can introduce this healthy pursuit through these urban farms and groups in Singapore.
Urban Farm and Barn

Tucked away at Bukit Panjang Hill, this spacious and well-organised urban farm grows many kinds of edibles, from Mediterranean herbs to local edibles like curry leaf, and even hard-to-find vegetables like kale, as well as fruit like grapes and passionfruit.
Urban Farm and Barn organises farm tours and workshops for kids from time to time, and it also regularly hosts adult groups as well as school groups – even pre-schools.
Their easy herb and vegetable "take-away" gardens in plastic boxes (by sister companyeasigarden.com) make edible gardening less daunting for kids and beginners. Kids get very excited when their seeds germinate and grow in edible greens.

It's also home to a really neat idea – you can adopt a rack in the vertical farm, and grow your own vegetables, for a fee.
It's like renting your own plot of land for farming, except that it's a large tray of soil. Think of it like HDB living for farming! This cool idea was designed by Urban Farm, 100% Singaporean.
Make a regular weekend outing out of this and let the family bond over caring for your rented farm "plot".
The farm has its own worm-composting bin at the back. Vegetable scraps and fruit peelings are discarded in these bins, which feed the special earthworms who create a lovely, rich compost that smells earthy (and not at all like garbage, as you might expect). This worm compost is a natural, organic and rich fertiliser for plants.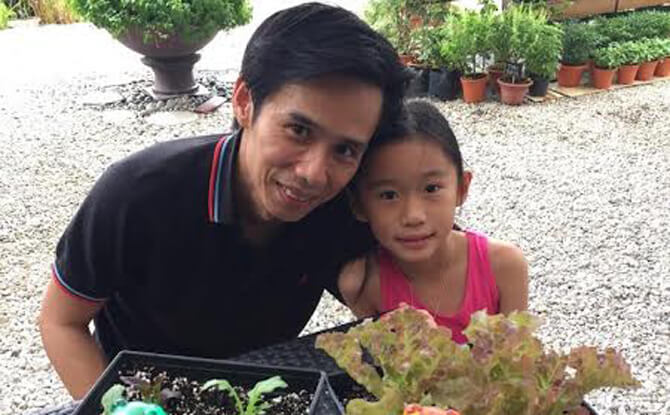 Just rock up to the farm, and if you have any questions, just ask away. The staff are friendly and knowledgeable. You can also buy farming supplies like pots and all sorts of seeds at the farm.
Urban Farm and Barn is open to the public. Check their opening hours on their Facebook Page.
Edible Garden City

Located at Dempsey, Open Farm Community is a dining spot with a terraced edible landscape at the back.
The "Grow Your Own Food" movement championed by Edible Garden City (EGC) seeks to encourage Singaporeans to make mini farms out of their urban living spaces.
EGC offers consultancy services to design and maintain the kitchen gardens of restaurants like Jamie's Italian and Open Farm Community, hotels like Marina Bay Sands and Fairmont Hotel, and even the foodscapes of schools like Pathlight, NUS and The Garden House Preschool.
Look out for kid-friendly workshops like EGC's seed bomb making class.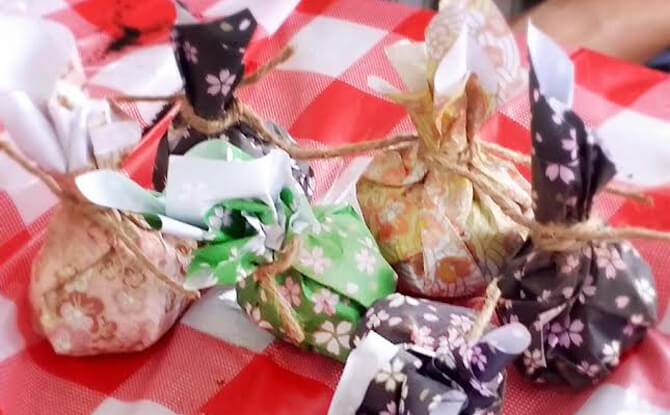 Seed bombing is a way of introducing vegetation to land by dropping compressed bundles of soil containing seeds. The seed balls are surrounded by compost, soil and clay, and wrapped into craft paper as gifts for friends or loved ones.
Children can throw seed bombs into the garden or where there is soil – when rainfall occurs, the seeds will start to germinate and grow into a plant.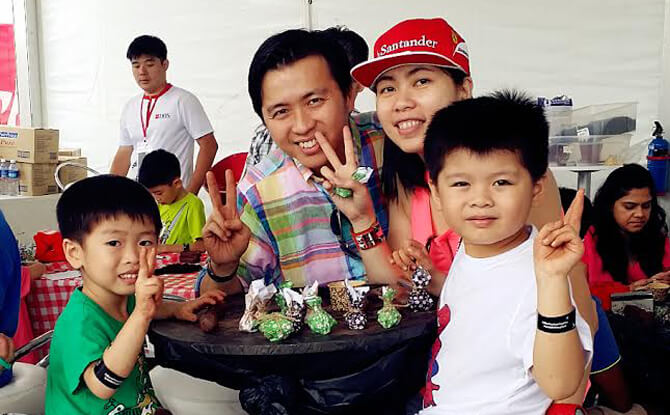 Other workshops for "little farmers" include lessons on how to grown your own microgreen salads, and basics on organic edible gardening, like fertilising, watering, and pest management.
We're growing these plants for food, so it's important that the fertilisers and pesticides are natural, organic, and edible!
Stay updated to the latest workshops by following their Facebook Page. You can also shop for farming supplies like pots, fertiliser and seeds at their retail website called Nong (the Chinese word for farming).
Ground Up Initiative

Ground Up Initiative or GUI returns to Singapore's "kampung" roots and ushers volunteers into a community that stays connected to the land.
Through activities such as organic farming, woodworking, repairing and maintenance, housekeeping, meal preparation, and so on, people learn to work together as a community with hands-on physical activity.
Kampung Kampus is a big dream that is becoming a reality for GUI, which is a volunteer-driven non-profit organisation.
In Sept 2014, GUI leased a 26,000 sqm land plot from the Government to build a nature-inspired community learning campus.
The low-carbon footprint campus will follow living classroom principles, which will feature education that integrates arts, music, humanities, heritage and sustainability while incorporating technology, design thinking and craftsmanship.
Currently, adults can bring along kids as young as three years old to Balik Kampung, GUI's flagship volunteer programme.
Besides tending to the farm, volunteers can also be involved in basic construction/craftwork, food preparation and general maintenance of the space. So be prepared to for fun and physical work.
Tear the kids away from the TVs and iPads and go on a nature jaunt with the good people at GUI. You can register here.
And here's how you can get to Kampung Kampus in Yishun.