The votes have been cast and the results are in.
Centrepoint and Ion Orchard have won Orchard Road Business Association's best-dressed mall awards for 2016.
Centrepoint was picked by voters for its fun, food-themed décor. Gingerbread men bake up a storm with yummy treats on Christmas trees in front of the mall.
Ion Orchard was the judges' pick. It has an elegant, Tiffany-inspired frontage, complete with heralding trumpeters and a 20m-tall tree dotted with Tiffany's signature blue boxes.
---
-- Story continues below --
Indeed, a common sight at all the malls along Orchard Road is the ubiquitous Christmas Tree. For the most part, they are decorated with glass orbs, twinkling fairy lights and boughs of streamers. However, there are a few unusual ones too.
Here are five out-of-the-ordinary Christmas trees that you can find along Orchard Road this year.
Most Expensive For Its Height Christmas Tree
No less than eight tiers of branded boxes form this Christmas tree outside the Ngee Ann City Louis Vuitton shop. Who needs sparkling balls and tree hangers and when it is already decorated with a famous monogram.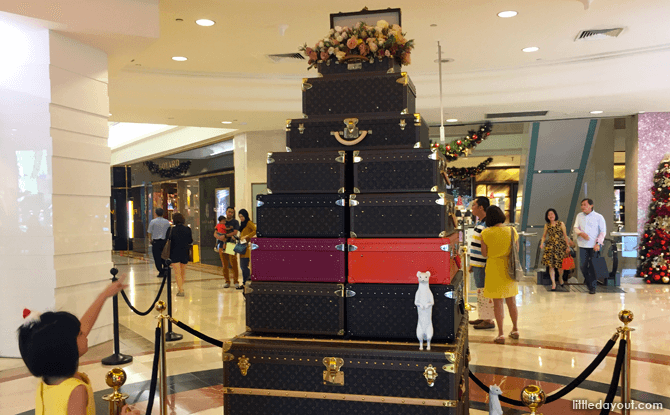 Most Tempting Christmas Tree
Who doesn't like macarons? This lavish Christmas Tree is made out of macarons from Ladurée, the famed Parisian bakery where the double-shelled pastry originated. Located inside Ngee Ann City, this scrumptious looking tree is raspberry red with spots of gold.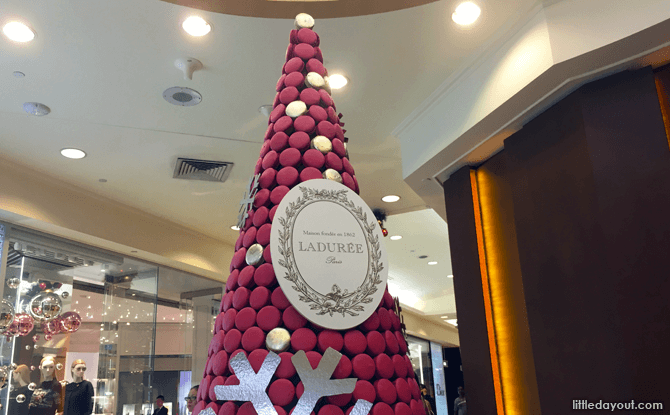 Another tree, in a coy, pastel shade, can be found a floor above.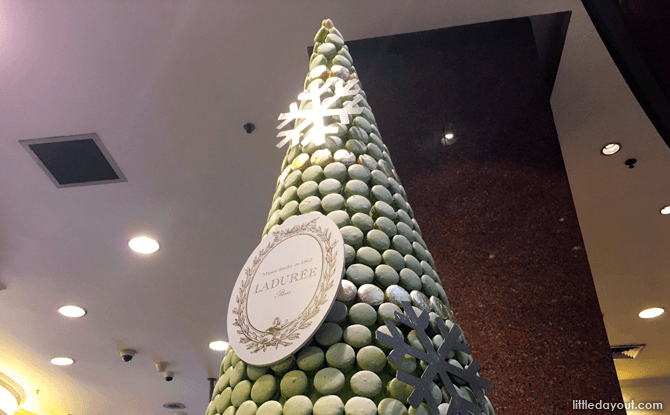 While they look delicious, don't go all Hansel and Gretel on them – the macaron trees are inedible. If you must get a taste of this tempting treat, head over to the Ladurée shop instead.
Most Useful As A Last Minute Gift Christmas Tree
We love this colourful display of socks found at Robinsons. What's more, if you are still scratching your head looking the a gift for Secret Santa, look no further. There is even an ongoing promotion – buy four and get one free!
Most Ethereal Christmas Tree
This creative Christmas Tree chandelier floats in the air at Centrepoint. Its candles remind us of Harry Potter. Simply magic.
Most Likely to Satisfy a Sweet Tooth Christmas Tree
This signboard at Food Republic, Wisma Atria, caught our eye.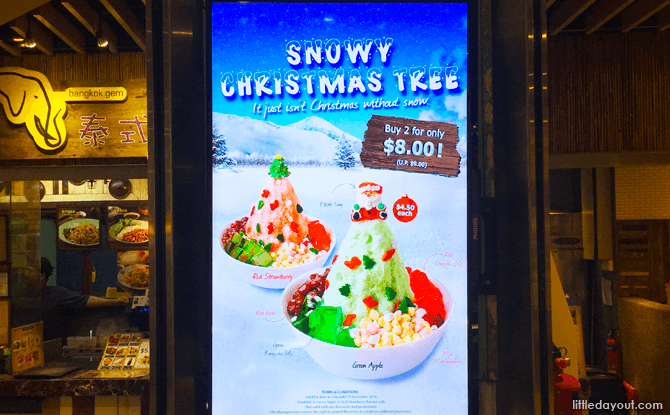 We liked the idea of a local play on ice kachang as a Snowy Christmas Tree. Genius.
So, how did the dessert actually turn out? Here it is.
Looks like a bit more practise is in order.
This sweet, icy treat comes in a choice of two flavours – Green Apple or Red Strawberry. We tried the Green Apple version.
The "tree" was covered with white snowflakes along with green and red candy bits. At the base of the tree were "presents" of jelly cubes, mini marshmallows and red beans.
Sitting right at the top of the Green Apple Snowy Christmas Tree was a jolly Santa – made out of edible icing.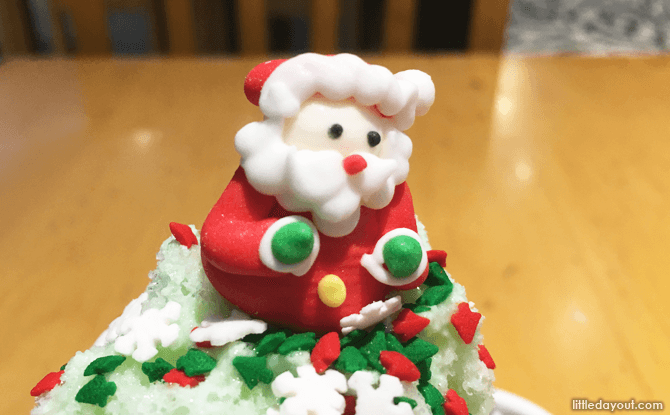 At $4.50 each, the Snowy Christmas Tree had a nice mix of crunchy candies, soft textured marshmallows and slinky jelly bits. A sweet ending – especially one that kids will enjoy – to any meal.