Want to get a head start on your Christmas shopping? Amazon.sg has released its list of the Top 100 Toys and Top 100 Board Games for the year-end season 2020. Here are some of the top gifts that you can consider adding to cart to give to friends, family or even yourself!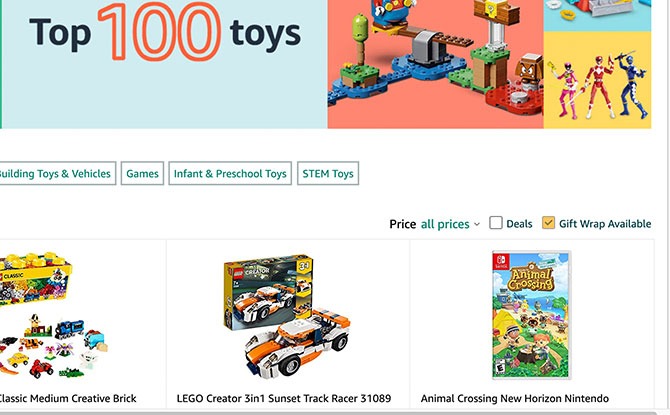 We also appreciate how buyers can filter the results on Amazon.sg to see the gifts that are able to be gift wrapped and delivered as they are, or even if the price is part of an exclusive deal for a limited time only!
7 of Amazon's Top 100 toys we love
Create your own island paradise from the safety and comfort of home! One of the games that took 2020 by storm, players of Animal Crossing will be able to make friends with adorable animal villagers and have fun creating a world of their own. You can even visit the islands of other friends that you know in real life who are also playing the game! More details here.
---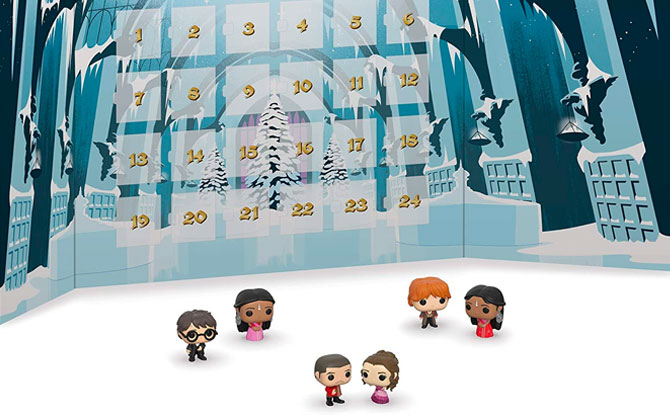 A great gift for Harry Potter fans, get this cute advent themed calendar with witches, wizards and magical creatures straight out of the well-loved Harry Potter series. This 24-piece advent calendar contains a different Pocket Pops that you can open and countdown to Christmas with! More details here.
---
-- Story continues below --
---
Make cute jewellery with secret messages with this Surprise Secret Message Jewelry Making kit with over 400 beads and charms to create cool custom pieces with messages that are only understood to the people of your choosing! More details here.
---
Fans of Star Wars and creative kids will enjoy building this LEGO BrickHeadz versions of the Child and The Mandalorian. This 295-piece LEGO BrickHeadz Star Wars building toy has authentic details such as the signature weapons and adjustable parts, making it a cool display piece. More details here.
---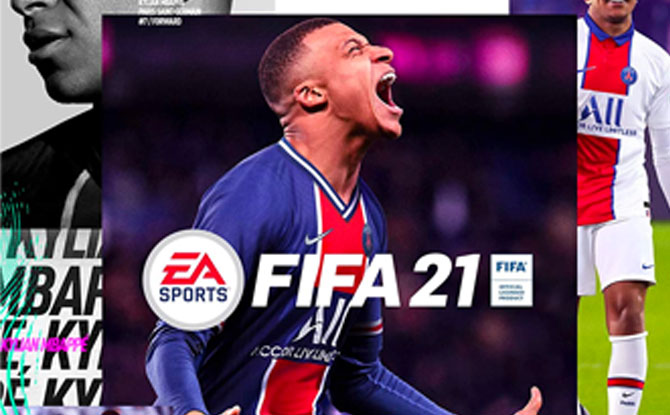 Whether its on the streets or in the stadium FIFA 21 has more ways to play than ever before! Players can choose an athlete of their choice to try to win the cup! This version promises better graphics along with an addition of new icon players and names. More details here.
---
Create stacked pretend play sandwiches with this 52-Piece sandwich counter playset! The sturdy wooden deli counter includes a play meat and cheese slicer for the wooden play food, and felt sandwich roll and toppings to create sandwiches ordered from the menu. There is also a wooden dressing bottle, play snacks, and a cup with drink insert to complete the meals that customers can pay for with the included play money! More details here.
---
Have fun writing letters numbers and more with Mr. Pencil's Scribble & Write. With the help of friendly Mr. Pencil, learners will explore six activities that will introduce writing, drawing and spelling. This learning device guides users in an easy to follow manner that is fun and engaging! More details here.
To see the full list of Amazon's Top 100 Toys for Christmas, click the link here.
---
7 of Amazon's Top 100 board games we love
Throw Throw Burrito is a family-friendly party game that combined a card game and dodgeball into one! Players go head to head in a race to collect cards while throwing squishy toy burritos at one another. It might get a little crazy, but it's sure to be lots of fun! More details here.
---
Available only on Amazon, this version of the game Saboteur includes complete card packs of both "Saboteur" and the "Saboteur 2 Expansion Pack", plus a special collector's card! The key bonus features in this set add a new layer of complexity to the game for seasoned players. Expect competing motives that might help either miner or saboteur in this team game that is new each time you play it! More details here.
---
A game fitting for our current situation and climate, Players take on the role of specialists in various fields to find cures for four diseases have broken out in the world and threaten to wipe out mankind. Work as a team and play to each characters' strengths to make a successful plan of eradication before the diseases overwhelm the world with ever-increasing outbreaks! More details here.
---
One of Kickstarter's Top 50 Most Backed Projects of all time, players race to be the first to build a Unicorn Army. Designed with super cute unicorn graphics, there are over 20 Magical Unicorns to collect, and each has a special power. Build your Unicorn Army as fast as you can, but be careful because it can be destroyed by fellow players! More details here.
---
This kitty-powered version of Russian roulette is an easy and well loved game by players of all ages! The gameplay is easy to learn. Players put cards on the table and take turns drawing from them. If you draw an Exploding Kitten, you explode and are out of the game. There are other power cards along the way that change the game play, but the fun part is never knowing what you might get! More details here.
---
Proof! is an award-winning, fast, fun, and addicting math game that the whole family can enjoy! Work that mental math magic as you race to find creative equations hidden among nine number cards. Keep what you find and collect the most cards to win! More details here.
---
Love sushi? In this fast-playing card game, the goal is to grab the best combination of sushi dishes as they whiz by and gather the most number of points. Score points for making the most maki rolls or for collecting a full set of sashimi and add some wasabi to triple the value! But don't forget to leave room for dessert or else you'll eat into your score! More details here.
To see the full list of Amazon's Top 100 Board Games for Christmas, click the link here.