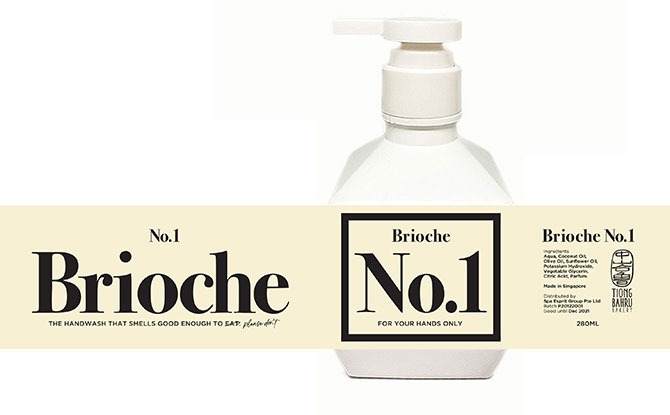 If you are the kind of person who likes the smell of freshly baked bread in the morning, you might be interested in Tiong Bahru Bakery's Brioche N°1, a brioche-inspired hand wash that will bring the smell of bakery into the home.
Brioche N°1 is a collaboration between Tiong Bahru Bakery and Singaporean craft fragrance house Oo La Lab.
---
Brioche N°1 Hand Wash – Bakery In A Bottle
Wondering what exactly brioche in soap form smells like?
According to Tiong Bahru Bakery, it is the "inviting fragrance of a bakery comprising key notes of vanilla, caramel and pineapple. Vanilla underscores the fragrance to invoke feelings of comfort that are commonly associated with childhood, with complementary notes of caramel coming together to create a popcorn – like memory which evokes the familiarity of communal spirit. A tinge of pineapple lends a zip of zing and tanginess, providing a refreshing and energising finish to a pair of thoroughly cleansed hand."
Said Cynthia Chua, Founder & Chairman of Spa Esprit Group – the parent company of Tiong Bahru Bakery, "As we zero in on our efforts to expand our bakery's boulangerie offerings, Brioche N°1 is a novel way of bottling up all that buttery goodness in a treat for the senses, and a cheeky nod to one of the most iconic perfumes in the world."
Brioche N°1 is not the first novelty hand wash from Tiong Bahru Bakery. In 2017, the bakery introduced a Chewing Gum Spearmint Blend Essential Oil Hand Wash.
---
Getting the Brioche-inspired Hand Wash
The brioche hand wash goes on sale from 29 January 2021. It will retail at $24 and will be available at Tiong Bahru Bakery outlets, its online store and various delivery partners. It is available, while stocks last.
From 29 January to 12 February 2021, get a complimentary bottle of Brioche N°1 with a minimum spend of $35 on Tiong Bahru Bakery via Deliveroo. Only 60 complimentary bottles are available, while stocks last.