Chinese New Year is back in full swing with the Year of the Rabbit. The first day of Chinese New Year 2023 falls on 22 January, which means that it is an extra long weekend with Monday and Tuesday being public holidays too. Once you are done with any visitations, you may be looking for things to do for Chinese New Year 2023.
There are heaps of festivities happening and join in with your loved ones to keep everyone "hoppy". Here are some not-to-be missed events and activities for you to plan out your Chinese New Year 2023 in Singapore.
---
Things to Do For Chinese New Year 2023 in Singapore
LEGO® Prosperity Burrows Event at Suntec City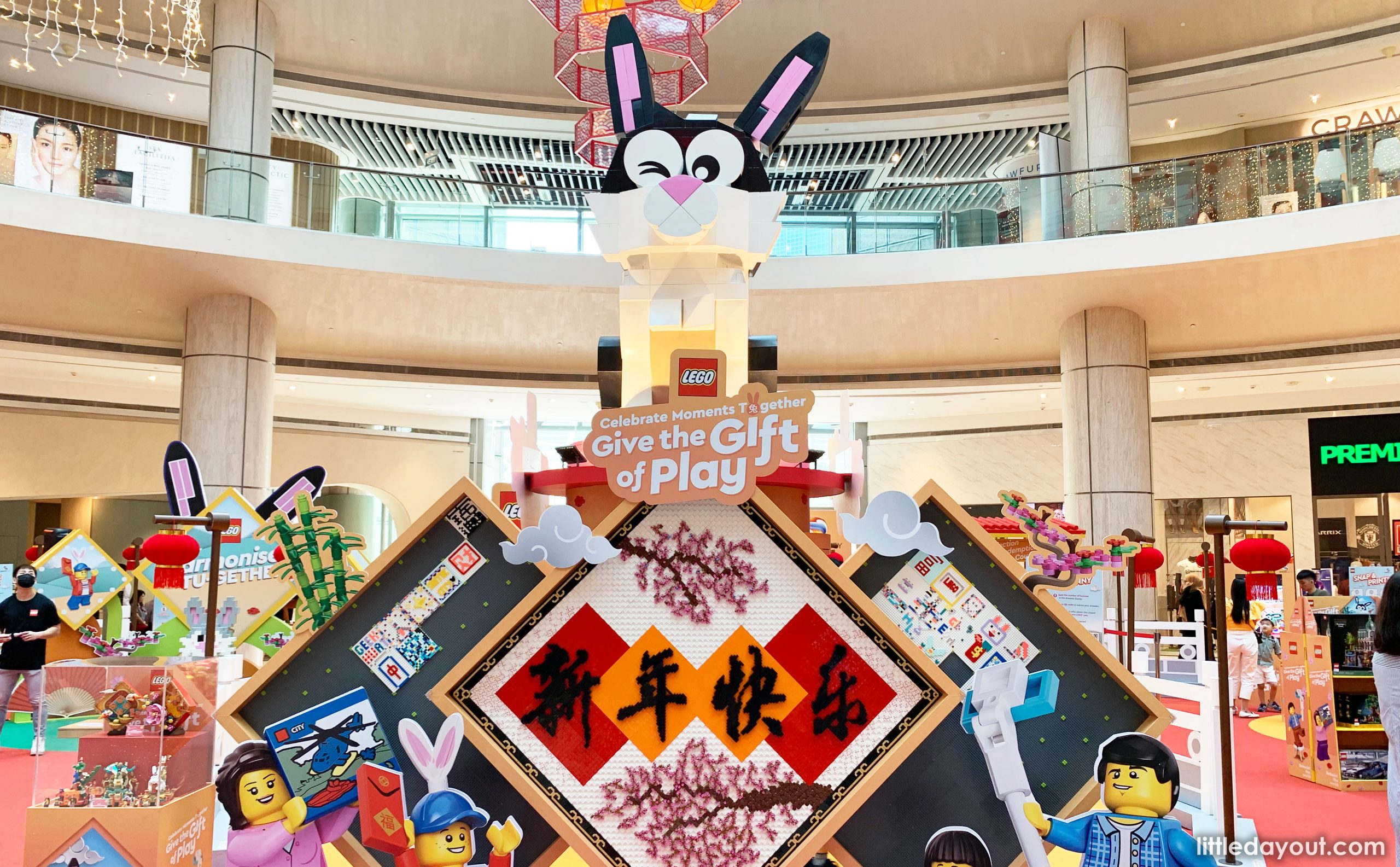 Pay a visit to the LEGO Prosperity Burrows event at Suntec City, Atrium (Tower 1 & 2) from 12 January to 5 February. Celebrate the Year of the Rabbit by exploring the world of the bunny at fun LEGO activity stations. Complete three festive-themed challenges to receive a  LEGO polybag. There will also be a community build activity, fun photo opportunities for the family with a 5-metre-tall rotating bunny and a LEGO mascot handing out limited edition LEGO️ red packets (while stocks last). Shop for the Lunar New Year and redeem festive gifts with a minimum spend.
Get more details about LEGO®️ Prosperity Burrows event at Suntec City.
---
Gardens By The Bay's Dahlia Dreams (13 Jan to 26 Feb)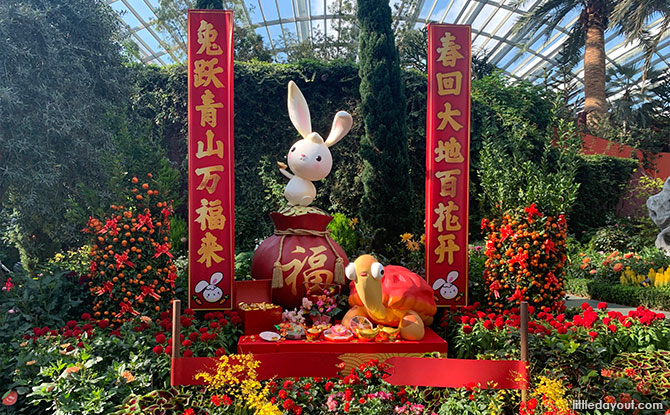 The Flower Dome at Gardens by the Bay transforms into a burrow with 100 rabbits as part of the annual Chinese New Year floral display Dahlia Dreams. It's a bunn-tiful way of welcoming the Year of the Rabbit with cute figurines and a re-intrepretation of The Hare and the Tortoise. A highlight is 40 unique varieties of vibrant dahlias from Europe complemented by popular Chinese New Year blooms. Find out more about Dahlia Dreams 2023.  
---
River Hongbao 2023 (20 to 28 Jan)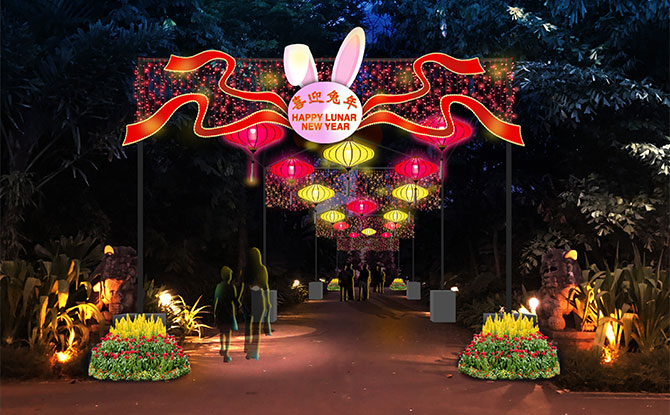 From 20 to 28 January, head to River Hongbao 2023 at Gardens by the Bay for a Chinese New Year festival. Back in full scale since three years ago, River Hongbao 2023 has lantern displays, stage performances and other festivities. Hop to the details about River Hongbao.
---
Chinatown Light-up & Markets (Till 19 Feb)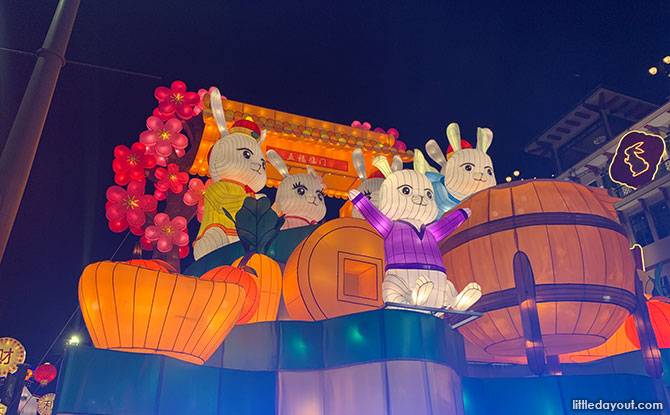 Enjoy the atmosphere both in the day and at night in Chinatown with bustling festive fair and food fair, street light-up, stage shows and even a countdown party! Visiting Chinatown is a classic thing to do for Chinese New Year 2023 in Singapore and it is great to just see Chinatown all back to life! Find out more about the Chinatown Chinese New Year 2023 celebrations and street light-up.
---
Lau Pa Sat Giant White Rabbit Pop-up (Till 5 Feb)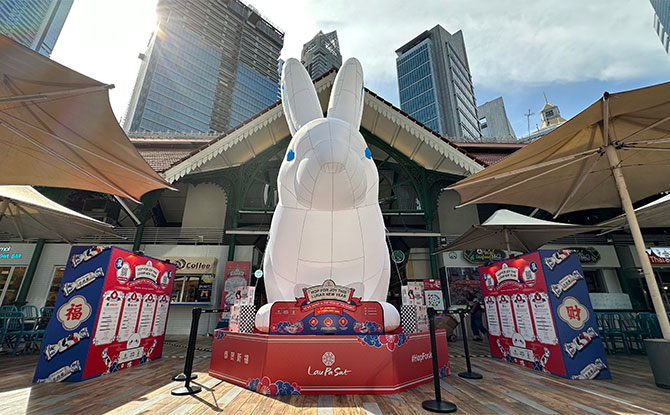 Love White Rabbit Chinese Candy? Head to Lau Pa Sat food market to greet a 5.5metre tall inflatable White Rabbit. Taste the White Rabbit Peanut Nougat Ice Cream from a sure-win claw machine and other White Rabbit products like White Rabbit Milk Muffin and White Rabbit Popsigato. Check out the details here.
---
Light to Night Festival 2023 (Till 26 Jan)
Light To Night Festival 2023 is back with a full line-up like the pre-pandemic days. Perfect for balmy January evenings, the festival is a wonderful way of seeing the Civic District in a different light. This year, the festival takes place from 6 to 26 January with the theme "Here and Now", calling for a time of reflection of one's time and environment. The festival features a line-up of over 60 programmes and artworks by local and international artists. Light up your night here.
---
(Tu)Gether Art Installation (Till 31 March)
Get tu-gether with loved ones in your lovely CNY outfits and head to SCCC's Roof Garden with a spectacular rabbit-themed art installation exhibition. Entitled 兔together, the art installations by local design studio Whisky and Foxtrot LLP present a cast of characters from Chinese New Year mythology. On selected Saturday evenings, visitors can watch special light shows with narration of Tu Zai's journey to celebrate Chinese New Year with family and friends. Read more here.
---
S.E.A. Aquarium's Spring in the Sea (13 Jan to 5 Feb)
Visit S.E.A. Aquarium to herald the year of the Water Rabbit with an underwater dragon dance and visit eight auspicious animals like the foxface rabbitfish. Meet Ru Yi the Mermaid as she shares stories about her marine friends and how we can protect their homes. Then post with Manta mascots in their Lunar New Year best. See more details here
---
Wishing You a Hoppy Year of the Rabbit!
Whichever activity you choose to participate in, we wish you a hoppy new year with family and friends!