Flying to the moon on an airplane? Making friends with a talking alien? Delightful!
Presented by I Theatre and created by Big Wooden Horse (UK), The Way Back Home is an extraordinary tale with heart about possibilities and the joys of pretend play between friends.
Once there was a boy…and one day, he finds an aeroplane in his cupboard. He flies up and away until his plane runs out of petrol and crashes on the moon where he befriends a girl alien with a wrecked spaceship.
The play invites the audience to embark on a quest together with the two friends to find fuel and tools to fix their aircrafts. Will they find their way back to their own homes safely or stay stuck on the land of blue cheese forever?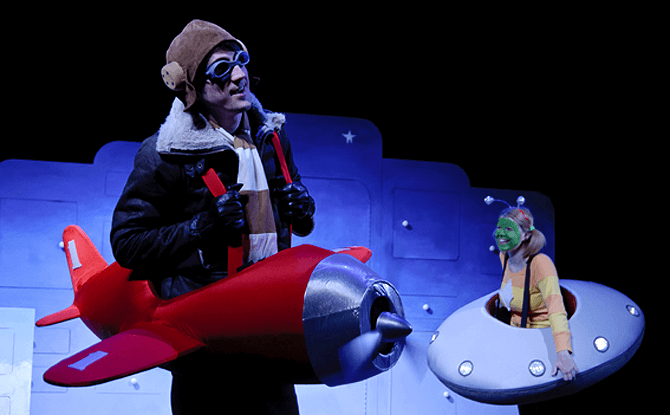 The pacing of this playful production is just right, with clear story-telling and great singing by the energetic cast of two.
There is interactivity and engagement between the two adventuresome explorers and the excitable young audience, with the play offering a message about friendship and farewells.
The simple set is cleverly designed: dominating the stage are a huge pale blue cupboard and drawers in the boy's bedroom, from which various props, including a bright red airplane with a whirling propeller, a glittery silver flying saucer and floating balloon clouds, are conjured.
When we were very young, make-believe was a way for us to test boundaries, seek new worlds and forge friendships. The success of this whimsical production rests on the delicious magic of imaginary play.
Certainly one way to spend fifty enjoyable minutes with your kid!
A stage adaptation of artist-writer Oliver Jeffers' picture book of the same title, The Way Back Home,would appeal to young audiences from as young as three. The star displayed in the boy's bedroom further refers to another picture book, How to Catch a Star, the story of the same boy who loves stars so much that he decides to catch one. Get the books as well so that you can continue the conversation with your little theatre critic!
The Way Back Home is now on till 20 September 2015.
Read our interview with Adam Bampton-Smith, Artistic Director of Big Wooden Horse Theatre Company, on The Way Back Home.