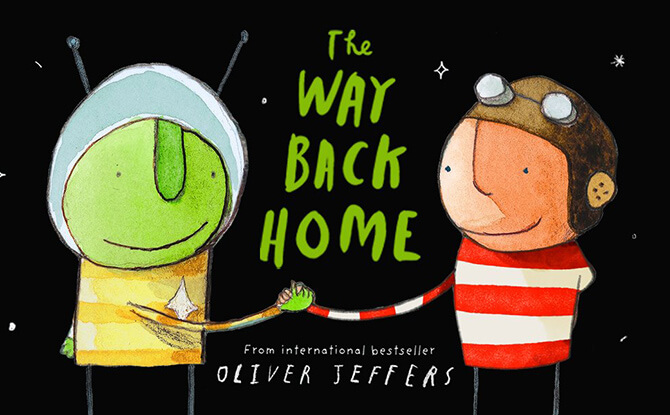 The Way Back Home is a story of a boy who comes across a single-propeller aeroplane in his closet. Hopping inside, he flies off to outer space on a grand adventure but runs out of fuel. Stranded on the moon, he discovers he is not alone – a Martian stranded there too. This leads to an imaginative tale about friendship and finding 'the way back home'.
We Are More Alike Than We Think
The Way Back Home is an endearing children's story by Oliver Jeffers and a bedtime favourite. As a storyteller, Jeffers knows a thing or two about telling stories that capture a child's imagination. His other books include Lost and Found, Up and Down and How to Catch a Star.
Therefore, it should come as no surprise that The Way Back Home has all the elements kids love – the moon, planes and aliens.
Best of all, it brings home the message that no matter how different we may seem on the outside, we are more alike than we can imagine.
---
-- Story continues below --
The Way Back Home Live on Stage in Singapore
The Way Back Home is coming to Singapore at the SOTA Drama Theatre from Friday to Sunday, 27 to 29 September 2019. This live theatre performance is suitable for young children ages 3 and up, and families.
Presented by DIVA Productions and Big Wooden Horse Theatre Company (UK), the show will run for one weekend only.
Get A Discount on The Way Back Home Tickets
Tickets to The Way Back Home are now available from SISTIC.
Here's a tip. Want to get a discount on The Way Back Home tickets? Use Little Day Out's discount code to enjoy a 10% discount on Cat 1 and Cat 2 tickets.
Little Day Out's The Way Back Home ticket discount code is:
LDO2019
Be sure to use the discount code when purchasing The Way Back Home tickets from SISTIC.
The Way Back Home
When:
Friday, 27 September – 5 pm
Saturday, 28 September – 11 am / 2 pm / 4.30 pm
Sunday, 29 September – 11 am / 2 pm / 4.30pm
Tickets:
Cat 1 – $62
Cat 2 – $52
Cat 3 – $42
Tickets available from SISTIC.