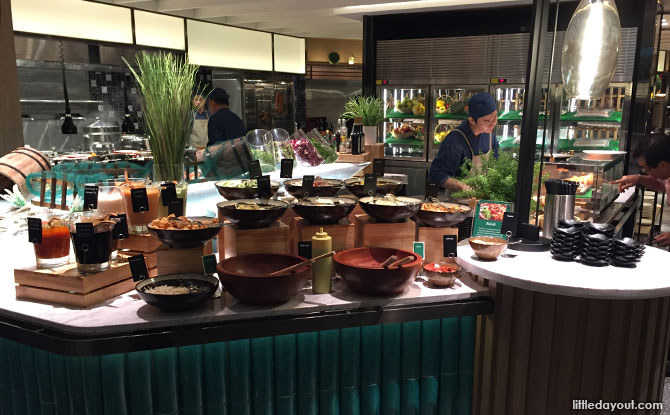 The Orchard Café at Orchard Hotel Singapore was given a four-month refresh in 2018. It now not only boasts a new, vibrant garden-inspired décor but a buffet spread that serves up heritage-inspired cuisine as well.
Found at the lobby of Orchard Hotel Singapore, The Orchard Café offers a variety of locally-inspired dishes, some of which are getting harder and harder to find. The international buffet spread also comes filled with sashimi and sushi, double-boiled soup as well as Western fare.
We had the opportunity to sample them during a recent media tasting.
Heritage-inspired Delights
Ter Kah Bee Hoon – or braised pork trotters with rice vermicelli – is a Hokkien dish which has found its way into The Orchard Café's buffet line. This was our hot favourite.
---
-- Story continues below --
Other old-time dishes that we indulged in included the Teochew-style Pu-er Tea Smoked Roast Duck and Tau Kwa Pau, deep-fried beancurd stuffed with chopped egg, fish cake and cucumber.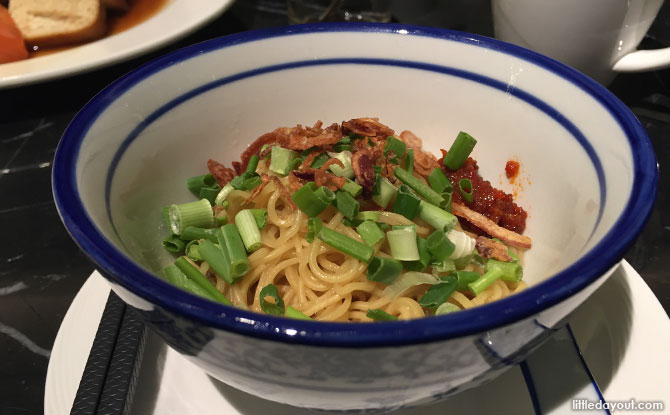 With the revamp, we were delighted to see that the new Orchard Café has brought back the Live Noodle Bar. It serves all-time favourites such as Penang Chicken Curry Noodles, Bak Chor Mee, Singapore Laksa with Cockles, Fried Sliced Fish Noodles and Prawn Noodle Soup on a rotational basis. We enjoyed slurping our way through our bowl of scallion noodles paired with roast meats supplied by award-winning Cantonese restaurant Hua Ting, one floor above within the hotel.
Meat-lovers will be satisfied with char-grilled, barbecued items at The Orchard Café grilled with an open and adjustable charcoal grill, a rare sight at a hotel buffet.
Personally, we found it hard to resist the char-grilled 5-Spice chicken wings. Other choice barbecued meats included Ox Tripe and Duck Hearts Satay and Barramundi with Kampong Sauce.
Flavourful Choices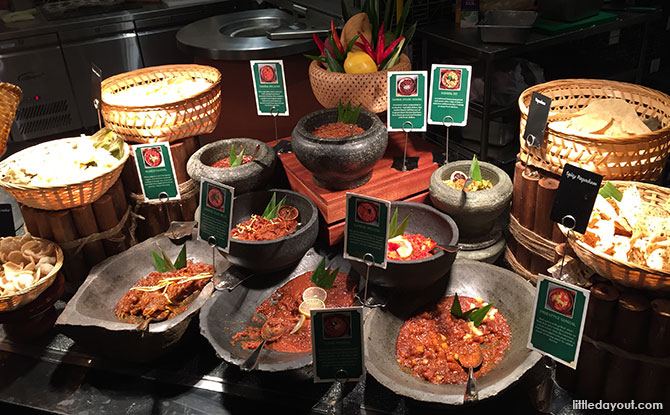 What surprised us was the bewildering array of eight dipping chilli sauces – Sambal Udang Kering, Sambal Belado, Sambal Ikan Bilis, Sambal Ijo, Sambal Balachan, Mango Sambal, Pineapple Sambal and Lime Sambal. We were literally spoilt for choice to pair each of them with different types of crackers.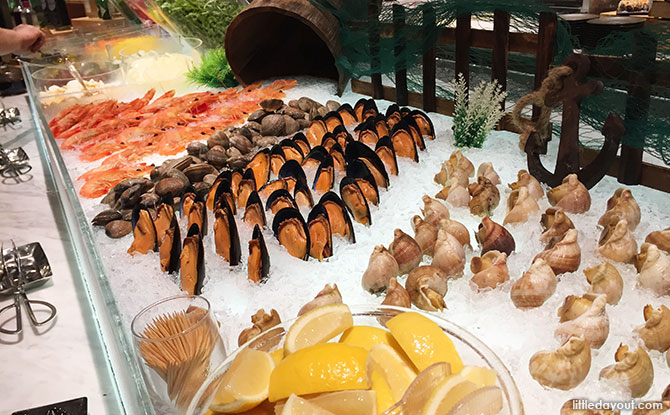 The Orchard Café also had Fresh US Oysters and Blue-Lip Mussels.
There were also intriguing versions of local dishes such as Wok-Fried Fragrant Truffle Egg Fried Rice, Lobster Roti John and Chilled Jasmine Scented Tau Suan with Coconut Milk available on the line.
Each dish called out to us to try them, and we gladly obliged.
Rounding off the meal were desserts which included a pandan-kaya flavoured soft-serve ice cream! Simply yummy and fun to decorate with lots of sprinkles and crumbles!
A Signature Class Buffet at The Orchard Café
The buffet at The Orchard Café, Orchard Hotel Singapore is definitely one to check out if you are looking for a taste of heritage – with a twist added too!
For more details on A Signature Class Buffet and its pricing, visit the Orchard Hotel website here.
Media invite.