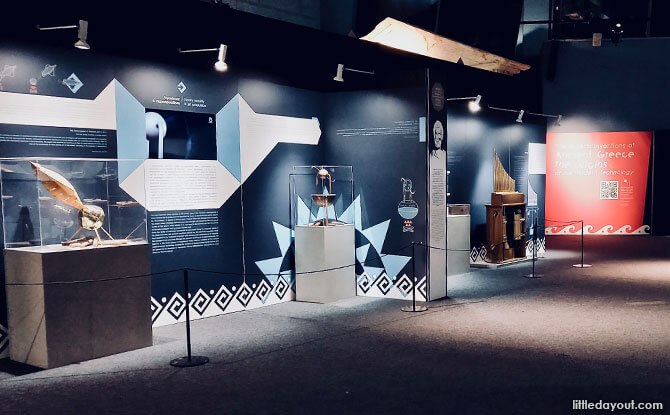 From 19 October 2018 to 17 March 2019, Science Centre Singapore invites you to step back in time and marvel at the technology and innovation of ancient Greece in The Inventions of Ancient Greece: Origins of our Modern Technology, featuring over 40 exhibits from the Kotsanas Museum of Ancient Greek Technology.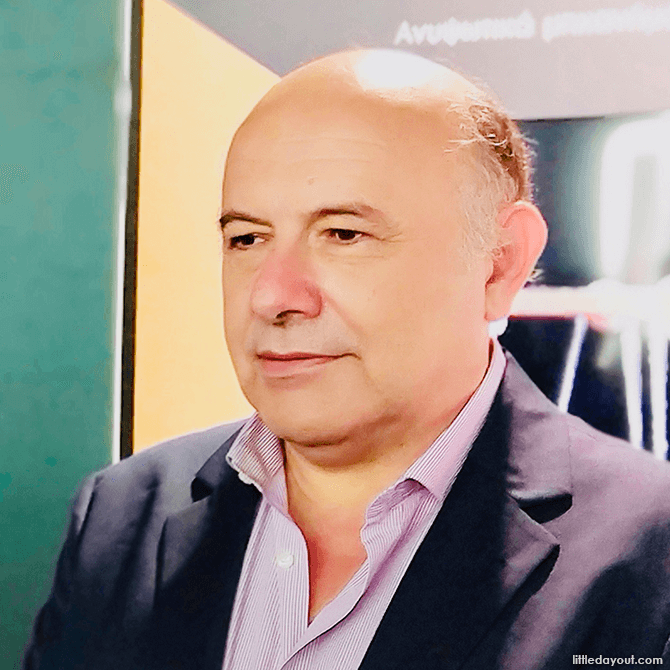 Thoughtfully curated by Mr Kostas Kotsanas, the founder of Kotsanas Museum of Ancient Greek Technology, each exhibit was personally handcrafted and replicated after years of researching hundreds of texts. In order to fully understand – and appreciate – the inventions of the ancient Greeks, Mr Kotsanas went as far as to ensure that he sourced and used materials they would have.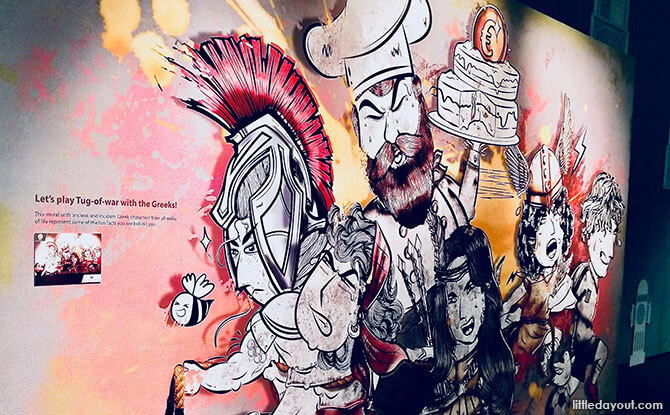 Be in awe as you learn about ideas and creations born in a time when the World Wide Web did not make information as accessible as it does now. Not merely relics of a forgotten age, these exhibits are proof that the basis of innovation in any era begins simply and inquisitively, a maker's mind if you will.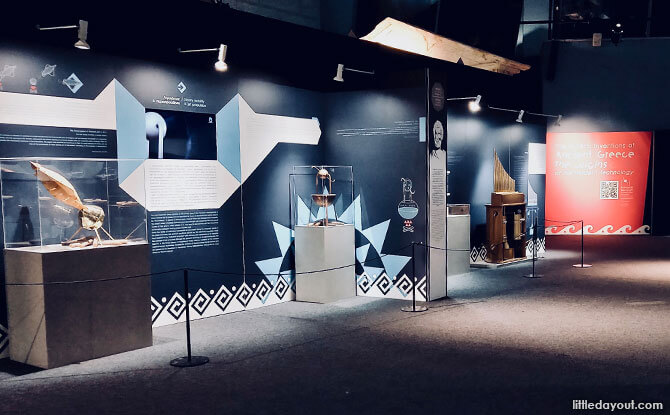 The Inventions of Ancient Greece: Origins of our Modern Technology is an interactive and engaging exhibition for both young and old to enjoy. From entertaining live shows, to hands on activities, this travelling exhibition – which has received rave reviews in cities such as Paris and Seoul – should see you returning for seconds throughout its run in Science Centre Singapore. Here are some highlights to look out for!
---
-- Story continues below --
The Alarm Clock of Plato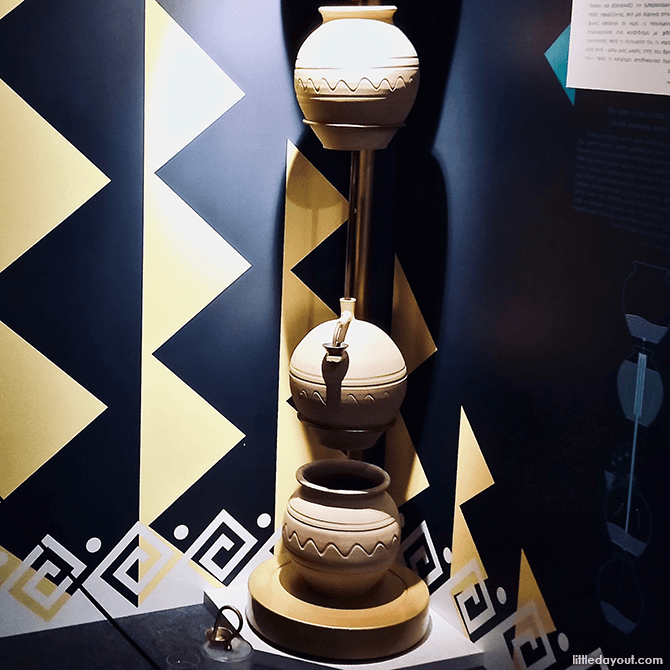 Plato certainly didn't wake to the beats of funky farm animals blasting out of a mobile device. Instead, it was a hydraulic alarm clock made up of three tiers of ceramic vessels that emptied water through a tap, from one vessel to the next. The alarm – a melodious whistling – is produced when contained air is forced through a syringe at the top of the clock.
The Static Automatic Theatre of Philon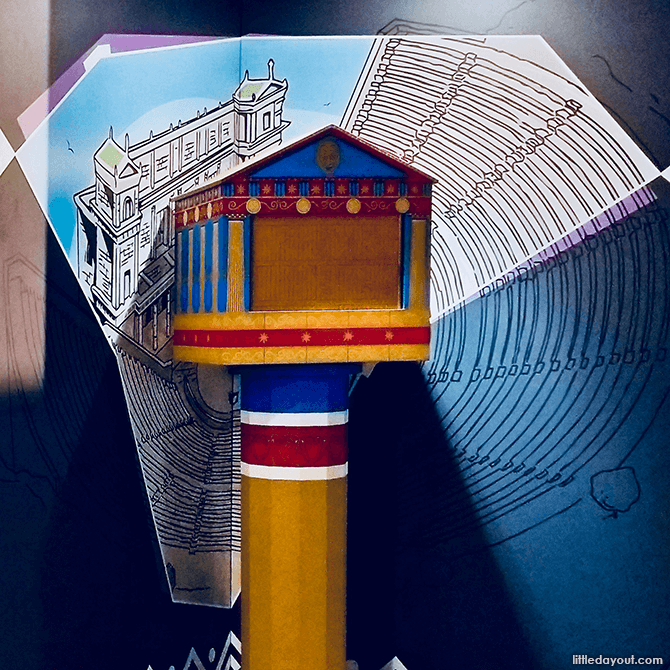 Not an IMAX theatre by a long shot, the cinema of the ancient Greeks was the static automatic theatre of Philon of Byzantium, as described in detail and improved by Heron of Alexandria in his work "Automatopoetike". The theatre of Heron presents automatically, with moving picture and sound, the myth of Nauplius who sought revenge on the Archaeans for his son's death in Troy.
Hands-On Activities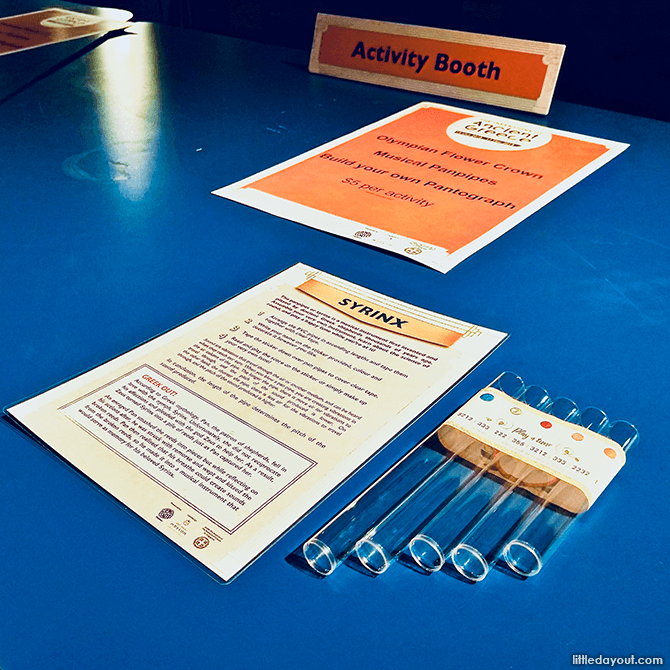 There are numerous hands-on learning opportunities for everyone as you busy yourselves at the activity booths.
For a small fee, the little ones can choose to make their very own floral wreath crown, or assemble panpipes, a wind instrument invented and used by the ancient Greek shepherds. Adults and older children will enjoy learning about and putting together a pantograph, the ancient Greeks' version of a photocopy machine so to speak.
Daily Mini Shows
To complement the exhibition, Science Centre Singapore has specially put together live mini shows which will take place twice a day at 12.30pm and 4.30pm. These mini shows, to be staged within the exhibition hall, will bring to life ancient Greek inventions. Watch and learn from historical Greek characters about the scientific concepts central to ancient Greek inventions, including air pressure used to produce air cannons and water pressure in the world's very first alarm clock.
The Inventions of Ancient Greece: Origins of our Modern Technology is now on at Science Centre Singapore.
The Inventions of Ancient Greece: Origins of our Modern Technology at Science Centre Singapore
When: 19 October 2018 to 17 March 2019
Where: The Annexe, Science Centre Singapore
Website