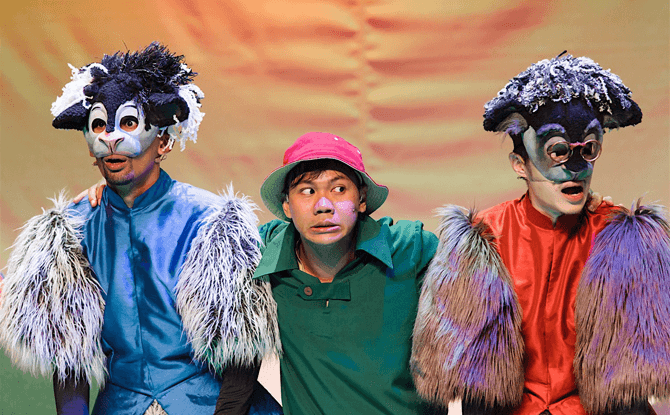 Children's theatre group I Theatre kicks off its 2016 season (and its 15th anniversary year) with this brand new production, which puts a fresh spin on a familiar age-old tale.
Everyone knows the story of The Boy Who Cried Wolf. In fact, it's likely to be amongst the first stories parents tell their kids to warn them against the big no-no of telling lies. And therein lies the challenge: how do you cover such well-known and well-trodden ground in a way that's still interesting to your audience? How do you bring something new to the table?
Credit, then, to I Theatre's artistic director and writer, Brian Seward, for coming up with this revised take that puts a twist to the tale by making the sheep – yes, the sheep – active participants in the story instead of merely wolf fodder. It makes sense, really. After all, they're the ones with a life-or-death stake in the whole thing, and it's their woolly behinds on the line should the wolf strike.
---
-- Story continues below --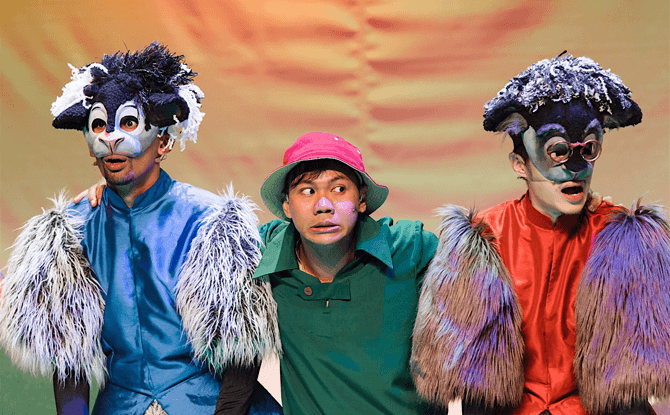 The four Aries characters are colourful and well-drawn, with individual quirks that add personality. They also have names such as Drysdale and Charollais that will bring a knowing smile to the faces of adults in the audience with a passing knowledge of sheep breeds.
Production values are pretty high, with colourful, well-made sets, props and costumes that are sure to draw little ones' eyes and keep their attention fixed. Even the sheep are well togged-out, boasting thick, lush wool and smart little waistcoats.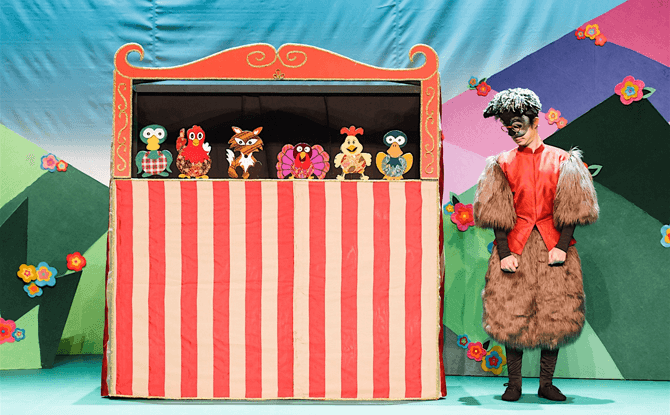 As with most I Theatre productions, music plays a big part in the show and The Boy Who Cried Wolfhas no shortage of upbeat, hummable tunes, courtesy of composer Julian Wong. Combined with some slapstick comedy, physical humour and little asides addressed to the audience, it doesn't take long before the kids are well engaged and roped into the story's proceedings.
For parents, the show is a great chance to expose junior to a classic fable and its moral message in a fun and memorable way. Learning should always be this enjoyable.
The Boy Who Cried Wolf is on from 15 February to 19 March at the Jubilee Hall, Raffles Hotel. Book your tickets here.
DETAILS
Duration: 55 minutes, no interval
Suitable for: Families with children age from three to 12
Showtimes
Mondays to Fridays: 10 am
Saturdays: 10:30 am & 2:30 pm
Ticket prices
Adult/child: $32
Family package of four: $121.60
Family package of five: $140.80
Discounts available with different cards. Click here for details.
Tickets available through
SISTIC website www.sistic.com.sg
SISTIC hotline (65) 6348 5555
SISTIC authorised agents islandwide
Go Behind the Scenes
Little Day Out pays a visit to the cast and crew during rehearsal and spoke to director-writer Brian Seward.