Now, donating to help the disadvantaged is as easy as tapping a card on a billboard.
As part of the Care & Share Movement, a new national fund-raising and volunteerism movement, advertising billboards at five SMRT stations – Orchard, Somerset, Tiong Bahru, Yishun and Bishan – have been equipped with card readers that enable the public to make a $1 donation to the Community Chest by simply tapping their EZ-Lnk cards on the billboards.
Members of the public who wish to donate larger sums can do so through the Community Chest's website by scanning the QR code on the advertising billboards.
Launched on 29 November 2013 by Mr Chan Chun Sing, Minister for Social and Family Development, the billboards are part of a campaign under the Care & Share Movement that aims to highlight the four causes supported by the Community Chest. These causes can be summarised in the word CARE – helping Children with special needs reach their full potential, aiding Adults with disabilities integrate with society, supporting Relationships of families in difficulties and helping the Elderly age graciously.
Eligible donations raised by the Community Chest and participating Voluntary Welfare Organisations between 1 December 2013 and the end of 2014 will be matched by the government.
In 2013, the Community Chest has funded 228 critical social service programmes offered by 83 charities. A total of $85.9 million was required to help over 300,000 people including children with special needs, youth-at-risk, persons with disabilities, lonely and frail elderly and families in need.
For more information, visit the Community Chest's website and the Care & Share Movement's website.

Malcom Yew, a beneficiary of MINDS, one of three children featured in ComChest's latest publicity campaign, the first under the Care & Share Movement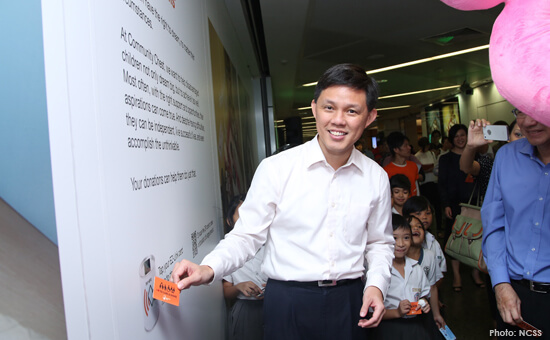 Minister Chan Chun Sing tapping on the billboard to donate to the ComChest