Tamoya Udon at Liang Court sits in the corner of the shopping mall's first floor. Known for their freshly made udon, it is one of our favourite go-to places when hit by the urge for a bowl of the thick, white Japanese noodles. What draws us here is the smooth and chewy texture of the udon noodles.
Get in Line at Tamoya Udon at Liang Court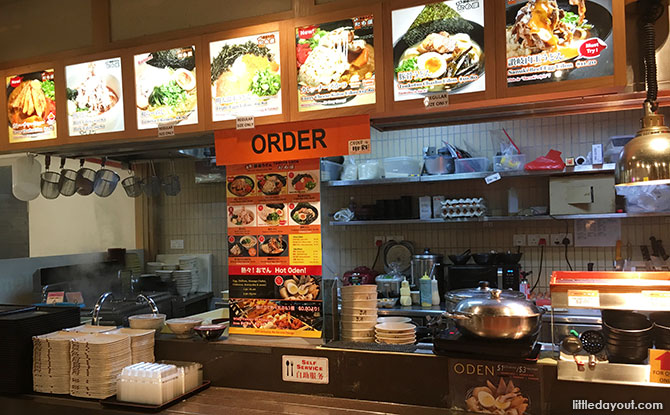 The style of service at Tamoya Udon at Liang Court is self-service cafeteria style. Grab a tray and place your order at the service counter to have it freshly prepared. Once ready, pick it up and move on down the line towards the cashier to pay.
The soup used at Tamoya Udon at Liang Court is made with dried bonito and a soya sauce.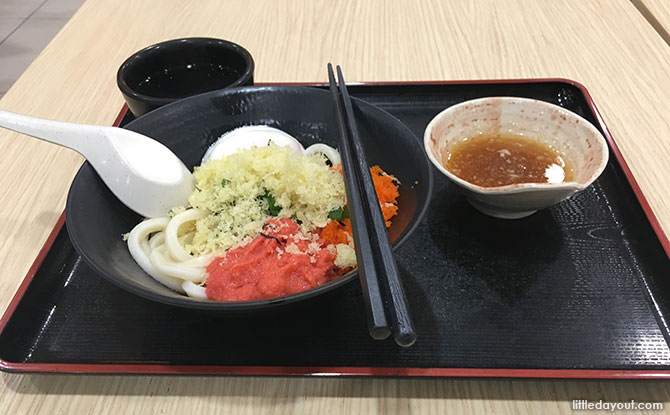 However, our favourite dish at Tamoya Udon isn't even soup based. Instead, we enjoy the Triple Egg Udon ($9.80) which features a generous serving of roe and an onsen egg.
Other popular versions of udon at the restaurant include Beef Udon ($10.80), Pork Udon ($9.80) and Tonkotsu Chahu Udon ($10.80). If you are going for something light, try the plain Kake Udon ($6.80) or Kitsune Udon ($7.60).
For those who prefer ramen, the restaurant has the Tamoya J Ramen ($8.80).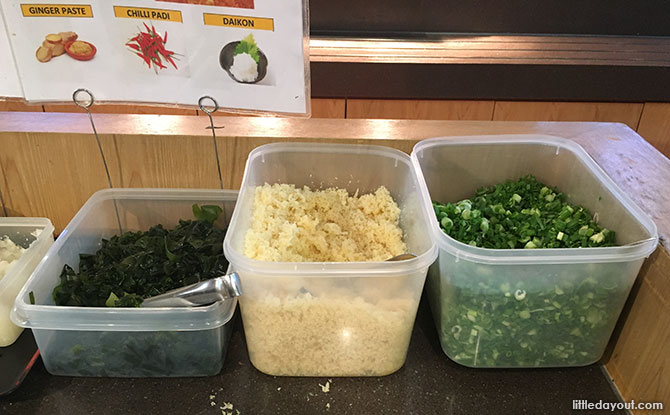 As an extra bonus, you can flavour your bowl of noodles with condiments to your own taste and preference. Personally, we enjoy adding fried tempura bits for that added crunch.
Tempura Sides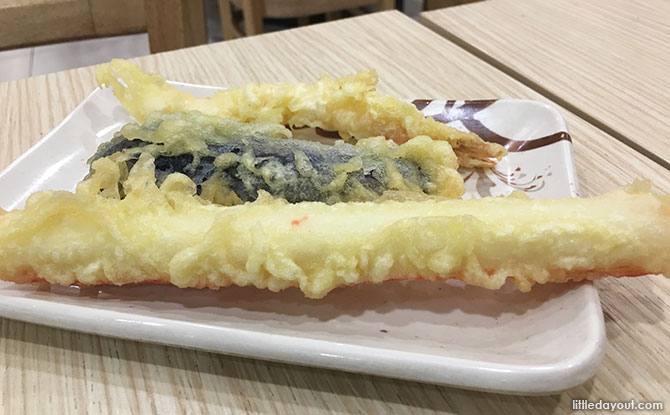 To accompany the udon, you can choose from various sides of tempura. There are a variety of tempura to choose from. These include prawn, eggplant and crabstick. Other sides that are available include chicken karaage.
It is self-service and you can pick out your favourite sides from the food warmer and place them on a plate. Pay for your noodles and the sides together.
Don't despair if the tempura you have been craving for is unavailable on the counter. In fact, this is a blessing in disguise. You can ask the service staff to cook up the tempura which you want and it will be served to you freshly fried and hot.
Get more information about Tamoya Udon in Singapore here.