The Yosakoi Festival is one of Japan's most famous festivals and normally sees around 200 teams and 20,000 people gathering to dance. Originating in Kochi Prefecture, Japan, variations of this festival are held in 29 countries and regions worldwide.
To promote both Yosakoi and Kochi, the birthplace of this fascinating festival, the Kochi Prefecture is holding "The Yosakoi Challenge: Yosakoi Your Way to Happiness" from 1 to 28 February 2021.
This challenge aims to introduce people to the Yosakoi festival and the Kochi Prefecture. Participants worldwide will get a chance to win exclusive prizes.
---
The Yosakoi Challenge
Yosakoi is a large-scale festival that runs for four days each year.
Naruko is a handheld wooden clapper that is a symbol of Yosakoi.
The rules of Yosakoi require dancers to march forward holding naruko clappers in both hands, creating a delightful rhythm while they dance, as well as incorporating phrases from Yosakoi Bushi, a famed local folk song, into their dance music.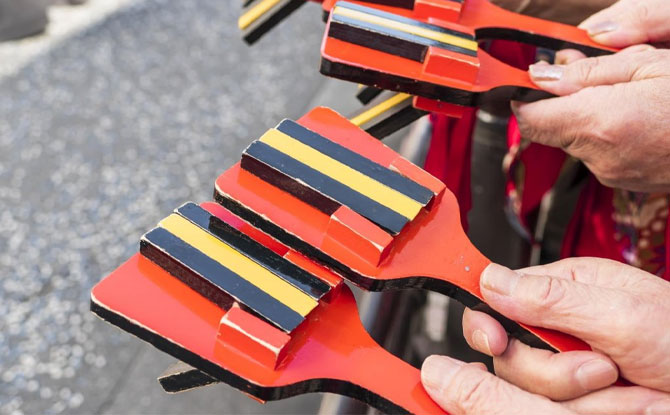 Besides these rules, dancers are free to dance in their style. It is a very inclusive dance where the language or cultural background of the dancer does not matter for them to be able to participate.
---
Yosakoi Your Way to Happiness
The Kochi Prefecture is challenging those outside Japan to make a one-minute Yosakoi Dance video from home.
As long as there is a pair of naruko in both hands, participants who join will stand a chance to win prizes!
For those who do not have a naruko, there is a link on the site teaching participants how to make one out of paper.
---
Exclusive Prizes for

The Yosakoi Challenge
Participants can then post the video on social media to be entered in a draw for a chance to win one of 60 prizes from Kochi Prefecture. These include a happi, a traditional Japanese festival costume with a design based on a traditional flags hand-crafted in Kochi. Another prize is the Kochi Limited Edition Mask Case made with Tosa washi paper, a traditional Kochi craft. 
---
How to Take Part in The Yosakoi Challenge
To take part in this challenge, download an audio file of the remix track online. Then, choose to dance either the original dance in two difficulty levels or create original choreography. Finally, record your dance video and upload the specified hashtag on the site and upload it to the various social media platforms!
More information and details can be found on the Yosakoi website.