Starting 17 February, Yip Yew Chong's second solo exhibition "stories from Yesteryear" will be open for visitors and fans of his work to visit. The exhibition is free and will be held in two different venues over one and a half months. 
The exhibition features 30 paintings of Yip Yew Chong's imagination of old scenes of Singapore, some which are whimsical. These panoramic yet intricately detailed scenes are drawn in a way that visitors can walk into the art, listen to the people's conversations and watch as the layers of stories unfold.
---
Acrylic Painting "Stories from Yesteryear"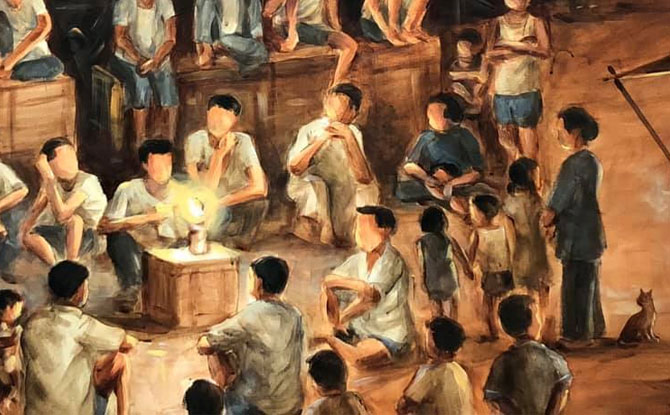 "Stories from Yesteryear" is the name of one of the key paintings in the exhibit. This painting depicts an evening storytelling performance along the bank of olden day Singapore River. The storyteller is surrounded by his audience, made up of mostly coolies who work as labourers carrying goods to and from the bumboats to the warehouses.
---
Where to view "Stories from Yesteryear"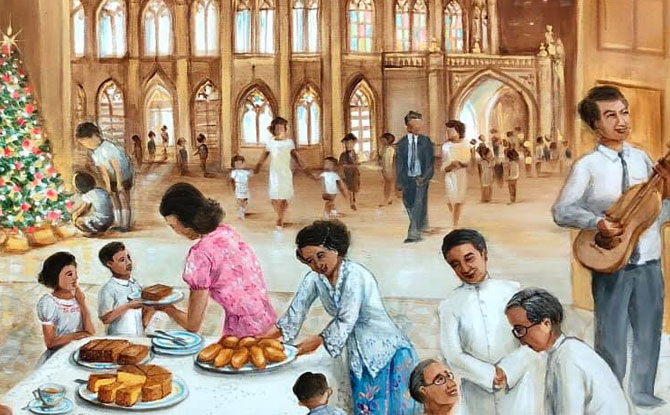 Following the concept of a roadshow, Stories from Yesteryear will be held at the Substation and the Sofitel Singapore City Centre. Visitors can choose to visit the exhibition at either venue or both. The two venues offer different time options and very different ambience for experience and appreciation.
The Substation exhibition will be held 17 to 22 February 2021, from 11 am to 9 pm daily. Pre-registration is required due to limited capacity. You can register at the site here.
For the Sofitel Singapore City Centre exhibition, it will be held from 26 February to 31 March 2021, from 10 am to 6 pm daily. There is no pre-registration required but visitors will need to sign-in upon arriving at the door of the hotel's L5 Etincelle. There will be limits to access to ensure safe distancing is practised.
With the ongoing stay-home restrictions, those who wish to get a glimpse of the exhibit can do so at the online at a virtual gallery designed by Yip Yew Chong himself. In this Youtube video, enjoy some of Yip Yew Chong's old-styled canvas paintings.
---
Free "Stories from Yesteryear" Catalogue
There is also a "Stories from Yesterday" catalogue that is for free download from the Yip Yew Chong website. The catalogue is made to look like a mini-ebook, complete with brief narratives to accompany each painting. This makes it easy to read together with friends and family of all ages. Other information that can be found on the website includes Yew Chong's variety of artworks, a list of all the public murals, hand-drawn maps and lots of information about the thoughts behind the works. Yip Yew Chong's first solo art exhibit is still on at Art Porters Gallery until 14 Mar 2021.