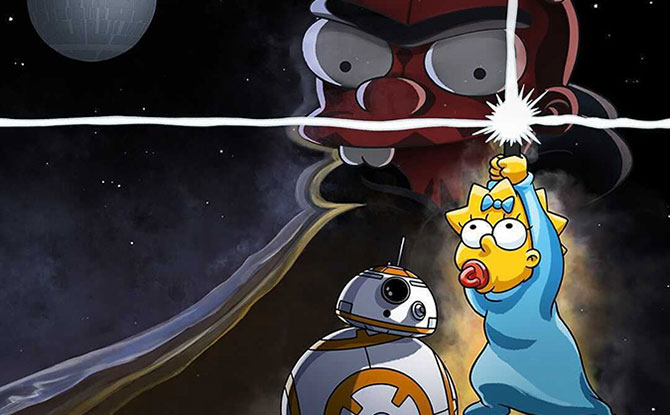 Happy Star Wars Day! To make fans even happier, Disney Plus has added three newly released Star Wars shorts to its library.
Two of these, Star Wars Biomes and Star Wars Vehicles Flythroughs revisit some of the sights and places that fans love. The Force Awakens From its Nap is a Simpsons x Star Wars mash up featuring none other than Maggie Simpson.
---
Star Wars Biomes

Go on an aerial tour of some of the most iconic planets, moon and other locations in the Star Wars universe with Star Wars Biomes. Start with a visit to the ice planet Hoth, floating over the snow-covered mountains while Imperial walkers patrol below.
Other places that you can visit with Star Wars Biomes includes Luke's home planet of Tatooine (look out for R2-D2 and C-3PO) and more.
It is a rather slow but cinematic 18-minute long journey. We were excited to spot from above various characters that we have grown to love.
---
Star Wars Vehicles Flythroughs
Take a look inside two iconic ships in Star Wars Vehicles Flythroughs. The first episode is a three-minute short feature on the Millennium Falcon. Get an upclose look at the interior of the legendary ship and close-up of its various controls.
The second episode is a four-minute flythrough a First Order Star Destroyer.
---
The Force Awakens From its Nap – Simpsons x Star Wars
Set in Springfield, The Force Awakens From its Nap features Maggie who goes in search of her pacifier within her nursery. It has a whole cast of Star Wars characters and Star Wars references, including a Hans Solo-carbonite-inspired time out for misbehaviour.
Happy Star Wars Day!