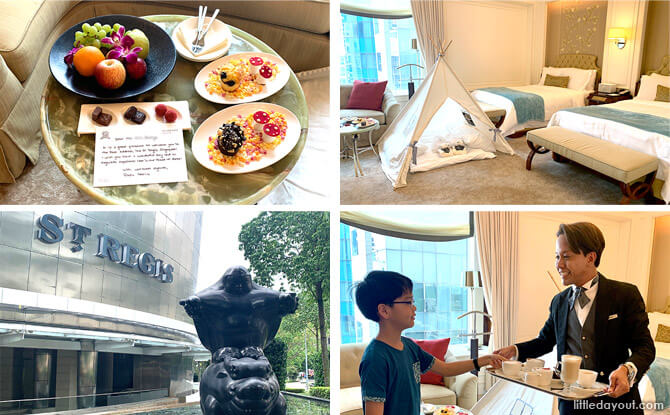 Right from the moment we arrived at The St. Regis Singapore, we were transported to a realm of old-world charm and graceful elegance. Beautiful artwork and chandeliers artfully placed in the hotel gave us the first glimpse to luxury and prestige. Our The St. Regis Singapore staycation was an exquisite experience for the whole family and we were well-pampered from start to end.
The St. Regis Singapore is sited in the exclusive embassy quarter, along the upscale shopping belt of Orchard Road, and is a short walk to the famed Singapore Botanic Gardens.
Check-in was swift and we were asked about our travel history; a sign of the times with the current coronavirus pandemic. Seeing the hotel undertake such careful measures was assuring, putting my mind at ease and ready to enjoy our family staycation.
As we entered the lift to go to our room, a plush, velvet seat within it greeted us, suggestive of the lavishness that we would soon encounter.
---
-- Story continues below --
---
Luxury Unparalleled, Family Thoughtfully Catered For During The St. Regis Singapore Staycation
Upon reaching our room, we were pleasantly surprised to learn that we had been upgraded to the Lady Astor Double Room which suited our family of two adults and two upper primary school kids better. It had two double beds, one lounge sofa, a writing table, an awesome bathroom and plenty of room to walk around! This was a real bonus for us as it meant that we wouldn't have to skip around tight spaces this staycation! Hooray!
A beautiful, instaworthy tepee had also been prettily set up with luxe beddings and adorned with a pair of St. Regis bears and goodie bags for the children. Everyone gave an audible "wow"!
Laid out for us too were fruits and platters of sweet creations including chocolate-filled marshmallows made to look like mushrooms. How adorable! It didn't take long before they were polished off by the kids.
The bathroom was a French dream come true, with not one but two wash basins which any parent would know is a privilege in itself – especially during morning and evening 'family rush hour'! The opulent French bath fixtures and Remède Spa bath amenities only made us feel more pampered.
---
Personalised Attention and Service By The St. Regis Butlers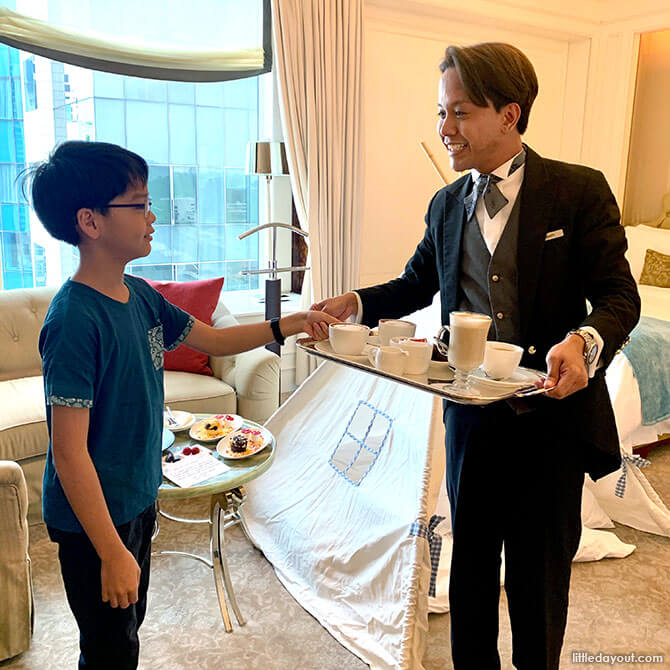 The room was immaculately presented and we felt like royalty especially when we were told that our Butler would soon arrive with our drinks order. This signature 24-hour The St. Regis Butler bespoke service is available to all guests. We could call on him whenever we needed and he could help us with bubble baths and press our laundry. What's more, if you dislike unpacking and packing like I do, the Butlers could even help you with it, leaving you with more time for the kids!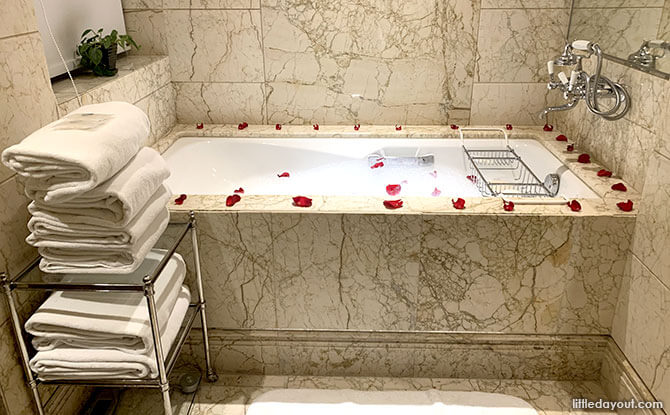 As if we couldn't be spoilt any further, our Butler Elfy drew a magical bubble bath, sprinkled with beautiful rose petals after we returned from dinner. For those who may prefer a shower instead, the jet massage facilities in the shower were excellent too.
Amidst the lavish settings, our kids felt truly welcomed. Apart from the teepee and gifts, there were kid-sized amenities from kids' bathrobes to slippers. For families with younger children, baby bathtubs, milk bottle warmers, baby cribs, high chairs, baby toilet seats and strollers are available upon request. Remember to ask for them when making your room reservations.
---
Exquisite The St. Regis Signature Experiences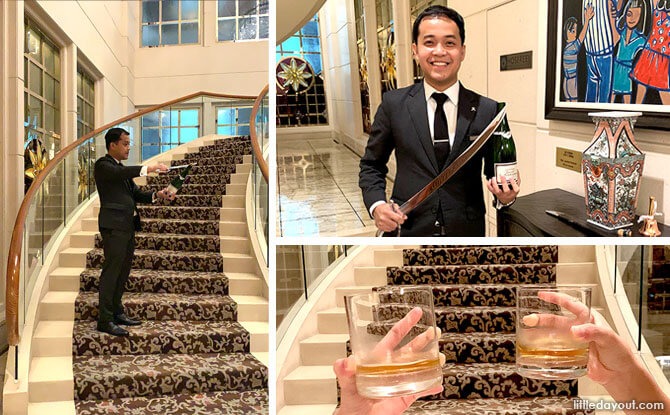 During our stay, we were treated to an array of St. Regis' signature tradition. One that particularly impressed us was the signature ritual, Champagne Sabrage, that takes place every evening at 6.15 pm at the main stairs of The St. Regis Singapore. In case you are wondering, this interesting ritual originated from the days of Napoleon Bonaparte who opened champagne bottles with his saber in both victories and defeats.
This evening ritual celebrates the transition from day to evening. Anyone present would get to enjoy the champagne. Kids are included, with glasses of apple juice offered to them instead of the bubbly.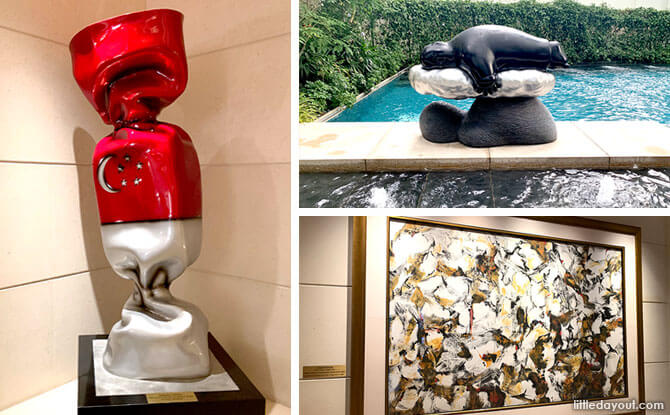 It is well known that The St. Regis Singapore houses one of the finest private collections of art in Southeast Asia with over 70 original works. With this staycation, we had the privilege of viewing some of these prized artworks, including sculptures, paintings and prints by internationally renowned artists, up close for our first time. We were very impressed with what we saw!
The expansive collection includes works by Fernando Botero, Li Chen, Frank Gehry, Chen Ke Zhan, Chua Ek Kay, as well as pioneering Nanyang artists like Georgette Chen. As we had a busy schedule, we didn't get to arrange an art tour with our The St. Regis Butler. For all in-residence guests who are art lovers, don't miss the exclusive art tour.
---
Activities for Families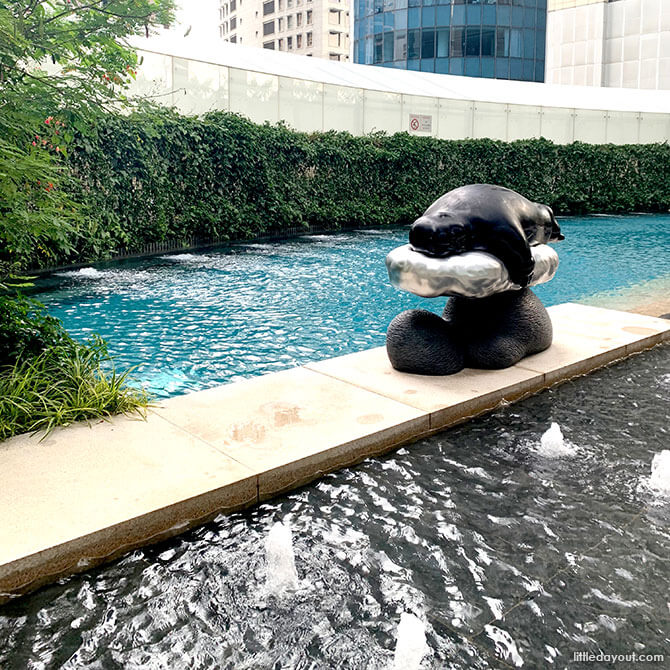 The tropical pool at Level 2, flanked by Li Chen's Floating to Sukhavati sculpture, is a picture of calm. It is a lap pool that isn't too deep, suitable for families with little ones.
When families are ready for a meal, LaBrezza, the Italian restaurant just by the pool is perfect for kids' all-time favourite pizzas!
If you are looking for a spot of nature, The St. Regis Singapore is located not too far away from Singapore Botanic Gardens, Singapore's first UNESCO World Heritage Site. It's an easy 10-minute walk (to one of its main gates along Napier Road) and there, you would be able to explore the tropical botanical gardens. To experience the Botanic Gardens the St. Regis way, simply arrange for a Nature Tour, inclusive of round-trip transportation, a 2-hour tour and a picnic meal.
Alternatively, you can live it up with shopping and more of Singapore's favourite pastime – eating. Orchard Road is just a short walk away with ION Orchard, Tangs and Isetan beckoning all shop-loving families. Nearer still is Tanglin Mall with its eclectic mix of shops.
---
Not Forgetting the Grown-ups
For us, a staycation is not just for the kids. It's also a time for the grown-ups to unwind and St. Regis' Remède Spa was the perfect escapade.
Thrilled to learn that all hotel guests have access to Remède Spa's wet lounge facilities, one of us slipped off to enjoy a much needed rejuvenation. Starting from the steam chambers which was partitioned into three areas – the innermost being the hottest and gradually it gets cooler as one moves through the chambers.
Next was the jacuzzi which was awesome and followed by the Finnish sauna. Capping it off was the heated marble lounger that brought much comfort to the back and legs. What a divine way to spend the morning!
There's more to enjoy at the Remède Spa but our time here at The St. Regis Singapore was brief.
---
The St. Regis' Dining Establishments
Before The St. Regis Singapore staycation, I had the pleasure of dining at Yan Ting which was truly a delectable experience. Hence, expectations were high though I was wondering how it would be as one of my kids is rather fussy when it comes to food, but I needn't have worried at all.
We dined twice at LaBrezza, a specialty Italian restaurant, located on second floor next to the pool. We first enjoyed the Aperitivo Hour at 5 pm, which offered small bites and a drink as we sat alfresco by the pool. It was a satisfying late afternoon snack for us.
Our next visit was during lunch the next day. Having had a full breakfast, we decided to go easy at LaBrezza. Choosing appetisers for ourselves and items from the kids' menu for the kids, we were impressed by the yummy, fresh Burrata that the friendly Executive Sous Chef, Fabio Granata, informed us was made in Singapore by Italians.
To my delight, Chef Fabio shared that his fish fingers from the kids' menu were made with fresh seabass. When cut open, the fish fingers showed flakes of real fish! It didn't take long for my somewhat fussy child to discover the quality of what was in front of her. Needless to say, she ate up in record time that day.
At Brasserie Les Saveurs, a French restaurant with a new a la carte menu since January 2020 under the new Executive Chef Thibault Chiumenti, we enjoyed French dining with Salade de Crabe, escargots, Steak Frites and Sole Meunière.
Restaurant manager, Michael, recommended a glass of French wine appellation Crozes-Hermitage that went very well with the Wagyu Steak Frites. Service was very thoughtful as we ordered the Sole Meunière for the kids to share and they offered to check that there were no fish bones and apportioned the dish for the two kids.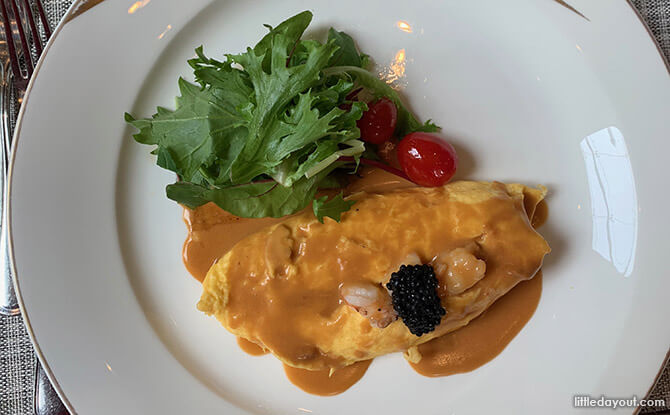 The next morning, our European culinary experience continued with a good breakfast buffet spread and a selection of cooked-to-order hot items. We ordered the highly recommended signature Epicurean Omelette, consisting of poached Boston lobster, tiger prawns, cognac-scented lobster bisque and Avurga pearls, which was excellent. Our child's special order of egg white omelette also came perfectly cooked.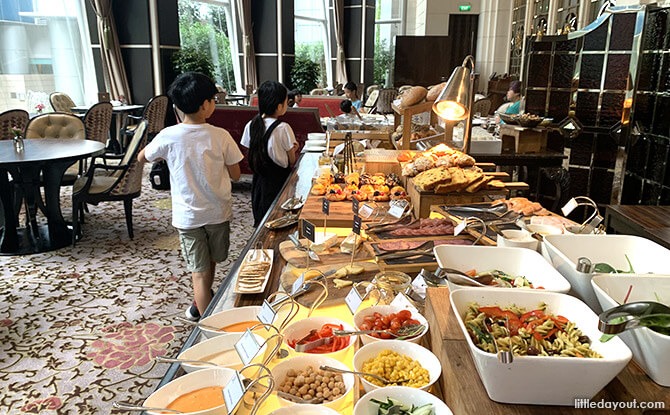 There was plenty of other cooked-to-order hot items to choose from – Char Siew Kway Teow, Dim Sum, Congee Rice Porridge, Chicken Noodle Soup, Pancake, Belgium Waffles and more. And for those who prefer gluten-free meals, there was a special table of gluten-free cereal, bread, carrot cake and pistachio cake.
Oh, if you prefer to have breakfast in your room instead, just let your Butler know and he would arrange it for you.
Other dining options at The St. Regis Singapore include the highly-rated Yan Ting (Cantonese cuisine), Shinji by Kanesaka, The Drawing Room (at the Lobby Lounge) and Astor Bar.
---
A Terrific Family Staycation at The St. Regis Singapore
Our The St. Regis Singapore staycation was terrific. Kids and parents, alike, were thoroughly pampered by The St. Regis' signature experiences, impeccable service and personalised touches. Together with its lavish décor, impressive Remède Spa and good family-friendly dining options, we enjoyed a wonderful school holiday break right here in Singapore, at The St. Regis Singapore's 'Best Address'.
For more information on The St. Regis Singapore as well as their staycation deals, check them out here.
Media Invite