Delicious and healthy meals in a warm community space is enticing to most of us, and an experience that the sourdough-forward café Anna's aspires to provide for its diners. Located in Punggol, Anna's is named after its founder Anna Lim, who also founded the soup brand, The Soup Spoon. The café offers a variety of healthy sourdough breads, sweet and savoury bakes, and mains such as pastas and pizzas.
The spaces comprises a 30-person indoor seating, a 78-seater patio a retail space and an open kitchen. Diners can also view through a glass wall to peek into the slow-proofing room, where up to 800 loaves of sourdough proofed over a period of at least 16 hours for the dough to reach their maturity and create the eventual texture.
---
Anna's: A Break from Buzz and Bustle Filled with Greenery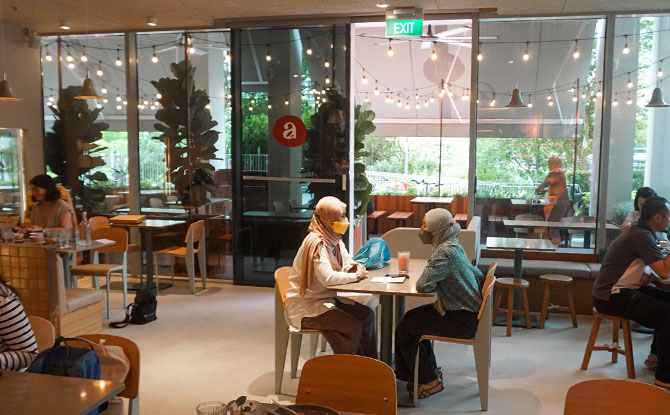 The outdoor patio invites cyclists and families in the Punggol hood to take a break from the fast-paced city life to enjoy the sourdough treats and refreshing iced beverages, surrounded by the greenery and hydroponic planters growing herbs and ingredients used in Anna's menu. Families can also grab a good bite between errands, with high chairs available for young children.
---
-- Story continues below --
For those looking to catch up on work or meet friends in a comfortable air-conditioned environment, the indoor space will be the ideal solution.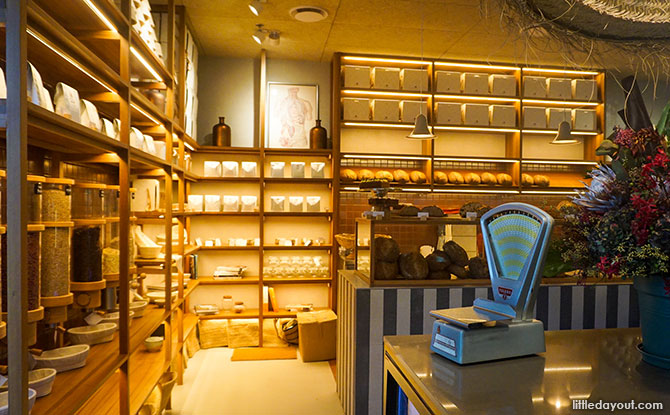 With soothing earth tones covering its interior design and power points lining the walls, the café sets the site for friendly catchups and a peaceful refuge to get recover from mental blocks.
---
Nutritious Meals for the Mind and Body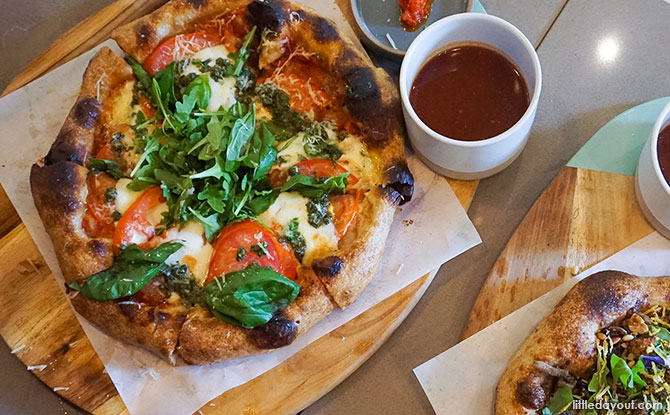 Amidst the home-confined days that marked the pandemic, Anna revitalised her table offerings through her ventures into sourdough-making, and now brings a new vision of health and nutrition to the dining table.
Here are some of the menu items we tried.
---
Drips and Drops Diversity Board ($18)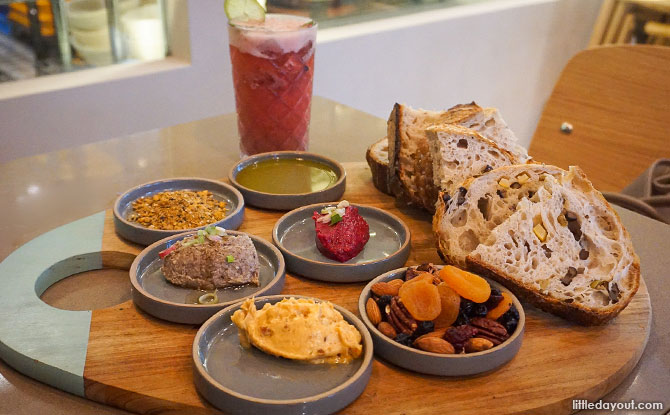 A wholesome board of mushroom parfait with smoked maple syrup, sundried tomato cultured butter, beets miso hummus, alongside Anna's House Sourdough, malted rye and flavoured Sourdough of the Day, sourdough crackers as well as mixed nuts and fruits. The platter is ideal for sharing and goes well with the chilled souperfizzes on the menu.
---
Red Sea Prawn Aglio Olio ($32)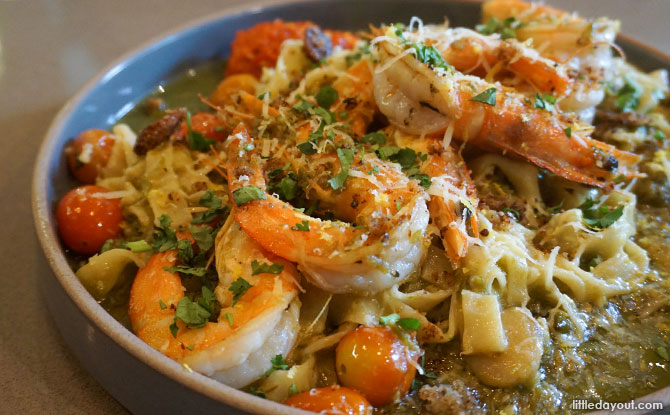 Served with fresh red sea prawns, the house-made sourdough pasta is tossed with cherry tomatoes, tangy green chilli pesto and garlic confit that give a tinge of spicy highlight. Topped with sourdough crackers, freshly-grated Parmesan cheese and a sprinkling of lemon zest, the aglio olio pays tribute to local spicy inclinations in its marriage of cross-cultural flavours.
---
Margherita Sourdough Pizza ($24)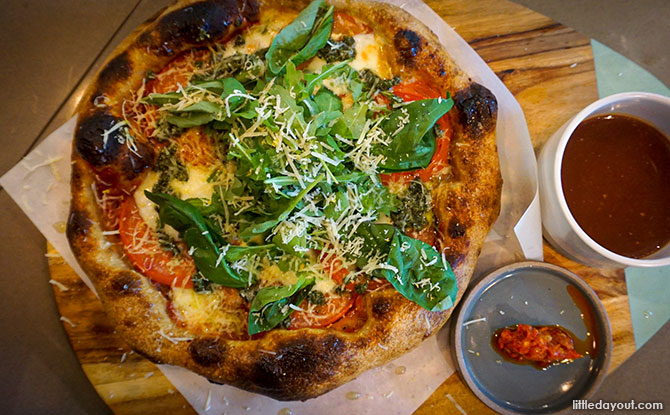 Looking for a satisfying pizza to share round the table? This might be the pizza to go for, with its Tomato-basil sauce base topped with fresh mozzarella slices, tomato slices and arugula leaves, accompanied by basil pesto & fresh basil. Like the other pizzas at Anna's, the 12-inch pizza is served with chilli pesto and a dipping gravy for the odds and ends.
---
Forest Forager Sourdough Pizza ($32)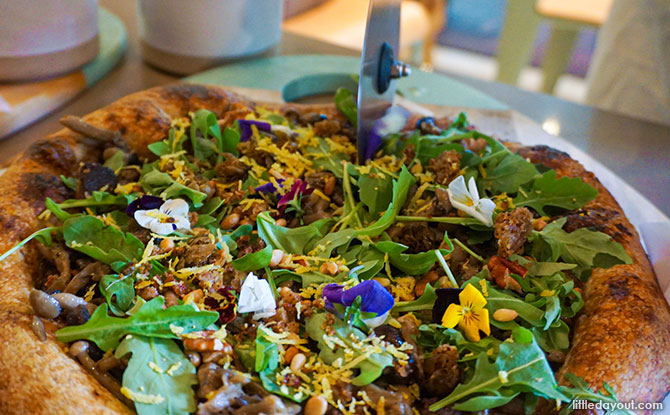 Get ready your cameras for this pizza. It is just as it's named. Every bite into the pizza with its house blend of over 10 botanicals and ancient grains feels as if you are treading through the forest and wandering amidst a field of flowers and mushrooms. Mushroom lovers will greatly enjoy the pizza, with its maitake mushrooms, shimeji mushrooms that comes with mozzarella cheese, truffle cheese sauce, parmesan cheese and arugula.
---
Sourdough Bombolini ($5.90)
Freshly made everyday, this dessert is filled with a zesty lemon and passionfruit crème patissiere with a mix of cinnamon and jaggery, that can be coupled with Anna's handcrafted teas as a gratifying finish to the meal.
---
Carrot Walnut Cake ($8)
For those wanting a lighter bite while chilling in the café, this moist and soft cake is made with 100% wholegrain spelt and sourdough starter, maximising on the beauty of the sourdough and its high polyphenol content.
---
Other Menu Items
Anna's also provides a thoughtfully curated menu of items for the different time of the day, including the Healthy Start brunch menu that is available from 8.30am to 3pm that serves up popular-favourites like Anna's BIG Brekkie ($26), as well as the Toasties menu available from 11am to 5pm that calls out to toastie-lovers with its tasty Grilled Cheese Toastie ($16) and Grilled Kimcheese Toastie ($17). Those yearning for warm comfort food will be drawn to the soup bowls served with sourdough.
The beverage menu featuring iced SouperFizz drinks and SouperSmoothies complemented the sourdough-based menu and completes the meal perfectly.
Anna's is located at 681 Punggol Drive, #01-04, Oasis Terraces, Singapore 820681, next to the Oasis LRT station. More information can be found on their website.