Normally, you would have to travel North to Thailand to experience the Songkran festival but this April, you can travel East instead for the Songkran Water Fest 2021 at Downtown East's Wild Wild Wet water park.
---
Wet & Wild
Songkran is the traditional Thai New Year festival which falls on 13 April and extends up till 15 April. It is celebrated in Thailand with lots of splashing water.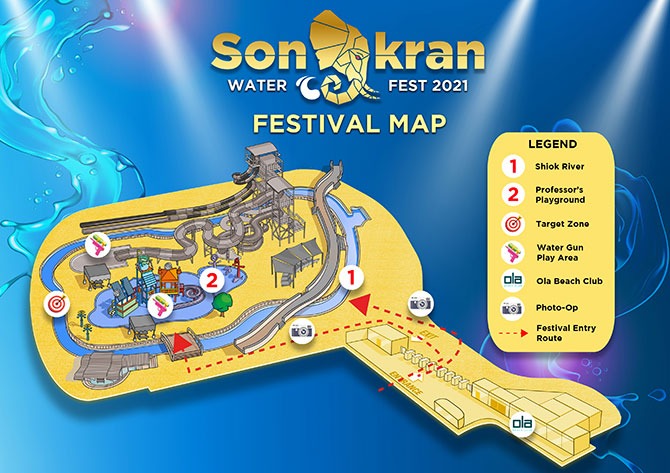 From 1 to 30 April 2021, Wild Wild Wet is getting in on the action with a Songkran Water Fest 2021 in place of its usual Songkran music festival.
---
-- Story continues below --
To get visitors in the mood, the Downtown East water park will be "dressed up " for the occasion with Thai décor the Shiok River. Enjoy upbeat electronic dance music to get you in the party mood too.
---
Water Gun Battles
Bring along your water guns and supersoakers and have a blast with daily water gun fights. Engage in pitched battles from 3 pm to 5 pm!
---
Spinning Targets
If you fancy shooting at something else besides other people, there will be spinning targets at the Shiok River for you to fire away at.
---
2-D Figurines at Professor's Playground
Look out for 2-D Thai-themed figurines in the shallow waters of the Professor's Playground attraction. Water guns will also be available for children at the play area.
---
Photo Spots
In addition, there will be real tuk-tuk plus a 6 feet-tall super soaker acting as a backdrop for photos at the Songkran Water Fest 2021.
After having fun at the Thai-themed area, you can enjoy the rest of Wild Wild Wet's rides and attractions!
---
Songkran Water Fest 2021 at Wild Wild Wet
Tickets to the Songkran Water Fest 2021 at Wild Wild Wet are available on the attraction's website. A weekday pass is available at $20 and it comes with a $5 Ola Beach Club voucher.
Get more details here.