In each household, there's a high chance that a family member or two has a beloved stuffed toy or "chou chou" that has followed them through the years. Sadly, such well-loved toys are also prone to injuries such as a missing eye and the inevitable wear and tear. Thankfully, there's the right place and people to bring them to – Singapore's very own Soft Toy Hospital!
Tender Loving Care for Your Loved Toys
The Singapore Soft Toy Hospital was founded by are Isaac Kong and Pamela Theng, a husband-and-wife team of soft toy doctors. They also have two other members on "stuff", Lokun Bear and Missy Rabbit. They first started as teddy bear artists in 1996 and some of their works were displayed at Bearga Gallery in Fort Langley, Canada.
A day at the Soft Toy Hospital in Singapore might include a patient going through a transfusion (Change or Adding of Stuffing), Skin Grafts (Patching), Mechanical Repair of sound boxes or moving mechanisms, and even disease management for toys who need an Antimicrobial Coating or might be suffering from a bedbug infestation.
Isaac and Pamela take their patient's wellbeing very seriously make it a point to speak to the patients during admission, before surgeries and any time they engage the patients in activities.
---
-- Story continues below --
Sometimes the duo also have to deal with "A&E" cases whereby they race against time to return the toys to their owners, especially toys belonging to young children who can't bear to leave their soft toys in the hospital for too long.
Inside the Singapore Soft Toy Hospital
Like any reliable and good hospital, hygiene is a top priority.
Using Isaac's prior knowledge from managing private and government medical centres, Soft Toy Hospital applies best practices in human healthcare establishments to their soft toy hospital. They enforce strict protocols such as ensuring that all patients go through a thorough UV light disinfection treatment before being warded in the hospital.
The patients are also kept separated at all times in order to prevent cross-contamination and are housed in a pet and smoke-free environment. Toys are also hand-washed with non-toxic and natural cleaning agents before air-drying them with the help of a DIY infrared heating device.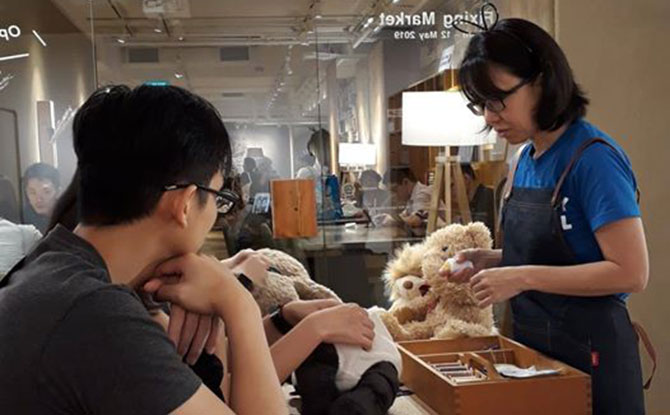 Isaac and Pamela's experience in fixing soft toys also allow them to delve into a toy's design and safety aspects. A recurring tear is usually an indication of a flaw in the design and the soft toy doctors make it a point to share their knowledge to educate toy owners on how to best care for their little friend.
We had a chat to find out more about this local Soft Toy Hospital.
Little Day Out Interview with Isaac and Pamela from Soft Toy Hospital
What was the inspiration behind starting the Soft Toy Hospital?
The idea was underpinned by our dedication to creating environmentally safe and hygienic soft toys for everyone to enjoy, and to nurse one's beloved soft toy back to health.
For five years we conducted soft toy making workshops under the company Toy Artist LLP and ran The Singapore Teddy Bear Show as a way to introduce the art of soft toy making to the public. Back then, we were just fervently pursuing our dreams of being the best we can be in the craft but somehow we felt something was amiss.
It was in 2016 when we read about how the "throwaway culture" has affected the environment and we wanted to help save the earth by prolonging the lifespan of soft toys so that they will not end up in landfills. So after years of research, we decided to offer soft toy restoration, repair and cleaning services via the concept of a Soft Toy Hospital.
What are some of the most memorable toys you ever had to operate on?
We had the unique project of "downsizing" an IKEA Hippo to meet the preschool's size requirement for a little girl to be allowed to bring it to school. It was memorable because we helped the little girl sleep better! And now, she is probably the only one in the world who has a baby IKEA hippo!
We also got to work on a toy rabbit that was passed down from one generation to another. Lastly, there we worked on a 20 plus year-old Minnie Mouse soft toy with hundreds of stitches on her head. The owner of the soft toy painstakingly tried to patch up her beloved Minnie before she found us. We were intrigued by her efforts to save the toy and the battered Minnie's face is in our opinion, an extraordinary expression of unwavering love, a work of art.
What are some challenges that you face running the Soft Toy Hospital?
Not enough beds and doctors (tongue in cheek)!
One of the challenges is explaining to customers that cheaper soft toys are not necessarily cheaper nor easier to repair. Most of the time they are more time and resource-consuming due to inferior materials used to make them and poor sewing techniques and design.
But having said that, we have never rejected any customers. We do our best to help restore the toys and also provide appropriate advice in toy maintenance. Sourcing for suitable parts and materials such as eyes, noses and fabrics for the repair job is another challenge which can be very time-consuming.
What are some rewarding moments as you run the Soft Toy Hospital?
To be able to put a smile back on a kid's face after fixing his or her toy.
We remember this little boy who came to us with his mom for our help to repair his teddy. The boy was only 7 years old but suffered from cancer since he was 3, went through 4 years of chemotherapy and is still battling bravely against his illness.
We felt very fortunate to be given this privilege to fix his favourite teddy, a furry friend whom he cherished very much and had accompanied him throughout this difficult period in his youthful life.
We believe that by nursing his teddy back to health, it will give him hope and encouragement that his own medical team of doctors will do the same for him.
That is probably the greatest reward we've received as soft toy doctors.
Was there ever a case that a toy was so old it could no longer be fixed?
The oldest toy admitted to our hospital is a huge Koala of more than 50 years old. We believe there is no toy too old that we can't do something to help. We might not be able to restore the toy to its former glory but we can definitely help to prolong its life span.
Do you have a favourite soft toy of your own?
Yes of course! But we have a lot. They are all like children to us so there is no personal favourite.
There is Nong Nong, the polar bear which won an award for us in Japan. Bobbi and Gomer, the first two birthday exchange teddies which we made for each other on our 25th birthdays, our 30" wedding bears, which Isaac's mom had a hand in making, autographed toys signed by the well-known and many more!
How can someone send their soft toy for some TLC?
That's easy. Just Whatsapp us at 98820388 or you can drop us an email at softtoyhospital@gmail.com.
Send us some pictures of the soft toy for our initial assessment. Once the soft toy is deemed suitable to be admitted to hospital, you can arrange to send it to us or we can arrange a soft toy ambulance to pick it up at a nominal fee.
Find out more about Soft Toy Hospital online and on Facebook.