Looking for opportunities to let the kids bond with their grandparents during the school holidays? At the Smart Nation & U and U Live Symposium event taking place on 30 November (Sat) and 1 December 2019 (Sun), all three generations can spend a weekend of fun experiencing the wonders of technology while learning how easy it can be incorporated into your daily lives!
At U Live Symposium, grandparents can learn, from amongst various workshop topics, how to pilot a drone – how cool is that? Kids on the other hand get to tinker with technology that turns their body movements into music, while parents discover how technology will change the future of work through insightful talks at the Smart Nation & U experiential showcases!
These are just a few of the many exciting programmes available. Psst! There are more than 80 interactive showcases to explore at the two-day event, ranging from talks, to workshops and engaging fringe activities!
Two Immersive Tech Events At One Convenient Location
The Smart Nation and U and U Live Symposium event is a collaboration between Smart Nation Singapore and NTUC U Live Community. With the impressive number of experiential booths, talks, a demo play zone, and workshops categorised according to the themes of Work, Live, and Play, there's something for everyone at this celebration of technology.
Get clued in on the latest advancements. Fiddle with the coolest gadgets. Meet the brains behind smart inventions. You will discover find that technology is not just about innovation, but fun and convenience as well!
---
Smart Nation & U
Made for families, the young and the young-at-heart, Smart Nation & U is a tech wonderland offering endless digital adventures. Best of all, admission is FREE! Here are some highlights:
Experiential Showcases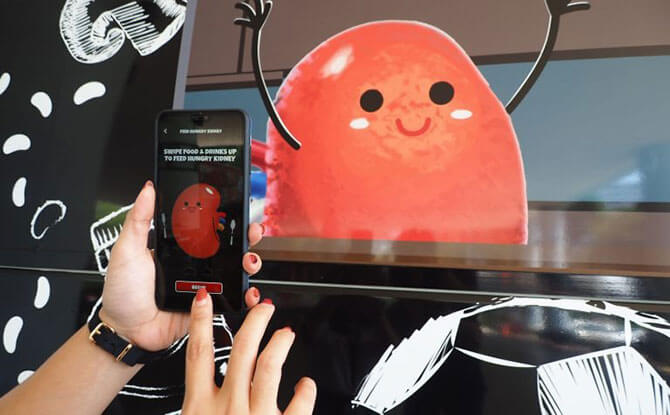 Marvel at the tech showcases by more than 80 participating partners.
At NKF's booth, which features the K-MOVEAT Kidney Health Education Bus, you can explore the anatomy of a kidney and find out how exercising along with good nutrition help to keep the important organ healthy through fun Augmented Reality games and engaging content – a great example of how technology makes learning more immersive and three-dimensional!
Wondering which bus you should take to go home from Downtown East? Just ask Singapore's favourite chatbot, Bus Uncle, created to give commuters information on bus arrivals – with the personality of a local uncle!
New technology can also bring back the good old kampong spirit, as shown at SG Assist's booth. Using its community-based mobile app, anyone can link up with volunteers who can look out for their loved ones and provide help in the nick of time during medical emergencies.
Interactive Talks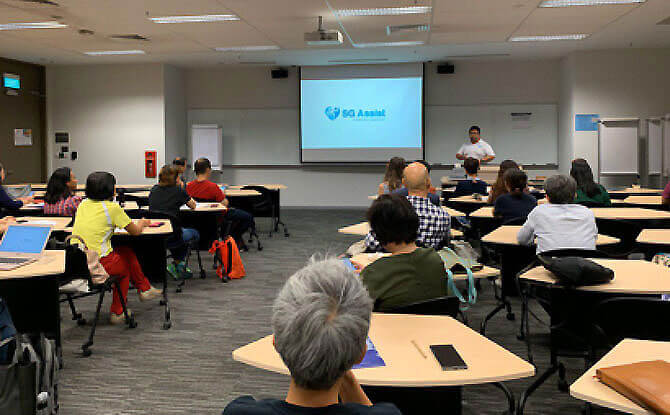 To find out how technology can enhance the way we work, live and play, you can attend various talks at Smart Nation & U, ranging from Tech Tutorials by IMDA, to Future at Work by Cognizant and Smart Talks by Smart Nation.
Adults will be fascinated by how Singapore transformed into a smart city and benefit from exploring the functions of digital government apps, while kids will have a ball at the demo play zone – tinkering, experiencing virtual reality, even creating their own robots!
Demo Play Zone
Watch your favourite characters come to life through the use of Augmented Reality, as technology company iMMERSiVELY demonstrates how the cutting-edge technology gives new meaning to the world around us.
Or breathe life into your own creation at UBTECH Robotics' showcase, where you can programme your JIMU Robot using its award-winning interactive robotics building block system!
At social enterprise I'm Soul Inc's booth, you can make music simply by moving your body! Isn't it cool how technology can make the creation of music so accessible to everyone?
Fringe Activities
In between attending the bustling talks and workshops, you can indulge in fun activities including riding an electric trishaw, catching exciting storytelling sessions and making your own DIY tote bag for free.
You can also participate in the Spin and Win Quest where you'll embark on a techxploration journey and stand to win prizes such as Amazon's Fire 7 Tablet and an OSIM Blood Monitor.
Any soccer fanatics out there? Team up with homegrown celebrities Chua En Lai and Suhaimi Yusof to pit your skills against an AI-endowed "football player" at the Robot Soccer Challenge!
Hungry from all the activities? Munch on yummy bites from the food stalls at the event!
---
U Live Symposium

The U Live Symposium celebrates its tenth edition this year, with lots of tech-focused enrichment and entertainment offerings for active agers 50 years old and above. The one-day event on 1 December 2019 encourages the silver generation to Work Smarter, Live Fuller and Play More with more than 20 interactive workshops.
For just $10 (U.P. $18), seniors can attend any two workshops to find out how they can embrace technology to enhance their lifestyle. Here are some workshops that may be of interest:
Stretch Your $$ With Money Saving Apps
A topic that appeals to most agers, this workshop helps participants to discover the various channels online where they can grab good deals, enjoy cashbacks, earn rewards and pocket savings.
Date: 1 Dec 2019, Sunday
Time: 10 am to 11 am; 1.30 pm to 2.30 pm
Be A Silver Digital Creator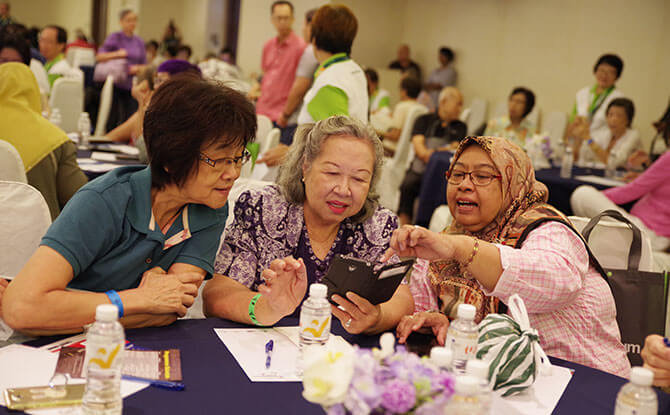 Anyone can have the joy of creation! Through this workshop, active agers can explore the creative side of things as they update their digital skills and boost their confidence in the areas of coding, book authoring, digital music and art, movie making and digital photography.
Date: 1 Dec 2019, Sunday
Time: 10 am to 11 am
Cyber Attacks & Scams Prevention
In light of the rise of online scams, it is important to learn cyber hygiene practices and know the steps to combat phishing and scamming. Participants will also get to witness a live hacking demonstration to experience how vulnerable we are to cyber attacks.
Date: 1 Dec 2019, Sunday
Time: 1.30 pm to 3.30 pm
Mobile E-Payment & PayNow 101
This workshop introduces the silver generation to different e-payment options and demonstrates how convenient it is to use digital wallets. Participants will also learn how to execute PayNow and receive handy tips on cyber security.
Date: 1 Dec 2019, Sunday
Time: 1.30 pm to 3.30 pm
Introduction to Drones
Active agers who love their dose of adventure can learn the principles of flying drones and even get to pilot one hands-on at this exciting workshop!
Date: 1 Dec 2019, Sunday
Time: 1.30 pm to 3.30 pm
For the full list of workshops available and to book tickets, visit the U Live Symposium site.
In addition to the enriching classes, every two workshops that participants sign up for entitles them to a complimentary Smart Ah Ma workshop, where they can learn how to use apps such as Singpass Mobile, Healthy 365 and MyTransport.
Let the tech party begin!
---
Smart Nation & U
30 November and 1 December 2019
9 am to 6 pm
Downtown East
Free admission
Website 
U Live Symposium
1 December 2019
9 am to 6 pm
Begonia, Downtown East
$10 for two workshops, Symposium Pack worth over $20 and a breakfast set (limited to first 300 redemptions)
Website
This feature is brought to you by NTUC Club.