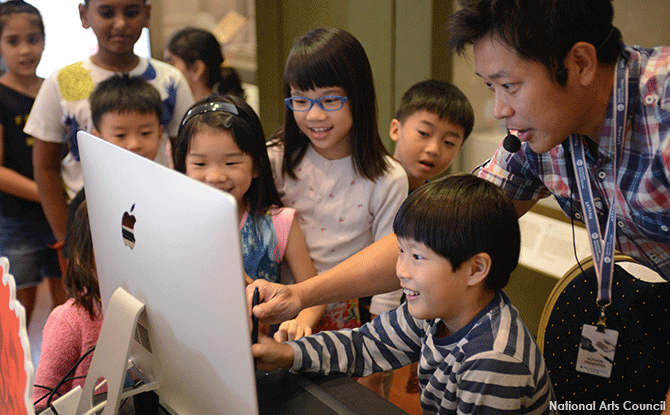 The Singapore Writers Festival (SWF) celebrates its 20th edition this year. From its beginnings in 1986 featuring just over 70 authors, the Festival has grown in scale and stature, attracting more than 300 authors this year, and extending its reach to children and families through its SWF For Families (SWF3) programme.
Backed by the successful adoption of its first non-English theme 'Sayang' last year, SWF explores its first Tamil theme 'Aram' this year. The theme takes inspiration from the ancient text 'Thirukkural', revered as the most influential literary work in Tamil, to generate discussions on the universal ethical concept of "good".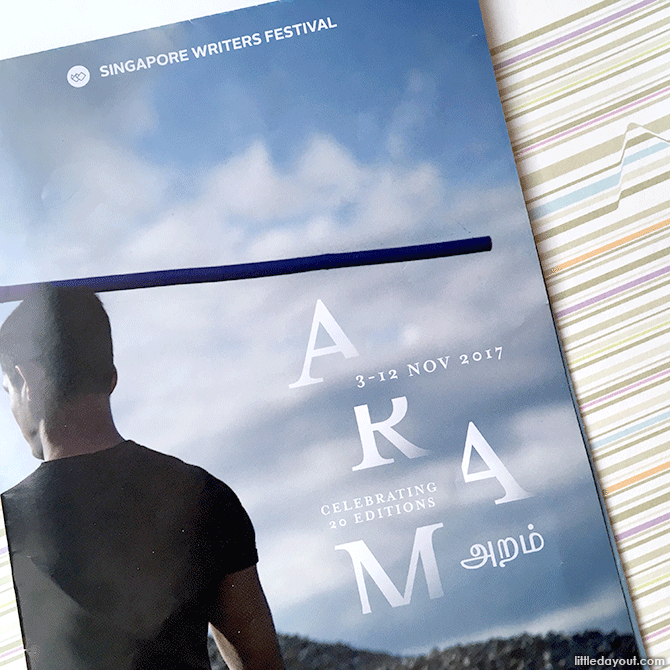 In case you think that the Festival is just for the literary types, let us assure you: there's lots of fun to be had through the events specially curated for SWF For Families (SWF3). What's more, these events are scheduled over the weekends from 4 to 5 November and 11 to 12 November, so the whole family can join in the fun!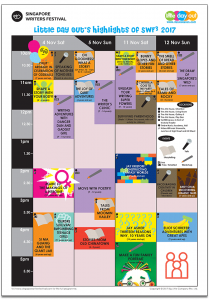 To ensure that you don't miss out on anything, we've created a guide to the SWF3 programmes for you. Download it now!
Here are some of the unique experiences you can expect at SWF3:
Going Beyond Words to Create Stories
Talk about stories, and words come to mind. At this edition of SWF For Families (SWF3), you'll discover that stories can be created in many ways, even without words!
Learn how to Make a Fun Family Portrait from Israeli mixed media artist Hanoch Piven, best known for his celebrity caricatures using everyday objects. You can already imagine the laughs you'll be getting out of this! Story of the day: fun, creative family bonding.
Another fun family programme is Shape a Story with Your Body! by Singaporean theatre practitioner R Chandran. Young children love stories; they also love to move about. Now they can enjoy both by morphing into objects, animals, and more with their bodies to express a story – with parents in tow!

If you have budding artists at home, bring them to The Draw of Singapore's Wild to learn different ways of drawing Singapore's wildlife in unconventional fictional settings. And for kids who're starting to enjoy poetry, deepen their love for it with Move with Poetry!
Celebrating Oddballs and Girl Power
Who says protagonists should be handsome, smart, and totally in control?
Just take for example the oddball characters in Philip Ardagh's bestselling series, The Grunts and the Eddie Dickens trilogy. Find out where the British author gets his inspiration from in Philip Ardagh: In Celebration of Oddballs, suitable for those aged 7 years and up.
Not to be outdone by their male counterparts, heroines in fiction have also amassed huge fan bases through best-selling books such as the Legend Series and the Primrose Leary trilogy. Discover the respective authors' motivation for creating strong female characters in Marie Lu: The Makings of a Heroine and Deirdre Sullivan: Empowering Teenage Girls.
Embracing Different Languages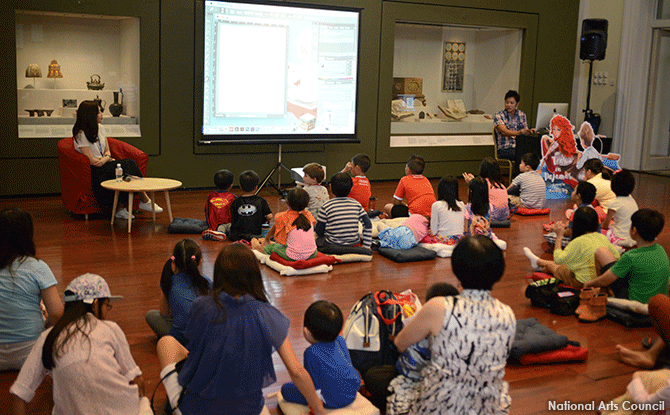 Just as SWF's theme has diversified from the English language in recent years, SWF For Families (SWF3) has also included a multitude of languages in its programmes.
Storytelling sessions feature not just English, but also Singapore's major mother tongues.
Children, parents, and grandparents can have fun solving riddles together, folding origami, and singing nursery rhymes from Old Chinatown while enjoying the story from author Francis Wong's 'Grandfather's Little Room' in Stories from Old Chinatown.
Young ones get to learn some basic Tamil words from author Jansirani in her session Tales of Ramu and Rocky, where she'll be reading from her first Tamil children's book 'Ramuvum Rockiyum'.
Fans and learners of the Malay language can enjoy a craft session while following author Rilla Melati's latest character CinderRilla on her adventures in CindeRilla Pergi Ke Pesta.
In addition to mother tongues, you'll also get the opportunity to explore two more languages: Braille and sign language, through Si Ma Guang and the Giant Jar: An Experiential Storytelling Event.
Alternative Storytelling Fun
Perhaps another language children can learn is quietness. The Joy of Quiet Adventures is dedicated to children who appreciate or prefer understated fun. Listen to stories from 'Aiden Finds a Way' and 'All Too Much for Oliver', about highly sensitive kids finding their way in a busy world, and watch illustrator Barbara Moxham sketch images from the books live.
Young children on the autism spectrum or with sensory sensitivities may also like [Sensory-Friendly Storytelling] Shape a Story with Your Body.
The Imagined vs The Real
Does your child prefer cute tales of imagined creatures, such as world-famous Finnish characters the Moomins, or stories featuring prehistoric greats rooted in facts and research?
If it's the former, join in the fun at Tales from Moominvalley. Listen to the Ambassador of Finland's favourite Moomin tale and make your favourite Moomin character to bring home!
If it's the latter, make sure you attend Andy Chua: Uncovering Jurassic Tales. Not only will you hear all about Andy's fossil-finding expeditions, you'll also get to see and touch dinosaur fossils!
Writing Masterclasses
Young inspiring authors shouldn't miss out on the various writing workshops offered by SWF3.

Learn how to develop original characters, get ideas for stories, and avoid running into clichés through games and fun activities at Writing Adventures with Danger Dan and Gadget Girl. This workshop is conducted by Singaporean mother-daughter author-team Monica Lim and Lesley-Anne Tan.
If your child prefers a more formal learning environment, join author of the Primrose Leary trilogy, Deirdre Sullivan, for The Writer's Clinic, where writing exercises and techniques will be taught. Or Unleash Your Writing Superpowers under the guidance of A. L. Tait, the Australian author behind the bestselling series 'The Mapmaker Chronicles'.
Sessions for Parents and Educators
Parents and educators can look forward to picking up tips from celebrities, industry insiders, and authors at Speaking of Mother Tongues and Encouraging Creativity in Children on ways to effectively nurture children.
Surviving Parenthood even comes with babysitting help! Children can enjoy a guided craft activity while their parents attend the event.
For a more comprehensive schedule of the events taking place during SWF3 from 3 to 12 November 2017, download Little Day Out's Guide to Singapore Writers Festival For Families 2017 below.
Singapore Writers Festival 2017
Dates: 4 to 5 November and 11 to 12 November 2017
Tickets to SWF3 can be purchased via Peatix at www.peatix.com.
Festival passes and tickets to SWF Stage events, SWF Class workshops and masterclasses, and SWF tours can be purchased via SISTIC at www.sistic.com.sg.
From 5 to 30 September 2017, a 20% early bird discount applies to all ticket purchases.
For updates and more details, visit www.singaporewritersfestival.com.
This article is brought to you by National Arts Council.