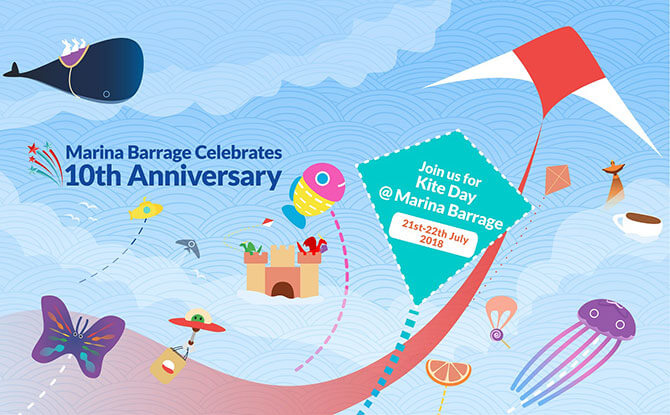 Singapore Kite Day 2018 is back at Marina Barrage on Saturday and Sunday, 21 and 22 July 2018. Now into its 9th year, this flagship event is organised by PUB and the Singapore Kite Association. This year's kite festival is also part of Marina Barrage's 10th anniversary celebrations.
Here are some activities that you can look forward to at Marina Barrage during Singapore Kite Day 2018.
Singapore Kite Day 2018: Kite Festival at Marina Barrage
Display of Kites
From 10 am onwards, kites from countries like Australia, France, Indonesia, the Netherlands and Switzerland will be on display at the Marina Barrage.
Stunt Kite Performances
International kite flyers will be present to show off their skills with stunt kites. Among the performers at Singapore Kite Day 2018 are Bas Vreeswijk from the Netherlands who has been flying kites for 25 years, Kevin Sanders who is a sport kite designer from Australia, and the 8-STAR Pro Quad Kite Team from Malaysia.
---
-- Story continues below --
Workshops & Activities
Grab a bite from a food truck or browse through the wares on sale at a flea market at the Marina Barrage as part of Singapore Kite Day 2018. There will also be carnival inflatables and kids rides.
From 2 pm onwards, a series of workshops and activities will be conducted during Singapore Kite Day 2018. Workshops include an Eco Wind Garden Workshop where participants will be able to make windmills out of recyclable materials to plant in a "Wind Garden" and a kite-making workshop.
Kids can look forward to a Lolli-Drop where mini-parachutes with payloads of sweets attached will come floating down. Over 100 mini parachutes will be dropped each time!
Admission to Marina Barrage and registration for the various workshops are complimentary. Workshops will start from 2pm. Limited vacancies are available only!
Singapore Kite Day 2018
Date: 21 & 22 July 2018
Time:
10 am to 5 pm on 21 July
10 am to 6 pm on 22 July
Where: Marina Barrage
Visit the Singapore Kite Day 2018 website.