In Singapore, we have quite a few homegrown authors of children's books. We enjoy the local flavour of their stories and how their books introduce young ones to Singapore, its people, past and places.
Children's Books Singapore Style
Here are some locally-written children's books about Singapore that we think deserve to be on the bookshelves around homes in Singapore.

Timmy & Tammy Series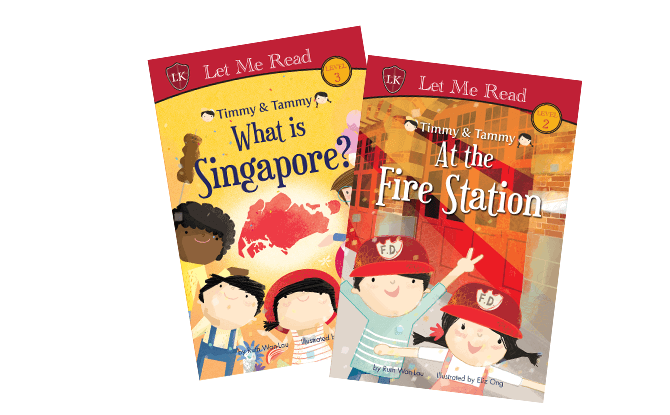 Started by local author and mom-of-three, Ruth Wan, the Timmy & Tammy series came about when she saw a dearth of early reader books with local content. This led her to write the Timmy & Tammy series featuring places around Singapore. Series titles include At the Fire Station, At Changi Airport and On the MRT. Books from the Timmy & Tammy series were also included in the SG50 Baby Jubilee Gift Pack.
Available in bookstores around Singapore.

Karung Guni Boy
By Lorraine Tan & Illustrated by Eric Wong
We like Karung Guni Boy because of its local flavour and inspiring message. Written by Lorraine Tan, a lecturer at Ngee Ann Polytechnic, this Singapore children's book is about Ming, a boy who doesn't have money to buy things. Instead, what he lacks for in money, he makes up for with gumption as he goes door-to-door sourcing for materials to realise his ambitious ideas.
Available from epigrambooks.sg

Sam, Sebbie and Di-Di-Di: At the Night Safari
By David Seow
David Seow has authored more than 20 children's books including the Sam, Sebbie and Di-Di-Di series. The adventures of the three siblings have brought them to the S.E.A. Aquarium (twice) and an encounter with royalty. If your young kids love animals, they will enjoy Sam, Sebbie and Di-Di-Di: At the Night Safari. The book's simple rhymes makes it fun to read. Find out what happens when Sam, Sebbie and Di-Di-Di come across a sleeping giraffe blocking the way of the Night Safari tram.
Available from epigrambooks.sg

Playtime with Ye Ye
By Pauline Loh
Playtime with Ye Ye by Pauline Loh recounts important milestones in Singapore's history through the games Ye Ye (Grandfather) plays with his grandson, Boy Boy. This children's book is illustrated by Haw Shing Yee with little details that even adults will appreciate.
Available from Kinokuniya.

The Little Singapore Book
By Sim Ee Waun and Joyceline See Tully
The Singapore story has been told many times – how diverse people with little resources arrived on a small island to find a better life. Often subsumed into history (or social studies) textbooks, Sim Ee Waun and Joyceline See Tully, wanted to present this uplifting story in way children could better appreciate.
The Little Singapore Book is the result of their endeavors.
Written for children between five and 10 years old, it tells the Singapore story in a way kids can enjoy. With simple language and interesting details, even parents will find the book engaging. The book also has suggested activities for kids to do. It is Ee Waun and Joyceline's hope that the book will allow kids to take pride in Singapore's heritage. As history buffs ourselves, we hope so too!
Available from Kinokuniya, National Museum, Asian Civilisations Museum, Gallery&Co at the National Gallery, Books Ahoy and online store www.localbooks.sg

Did we miss out your favourite children's books Singapore? Let us know and we may feature them in the future.