Have you met Natasha? Who? Natasha is the name of Singapore Biennale 2022, showcasing over 50 artists and their works. Natasha will be here till from 16 October to 19 March 2023. The naming prompts everyone to re-discover ways of seeing and relating to the world. The return of Singapore Biennale also sees venues such as the Southern Islands, International Plaza, 22 Orchard Road as part its lineup of locations.
---
Singapore Biennale 2022 Highlights
Contemporary Art at SAM, Tanjong Pagar (For children above 8)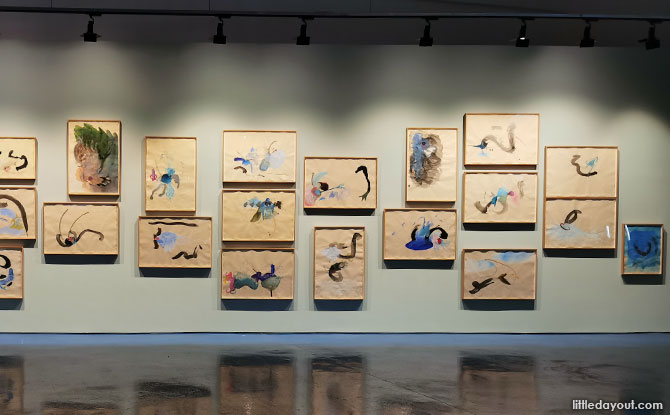 Don't let the words "contemporary art" turn you away! There are many thought-provoking pieces to see at Tanjong Pagar Distripark. Step into a Cambodian home, find some dogs, enter the Dead Sea, learn about creation in the Minahasan perspective and see terracotta clay tablets with history embedded.
See artworks by renowned artists such as Haegue Yang, Araya Rasdjarmrearnsook, Cevdet Erek, and Wu Mali and homegrown Singapore artists like Berny Tan and Ong Kian Peng.
---
-- Story continues below --
There will be three floors to explore, one highlight I might add, is using the huge lift which is so stable you wouldn't feel its movement.
Highlights at Level One
We would caution parents to ensure that their children are supervised at all times to prevent any possible damage to the fragile artworks.
If you could speak to an artwork named Natasha – what would you say to it? As the canvas has its back facing the audience, one can't help but wonder what the front is. Does it matter? Can we tell?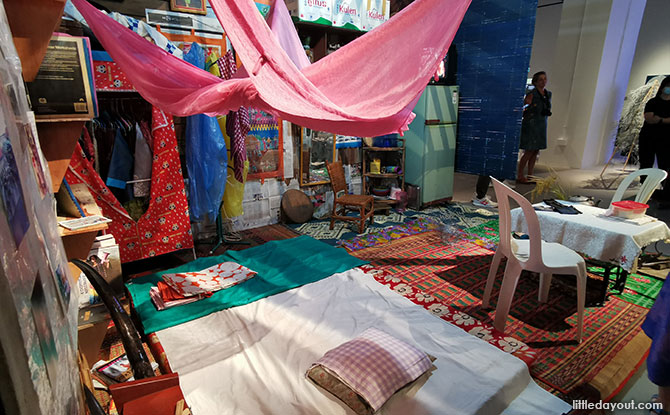 Head to Hut Tep Soda Chan (Hut of an angel) a mixed media installation by Cambodian artist Kanitha Tith. It is inspired by a 1968 Khmer film about a ove story between a mortal man and an angel and showcases how the "poor" can be rich in happiness and love. The Cambodian home has plenty to take in – everyday objects and personal belongings.
See some strange sculptures? Haegue Yang uses artificial straw, bells for The Hybrid Intermediates. This was inspired by bells used in rituals across different cultures.
Highlights at Level Five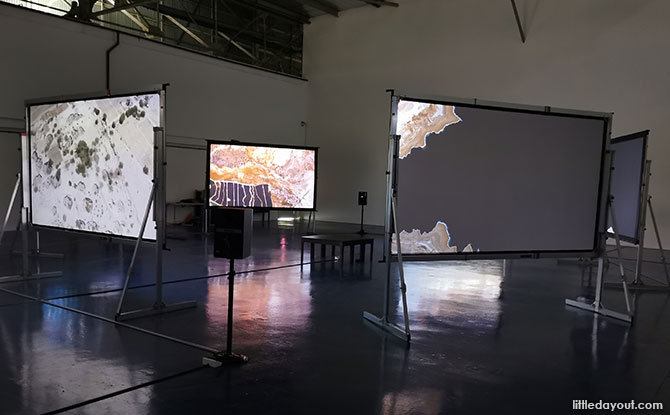 Enter The Viscous Sea – this is an immersive multimedia installation by local artist Ong Kian Peng. It was created during his three-month residency in Amman, Jordan on the Dead Sea.
Artist-in-residence Raed Ibrahim will present a series of clay tablets coded and customised to reflect historical stories. Scripted Tablets reminds us of how stories and concepts were recorded before paper, pen and computers came into the picture.
Found adorable little houses with toy lizards? They are part of Nina bell F. House Museum and sprinkled all over including our Southern Islands!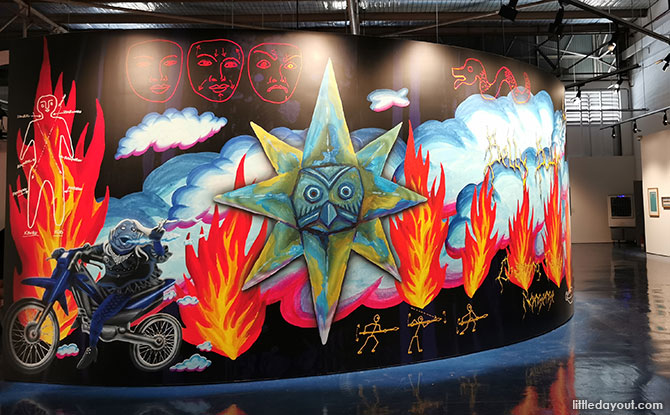 One can't miss a wall with fiery flames. Garden Amidst the Flame is a multimedia installation based on Minahasan cosmology. The Minahasan people are an ethnic group native to Indonesia and their Karai ritual is featured in the installation. You can also see their beliefs in the creation story on the mural.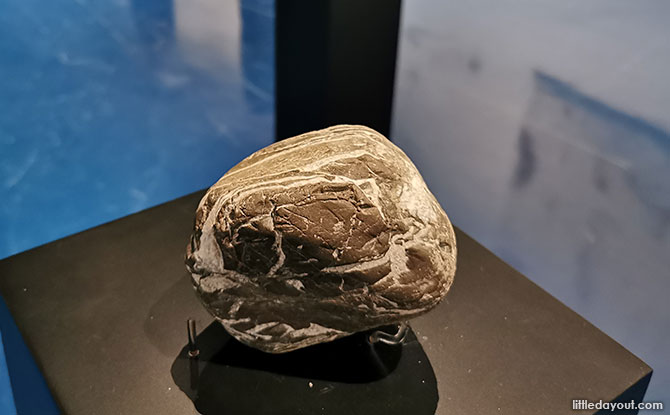 See stones being displayed at level 5? Try to find their faces!
---
Roving Exhibition "Prologue" at the Regional Libraries
Visit the regional libraries in Woodlands, Jurong and Tampines for the roving exhibition "Prologue" as part of Singapore Biennale 2022. The art collective – AWKNDAFFR's exhibition will consist of trailers and work-in-progress materials. The dates and venues are:
Woodlands Regional Library Wed 9 Nov to Mon 26 Dec
Jurong Regional Library Wed 28 Dec to Sun 26 Deb
Tampines Regional Library Wed 1 Mar to Sun 9 Apr
Design Your Own Name Badge!
If you have nicknames for your family and friends, you can design your own pin with a nickname for them or even for yourself?
Venue: 05-02 SAM at Tanjong Pagar Distripark
Dates: 21 October 6 to 9pm, 22 October 1 to 5pm
---
Natasha at Southern Islands
Natasha will take audiences to Southern Islands with six artistic projects. Take a ferry from Sentosa Cove to start your adventure down South!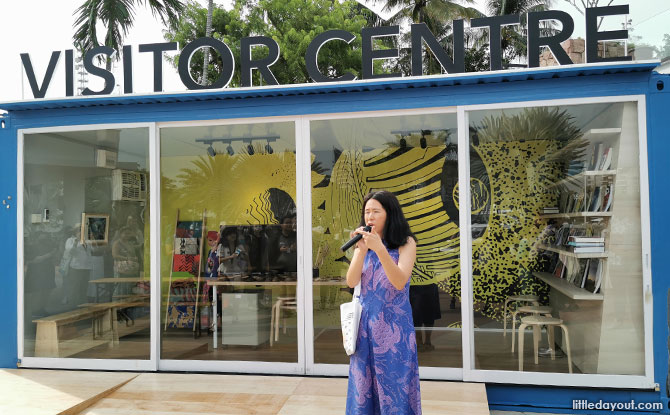 Look out for a shipping container at Sentosa Cove titled KIPUKA (for Natasha). It brings together offerings from a group of collaborators and friends.
Near Lazarus Island pier, there is a weather transmitter "reading" the weather while a receiver at Tanjong Pagar Distripark will "hear" the weather.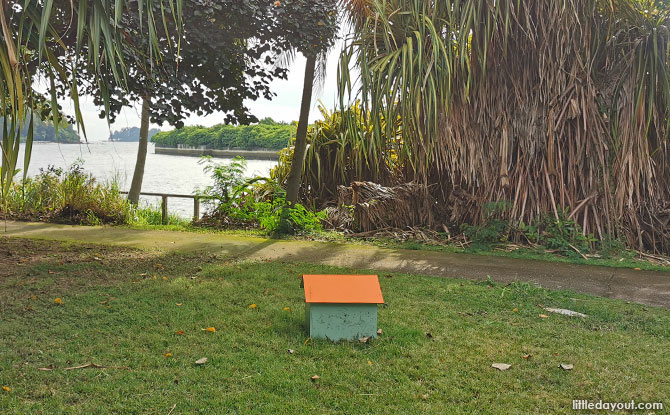 Don't miss the little houses at Lazarus Island. One of them is Fermentation House brewing soy sauce in the ground!
Singaporean artist Zarina Muhammah's Moving Earth, Crossing Water, Eating Soil at St John's Island invites all to lean in and listen. It pays tribute to the history of the island. Play the "bamboo orchestra" as you spin the arrows at this installation.
---
Befriend Natasha – Singapore Biennale 2022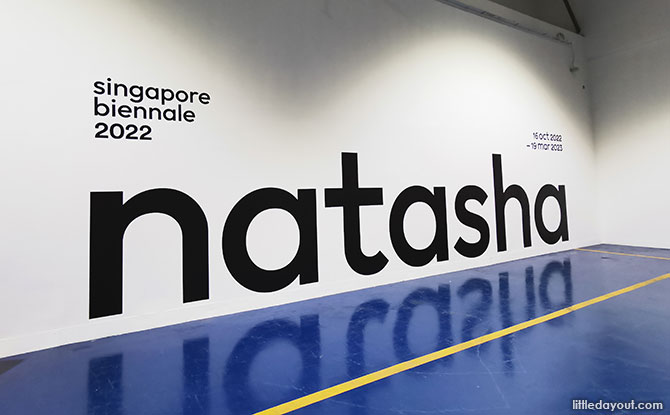 Get to know Natasha, she would provoke you to think and wonder or take on different perspectives from before.
Singapore Biennale 2022 is a ticketed event that stretches from 16 October 2022 all the way to 19 March 2023. More details can be found here.