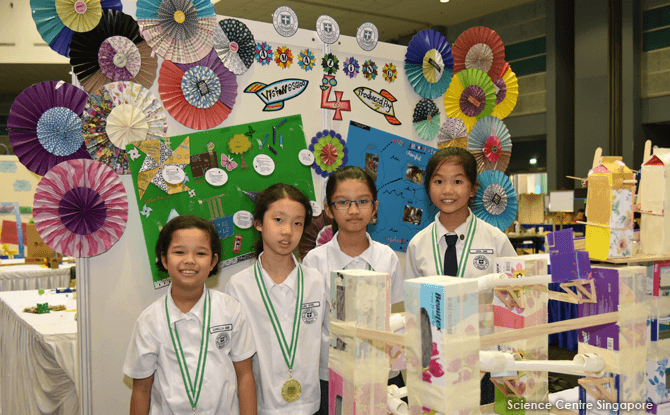 When is the last time you tried making a Rube Goldberg machine?
A Rube, what?
A Rube Goldberg machine. A contraption that has been deliberately over-engineered to perform a simple task.
This year, more than 200 students from across primary, secondary and pre-tertiary levels came up with 58 of them as part of the Singapore Amazing Machine Competition 2016.
---
-- Story continues below --
The competition promotes S.T.E.M (Science, Technology, Engineering, Mathematics) by challenging students to design and construct Rube Goldberg machines that help improve everyday life.
Participants spent months coming up with ideas for their machines and had one day to realise them for the competition judging. The experience allowed students to gain an appreciation for physical sciences and the opportunity to exercise creativity in constructing their machines.
Guest-of-Honour Mr Ong Ye Kung, Acting Minister for Education (Higher Education and Skills) and Senior Minister of State for Defence, presented the awards to the winners at the Awards Presentation Ceremony on 20 July 2016.
In the Primary Four to Six category, team Amazing Four from St. Hilda's Primary School took top honours with their machine. In second and third place for the same category were teams Fantastic 4 and The Machine Genius, both from Keng Cheng School.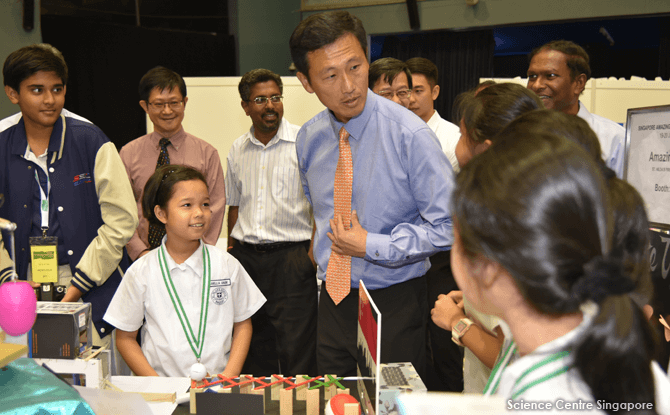 Winners in other categories included Hwa Chong Institution and Anglo-Chinese School (Independent).
Teams were judged based on criteria that included creativity, number of distinct scientific concepts incorporated, successful completion of the task and quality of their presentations.
A/Prof Lim Tit Meng, Chief Executive of Science Centre Singapore, said "We are extremely impressed by this year's entries for SAMC. Year after year we are constantly wowed by the brilliance of Singapore's young minds and how they work around these challenges with their creative constructions, and this year is no exception. At Science Centre Singapore, we are constantly exploring unique ways to inspire a love and passion in the field of science and technology, while emphasising the importance of S.T.E.M and its role in Singapore – this year's SAMC has shown students the possibilities S.T.E.M offers and we hope that they will continue exploring new ways of bringing S.T.E.M concepts to life."