Just like kindness, Singa the Lion never seems to go out of style. The cheery face of the orange lion still brings a smile to faces of young and old alike. Whether you first met him decades ago as part of the National Courtesy Campaign launched in 1979 or more recently at the Singapore Kindness Movement's Kindsville, Singa is instantly recognisable and a well-loved Singapore icon.
Pause for Thought on a Singa Bench
You would probably have seen Singa Benches around Singapore too. Found mainly in parks and community centres, Singa Benches feature the happy-looking lion seated in the middle of a brown rectangular-shaped bench. To the left and right of Singa are seating spaces for people to have a rest alongside the friendly lion.
These Singa Benches were created in support of the Singapore Kindness Movement, a non-profit movement that encourages graciousness, kindness and consideration towards others.
Each Singa Bench comes inscribed with a quotation about kindness.
Community Benches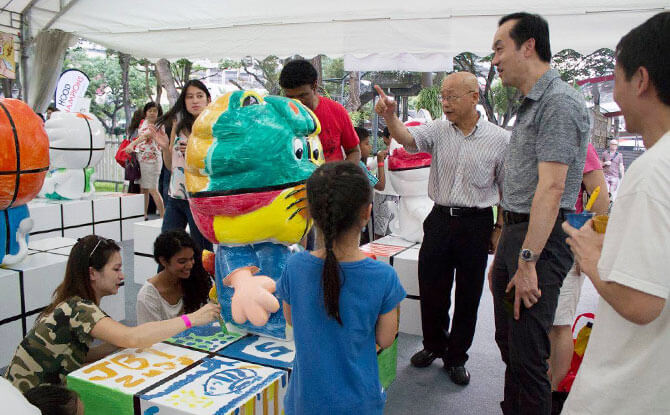 On 31 March 2018, the Singapore Kindness Movement hosted a community event, HoodChampions: Battle of the Hoods 2018, which included a segment where the community came together to put their creative touches on Singa Benches.
These community benches provide a colourful alternative to the usual Singa Benches and can be found at locations such as a few shopping malls, commercial buildings and hospitals.
Singa Benches and Kindness Quotes
So, the next time you see a Singa Bench, do feel free to sit down and take a photo with everybody's favourite Singapore lion mascot. And while doing so, pause and give a thought to how you can show kindness and help to brighten up someone else's day as well.
Here is a look at some of the Singa Benches around Singapore and the kindness quotes that you can find on them.
---
Bukit Batok East Community Club
"Carry out a random act of kindness…" – Diana, Princess of Wales

---
HortPark
"No act of kindness, no matter how small, is ever wasted." – Aesop

---
HortPark
"Great persons are able to do great kindnesses." Miguel de Cervantes

---
KidsSTOP
"Work hard, stay humble, be kind" – Anonymous

---
Tanglin Gate, Singapore Botanic Gardens
"Kindness is loving people more than they deserve" – Joseph Jaubert

---
Nassim Gate, Singapore Botanic Gardens
"Practice random kindness…" – Ann Herbert

---
KidsSTOP
"Kindness is loving people more than they deserve" – Joseph Jaubert

---
HortPark
"Kindness is the sunshine in which virtue grows" – Robert Green Ingersoll