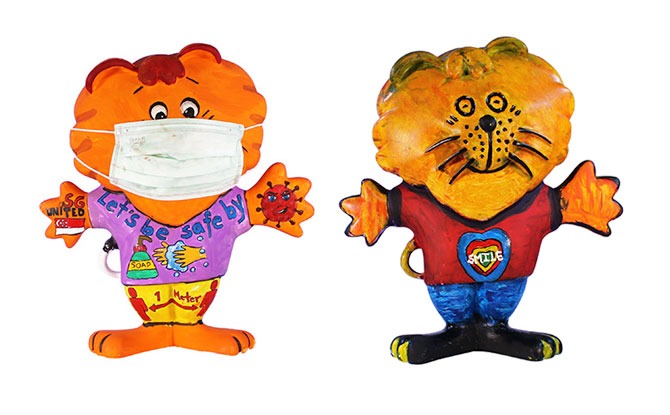 The Singa 2020: Paint It Yourself programme was launched to allow schools and organisations can decorate a blank Singa figurine and express their desire to spread the message of kindness. The exhibition of Singa the Lion figurines has now gone online and will be raising funds for the President's Challenge 2020.
---
Singa 2020: Paint It Yourself
Organised by Singapore Kindness Movement, Singa 2020: Paint It Yourself follows on from the exhibition of 200 Singa figurines at Raffles City in 2019.
Originally conceptualised as an on-ground exhibition, Singa 2020: Paint It Yourself has now shifted online due to the COVID-19 situation.
The exhibition aims to share the beauty and joy that Singa the Lion brings and spread the message of kindness.
---
-- Story continues below --
As part of the exhibition, the Singa the Lion figurines can be adopted with proceeds going to the President's Challenge 2020.
Dr William Wan, General Secretary, Singapore Kindness Movement, said "It is all the more important for us under the present COVID challenges to find the inner strength within us to be kind, first to ourselves and then to those around us. And as a result, we can inspire others to share kindness to more people."
---
View and Adopt a Singa the Lion Figurine
Some of the organisations who have contributed their Singa artworks to the exhibition include MINDS, Cherie Hearts and YMCA.
You can browse through the various Singa online. They can be rotated to provide a 360 degree view as well.
Each decorated Singa the Lion comes with a short paragraph describing the thoughts behind the creation.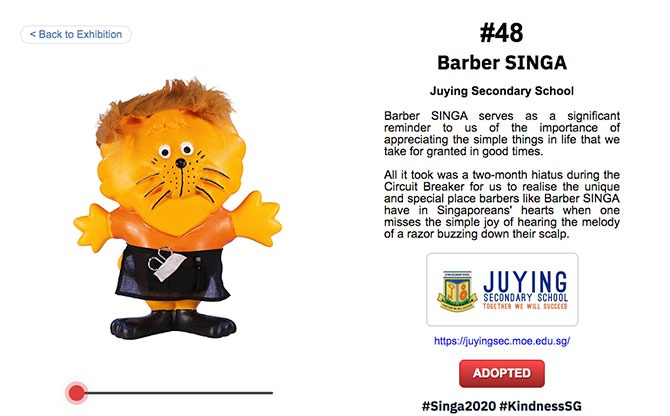 For example, the Barber Singa by Juying Secondary School describes how they realised the importance of everyday services during the Circuit Breaker period.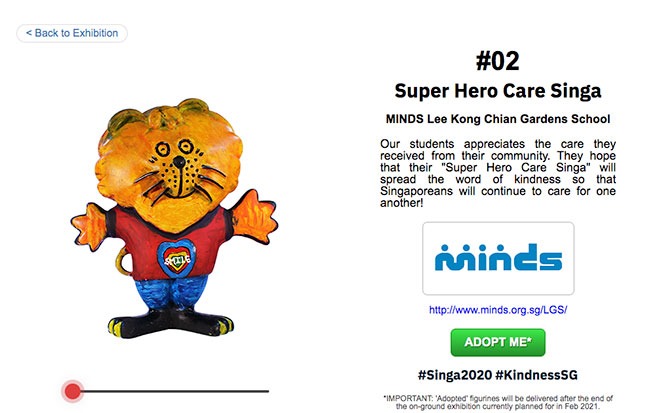 Super Hero Care Singa by MINDS Lee Kong Chian Gardens School was created by the school's students as a show of appreciation for the care they received from the community.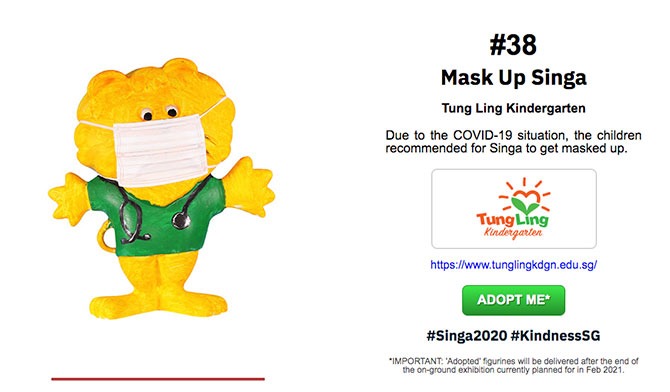 The children at Tung Liang Kindergarten even recommended that Singa be masked up!
The Singa figurines can be adopted for a minimum sum of $88. Once adopted, figurines will find their way to their new owners after the on-ground exhibition which has been planned for February 2021.
Visit the online exhibition here.