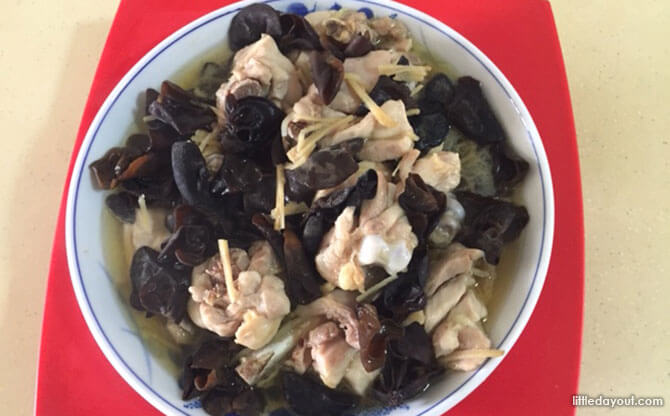 Here's a dish that's not only easy to cook, but healthy as well. Steamed chicken with dried black fungus (wan yee) gives you a good mix of chewiness and crunchiness all in one bite.
Wan yee is a type of black fungus that is low in calories and full of vitamins. On its own, it is tasteless. But with other flavours added, it's good at absorbing it all up and has a soft crunchy oomph.
Steamed together with well-marinated chicken, what you have before you is a fragrant, nutritious and tasty dish done with minimal prepartion time.
Recipe for Steamed Chicken with Dried Black Fungus (Wan Yee)
Ingredients
50 grams of wan yee
2 chicken thighs, cut into bite size pieces (if it's easier for your child to eat, get the boneless version)
1 tablespoon of rice wine or "Hua Tiao Jiu"
Marinate the chicken thigh with:
2 tablespoons of cornflour
1 thumb-size ginger cut into strips
1 tablespoon soya sauce
1 tablespoon sesame oil
2 teaspoons of salt
A little water
Method
Soak the wan yee for about half hour. Wash thoroughly.
Mix the soaked wan yee together with the marinated chicken.
Boil water in a pot to get ready to cook.
Steam the chicken dish for 20 minutes.
When cooked, remove from the fire and add 1 tablespoon of 'Hua Tiao Jiu' or 1 tablespoon of rice wine. (Note: As some of us may be allergic to wine, you can choose to do without it. It does tastes nicer when either wine is spread around chicken.)
Good for a family of three to four.
Simple #homecooked-recipes is a new daily series specially developed to inspire beginner cooks with work and kids to handle, and not much time to spare in the kitchen. The recipes are deliberately simple enough even for kids to help you with them. Click here for more simple home-cooked recipes.