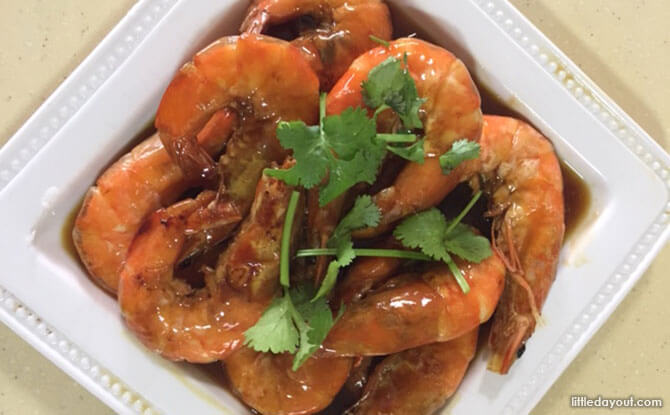 If you love prawns and have a sweet tooth (as most kids do), this simple yet finger-licking good recipe is for you. Prawns with Oyster Sauce is a quick and easy dish involving just three main ingredients.
You and the kids can have fun snipping off the prawns' whiskers and trimming its bodies. It's tempting to remove the shells too as it makes eating a whole lot easier. But resist the temptation to do so as the heads of the prawns and the shells enhance the gravy, making it more savoury and sweet. This is a must-try dish and I bet you everyone will be scooping up the gravy to have it with rice as well. Enjoy!
Recipe for Prawns with Oyster Sauce
Ingredients
1/2 kg of big prawns
6 tablespoons of oyster sauce
4 tablespoons of sugar
6 tablespoons of water
Method
Use a pair of scissors to trim off the whiskers and sharp edges of the prawns' heads, legs and tails.
Wash and drain the prawns in a colander.
Prepare the sauce by mixing the oyster sauce, sugar and water together.
In a wok, add 3 tablespoons of cooking oil and wait for the oil to heat up.
Add in the prawns to fry on both sides.
Pour in the sauce over the prawns in the wok. Wait till it boils, then switch off fire and ladle them onto a plate to serve.
Good for a family of three to four.
Simple #homecooked-recipes is a new daily series specially developed to inspire beginner cooks with work and kids to handle, and not much time to spare in the kitchen. The recipes are deliberately simple enough even for kids to help you with them. Click here for more simple home-cooked recipes.
---
-- Story continues below --