Located next to the bustling Pan Island Expressway is the Simei Park. This small and unassuming park can be found just off Simei Street 1. It has an exercise area, a playground and is intersected by various paths.
Simei Park is located in front of Block 128 and Block 122 Simei Street 1. The neighbourhood park is serves as a focal point for the surrounding community to gather, exercise and for children to play at the Simei Park playground.
---
Simei Park Playground
The Simei Park Playground is dominated by a single tower-like play structure. This play structure allows kids to climb up to an elevated platform. From there, several slides connect the structure with the soft padded flooring of the Simei Park playground.
---
-- Story continues below --
Simei Park Playground also has a set of swings. The pair of swings allow kids to have some fun swaying about in the air.
---
Facilities at Simei Park
Other amenities at Simei Park include exercise areas and rest spots.
---
Simei Park Connector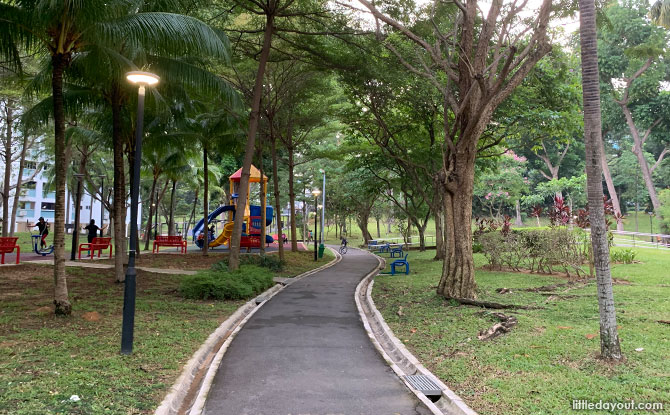 The HDB neighbourhood park is also connected to the Simei Park Connector. This Simei Park Connector starts from Simei Street 1, stretching out along the Simei estate. It passes by the Simei MRT via the track viaducts and to the intersection of Bedok Park Connector at Upper Changi Road East.
The 2 km long Simei Park Connector also runs along ITE College East and Singapore Expo. This provide a walking route for those who wish to make their way between these places and Simei MRT station.
From Simei Park, there is also an overhead bridge that spans the Pan Island Expressway, leading across to Tampines.