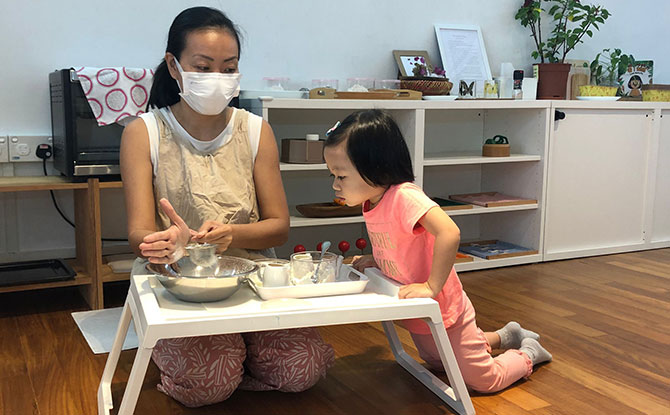 Most of us would have heard of the Montessori method and you might wonder what the benefits are, and how you can practise it at home. We speak to Cheryl, founder of SG Montessori, who manages a Montessori playspace, The Attic, and the benefits she sees from "Montessori" parenting.
Cheryl also debunks the myth of "Montessori" parenting being expensive and inaccessible. How can we apply Montessori principles in our lives? Read on.
---
Interview with Cheryl from SG Montessori
Tell us more about yourself.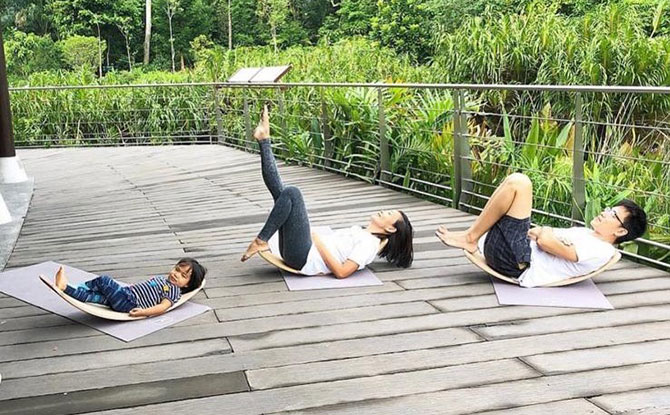 Hello! I am Cheryl.
I am a Materials Engineering by training and spent the first 10 years of my career in the Oil & Gas industry. Today I am a Stay-at-Home mom to my 5 year old daughter. I am also the founder & Partner of The Attic by SG Montessori.
---
-- Story continues below --
During my free time, I enjoy spending my time in nature, practicing yoga, painting and travelling.
---
"Montessori" parenting to me is the constant balancing of a three-way relationship:
my child and me,
my child and her prepared environment, and
her prepared environment and me.
A balance of these three factors will allow my child to have optimised learning opportunities and help her grow into a confident individual.
This three-way relationship is dependent on each other, dynamic and ever-changing as my child grows. Hence, it is a journey for me as a parent to continuously evaluate where we are in relation to these fundamentals.  It requires me to always be humble, open-minded and creative as there are many unlearning of old habits and learning new ways along this Montessori parenting journey.
---
Parents often think the Montessori method is expensive to implement, what are your thoughts on this?
Yes, I think there is often this misconception that the Montessori method is only made up of expensive wooden furniture, toys, and materials in the home or expensive school entry fees at Montessori schools. I really hope that through the work at The Attic by SG Montessori, we can debunk some of these myths; at least on the home front. 
---
For parents eager to practice Montessori pedagogy at home given the limited space, what would your advice be?
Prepared environment is only one element in the three- way relationship in Montessori pedagogy.
If there is limited space at home, focus & prepare simple space so that the child is allowed accessibility to do purposeful work.
Dr Maria Montessori observed that when we provide meaningful and purposeful work to children that are aligned to their developmental needs, children often reach a calm and highly focused state.
This is extremely important because while it is important to empathise with our children, acknowledge their emotions and connect before correcting, giving them purposeful work can often redirect their abundant energy to a purpose and calm them down.
It can be an effective way to reduce further meltdowns or them pushing boundaries.
They can include a toothbrush/toothpaste/rinsing cup set for teeth brushing, a two-tier shelf for changing clothes, self-serve snack and water station, a stool and a pair of shoes for entry way space. Or simply a stool to access the kitchen/bathroom top. They only need to be functional but not expensive.
A small book rack with good quality books beside the bed would provide a rich language environment.
Sensorial experiences can be replaced by spending time in nature instead of toys and lastly, we can always focus on the other relationship between you and the child – which, in Dr Maria Montessori's words, is the most important. "Of all things, love is the most potent" – Dr Maria Montessori
---
What is The Attic about? What would both parent and child learn and experience?
The Attic by SG Montessori is the first Montessori space in Singapore for families.
Our mission goal is to bridge the gap between Montessori in the classroom and Montessori at home. There are often too many misconceptions about the Montessori method as an academic curriculum and as a philosophy to implement at home, so we hope to be a voice to echo Dr Maria Montessori's words. We hope to empower parents with the authentic Montessori pedagogy, connect them to like-minded families and nurture the love of learning.
We provide guided sessions from parents and children from 0-12 years old and help domestic helpers understand the Montessori philosophy in the Filipino language.
---
What does your typical Little Day Out look like?
My typical Little Day Out will usually be out in nature with my daughter – taking slow walks, having conversations, and savouring our moments together. Sometimes, we also like to read a good book under the tree, watercolour and nature journal to document the things we see and observe outside.
---
Simplicity Can Be Powerful
Cheryl's sharing could be a good reminder to parents to slow down, observe what is around us and be intentional in learning together.
To find out more about SG Montessori and The Attic, click here.
Interested to learn more Montessori tips? Read about how you can encourage children to be more independent at home.